Aaron Hernandez Indicted For Two More Murders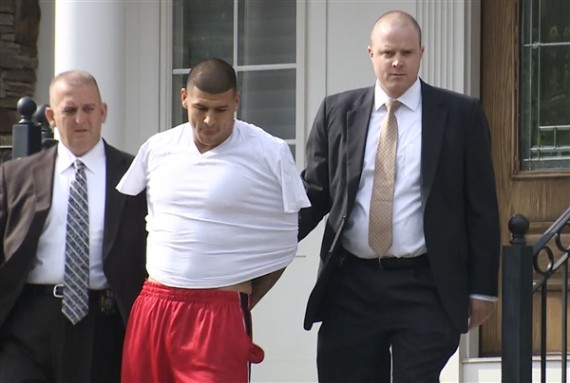 Former New England Patriots Tight End Aaron Hernandez, who is already facing charges of murder in the death of his friend Odin Lloyd, has been charged in two non-related murders that occurred two years earlier:
BOSTON — The former New England Patriots tight end Aaron Hernandez, who was in custody on one murder charge, has been indicted on two others in a double-homicide in the summer of 2012.

The indictments were handed up by a Suffolk County grand jury. The charges are unrelated to the murder of Odin Lloyd, whom Hernandez is accused of murdering in June 2013.

A Boston police spokesman confirmed that Hernandez was charged with first-degree murder in the shooting deaths of Daniel Abreu and Safiro Furtado. They were killed while stopped at a traffic light in Boston's South End on July 16, 2012. The police said the killer pulled up next to the victims in an S.U.V. with Rhode Island license plates.

In the 2012 season, Hernandez caught 51 passes for 483 yards and scored 5 touchdowns. He had 15 more receptions in the playoffs as the Patriots advanced to the A.F.C. championship game.

The charges announced Thursday indicate he might well have played that season having murdered two men.
There doesn't yet appear to be a trial date in the Lloyd murder, but that case will likely be heard before these two unless some kind of connection can be drawn. In that regard, there were some reports after Hernandez was first arrested last summer that Lloyd's murder may have been related to these deaths in that Lloyd may have known about or been involved in the incident. Whether that's the case will have to await further development of the facts.
In any case, the possibility that Hernandez played for an entire season after having committed a double murder isn't exactly going to be good press for the Patriots or the NFL.