An End To The 33 Year Old Mystery Of Etan Patz?
Etan Patz went missing 34 years ago tomorrow morning. The mystery of his disappearance may have been solved today.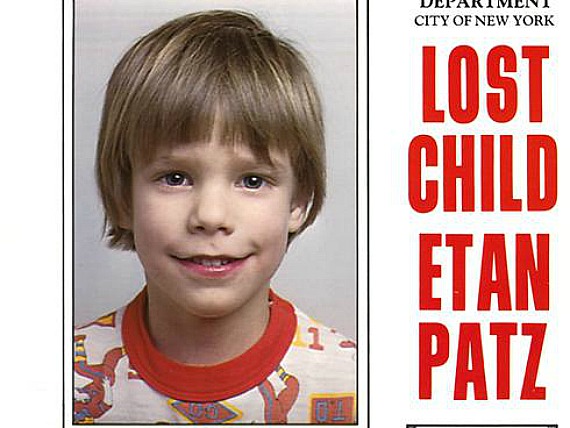 Thirty-three years ago tomorrow morning, a six year-old Manhattan boy named Etan Patz left his parents apartment building in the SoHo section of New York City to walk the two blocks to the stop where his school bus would be picking him up. It was the first time that he would be making the short journey on his own, and his parents had walked the route with him several times beforehand to make sure he knew how to make his way on the busy streets of New York. What nobody knew was that it would be the last morning anyone would see him alive. Etan didn't make it to school that day, and when he didn't get him that afternoon his parents called police, who began an intense manhunt using foot patrols and bloodhounds. They never found him, and for the past thirty-three years and one day, his fate has remained a mystery.
In addition to being the focus of media coverage that lasted well into that summer, Patz quickly became the face for a focus on the problem of missing children that the nation hadn't seen before. He was the first missing child to have his picture put on the back of a milk carton, and in 1983 President Reagan proclaimed National Missing Children's Day in Etan's memory, a day the Federal Government continues to mark to this day.  His disappearance also led to the creation of the National Center For Missing And Exploited Children, which continues to serve as a national clearinghouse for information about missing children as well as programs to teach children how to protect themselves.
However, the mystery of what happened to Etan Patz has remained unsolved all this time. The NYPD kept its investigation open for years after the disappearance, but none of the leads they were able to generate panned out even though it did point to a number of different possible suspects. Last year, the Manhattan District Attorney reopened the case as he had promised to do in his election campaign, but it was unclear exactly what new information could be uncovered after all this time. Then, last month, the NYPD spent five days excavating the basement of a home just block from Patz's home, and along the path that Etan would have taken to get to the bus stop that day in 1979. There was some indication, apparently, that human remains may have been buried under the concrete floor. Nothing conclusive was found, but, last night, something even more surprising occurred that may signal that this case is finally coming to an end:
A man in custody in Manhattan has confessed to strangling Etan Patz, the 6-year-old boy who vanished in SoHo on his way to school in 1979, wrapping his body in a bag and putting it in a box, a law enforcement official said on Thursday.

The man, Pedro Hernandez, told investigators that he left the box at a location in Manhattan, but when he returned several days later the box was no longer there, the official said. Investigators recently took Mr. Hernandez to that location. A second official also said that Mr. Hernandez told the authorities he had strangled the boy and discarded his body.

Shortly after Etan's disappearance, Mr. Hernandez, who in 1979 worked at a bodega near where the boy disappeared, moved to the Camden area in southern New Jersey, where he has many relatives, a law enforcement official said.

Investigators interviewed Mr. Hernandez for much of the day on Wednesday in the prosecutor's office in Camden County.

Mr. Hernandez was taken into custody late Wednesday and was taken to the office of the Manhattan district attorney, Cyrus R. Vance Jr., whose prosecutors are overseeing the inquiry by New York police detectives and agents from the Federal Bureau of Investigation.

Investigators were tracking down several of the relatives to interview them to hear what, if anything, Mr. Hernandez has said about the crime. Investigators believe he has alluded or confessed to the crime to several family members over the years, the official said.

Mr. Hernandez was apparently very emotional during the confession, the official said, adding that the confession was videotaped, which is standard practice in New Jersey.

"An individual now in custody has made statements to N.Y.P.D. detectives implicating himself in the disappearance and death of Etan Patz 33 years ago," Police Commissioner Raymond W. Kelly said in a statement issued early Thursday.

It is unclear whether investigators have been able to independently corroborate the account Mr. Hernandez has provided. Without any trace of human remains or other forensic evidence, any possible prosecution of Mr. Hernandez would face significant evidentiary hurdles.
The possibility remains, of course, that Hernandez is another John Mark Karr. Karr, you may recall, confessed in 2006 to murdering Jon Benet Ramsey and was the subject of a short, albeit intense, period of media coverage in a case that had already generated years of attention. It turned out that Karr was lying, though, something which authorities were able to determine rather quickly when his story simply didn't match up to the known facts in the case. Hernandez could be doing the same thing, and police will no doubt be seeking to find some forensic evidence to back up his story, but he does appear to be someone who had connections to the neighborhood this apparent abduction took place in at the time it occurred.  False confessions, though, do happen, so it would be foolish to say that this case is over just yet.
Having grown up in the New York City area, this is a case that has remained in my memory. It was hard to avoid the story at the time, given that it was being covered incessantly by each of the broadcast television stations in the City. No doubt because it occurred in New York City, the story also received national attention. It was really the first time that stranger abduction of children had made itself known to the public, and one gets the impression that it led to something of a sea change in the way people viewed the safety of children in America. And the fact that it happened in the middle of the busiest city in the country and nobody noticed what happened showed how quickly something could happen.
Patz's parents still live in the same SoHo apartment they did 33 years ago. His two siblings are now in their late 30s. Hopefully, this confession isn't just another false hope, and this family will finally have some closure.
Update: This evening, the NYPD announced that they had placed Hernandez under arrest:
(CBS/AP) NEW YORK – A man has been arrested in the 1979 disappearance of a 6-year-old New York City boy. It's the first arrest ever made in a case that helped give rise to the nation's missing-children movement.

New York Police Commissioner Raymond Kelly says Pedro Hernandez of Maple Shade, N.J., has been arrested in the killing of Etan Patz (AY'-tahn payts). It's not immediately clear whether Hernandez has a lawyer.

Kelly says Hernandez confessed to the crime. Hernandez worked at a convenience store near Etan's Manhattan home. A law enforcement official says Hernandez told investigators this week he suffocated the boy and left his body in a box in an alley.

CBS News senior correspondent John Miller earlier reported the individual, identified as Hernandez, then 18-years old, once worked in a SoHo shop just blocks from Patz's home in lower Manhattan. Detectives say he confessed to killing Patz. Sources say that Hernandez admitted to luring the boy into the store with candy, strangling him, and placing the body in a box. He said he put the box out with the trash and when he came back later, it was gone.

"He basically said he did it," a law enforcement source told CBS News. Investigators say while Hernandez's story may be difficult to corroborate, they believe he is credible.

While a source who has been briefed on the investigation could not provide details, the source indicated that it is unlikely a body will be recovered. "The way he [Hernandez] described how the body was disposed of, it does not sound like we would be able to recover remains at this point."
That would be unfortunate, only because it would prevent Patz's family from undergoing the final step in a grieving process that has been going on for three decades.