Aaron Hernandez Convicted Of Murder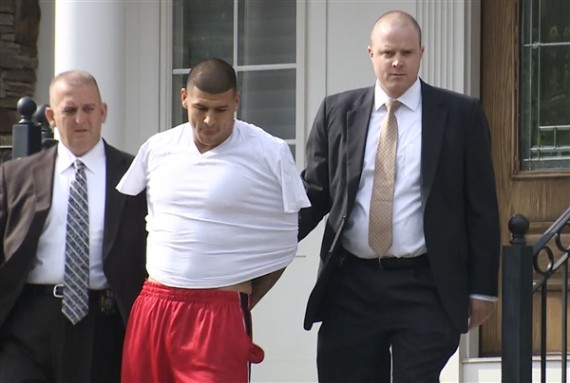 Former New England Patriots Tight End Aaron Hernandez was convicted this morning of First Degree Murder in the death Odin Lloyd and will spend the rest of his life in prison:
A jury in Fall River, Mass., found Aaron Hernandez guilty of first-degree murder on Wednesday after seven days of deliberation.

Mr. Hernandez was sentenced by Judge E. Susan Garsh to the mandatory term of life in prison without the possibility of parole.

Mr. Hernandez's mother, Terri, and his fiancée, Shayanna Jenkins, embraced and cried at the announcement. Ursula Ward, the mother of the victim, Odin Lloyd, also wept.

The jurors were polled after the verdict and all agreed with the first-degree murder conviction. Mr. Hernandez was also found guilty of firearms charges.

Mr. Hernandez, 25, a former star New England Patriots tight end, was charged with murder in the killing of Mr. Lloyd, who was dating the sister of Ms. Jenkins. Mr. Lloyd, a 27-year-old semiprofessional football player, was found shot six times in a pit near Mr. Hernandez's home in North Attleboro, Mass., in June 2013.

Prosecutors suggested that Mr. Hernandez's motive was that Mr. Lloyd spoke at a Boston bar with people Mr. Hernandez did not like.

The prosecution took more than two months and called more than 100 witnesses. Prosecutors painstakingly tried to build a case with pieces of evidence as tiny as a wad of gum on a shell casing found in a car rented by Mr. Hernandez. Also under scrutiny were Mr. Hernandez's Size 13 Air Jordans, which may or may not have matched footprints found at the scene of the crime.

Their case was largely circumstantial. No murder weapon was located, and no independent witness to the shooting came forward.

The defense's case lasted just a day and included only three witnesses.

In closing arguments, the defense lawyer James Sultan acknowledged for the first time that Mr. Hernandez was at the scene of the killing. The defense raised the possibility that two other men, who are charged separately for the crime, committed it while high on PCP.

Defense lawyers noted that Mr. Hernandez had signed a $40 million contract extension, so had little motive to be involved in a murder. They also accused the police of conducting a sloppy investigation.
While I didn't follow this trial closely, what I did follow indicated to me that the prosecutions case against Hernandez, while based to a large degree on circumstantial evidence and lacking evidence of what motive her made have had to kill his friend, was fairly strong and that the defense had done little to poke any holes in the evidence that the prosecutors had presented to the jury. The fact that the jury had been deliberating for a relatively long period of time, seven days, led some to speculate that we might be looking at a hung jury but, instead, it appears that what the jury spent that time doing was carefully reviewing the evidence and testimony that had been presented to them before coming to a verdict, which is of course what they are supposed to do.
Hernandez also faces trial in Boston on a separate charge in which he is accused of murdering two men in Boston in 2012. There has been some speculation that Lloyd's murder may have been related to the fact that he had knowledge regarding Hernandez's involvement in those murders, but the prosecution in the Lloyd case apparently did not get into that issue at trial. In any case, with this conviction Hernandez faces life in prison without the possibility of parole unless the conviction is overturned on appeal, which seems unlikely.