Aaron Hernandez Charged With Murder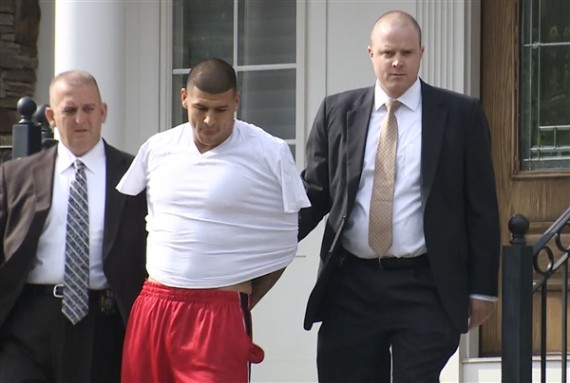 As I noted earlier today, now-former Patriots Tight End Aaron Hernandez was arrested in connection with the death last week of an acquaintance of his and a week long investigation by local police. This afternoon, he was formally charged with murder and other charges:
Former New England Patriots star Aaron Hernandez was charged with murder today for allegedly shooting and killing his friend, Odin Lloyd, 11 days ago.

Hernandez, who was taken out of his house in handcuffs this morning, appeared in gym shorts and a white T-shirt during his arraignment in Bristol County district court today. He remained silent as prosecutors read aloud the six charges he faces, including murder and weapons charges, and described the investigation into Lloyd's death.

Prosecutors said they pieced together the night of Lloyd's death using surveillance video culled from the area and cellphone records. Lloyd's body was found June 17.

Prosecutors outlined a potential timeline of Hernandez's allegedly driving to Lloyd's home, picking him up, driving him back to North Attleborough, and allegedly firing two bullets at Lloyd, age 27.

(…)

Hernandez was ordered held without bail and will be taken to the Bristol County House of Correction, despite his lawyer's insistence that he is no flight risk.
Hernandez is innocent until proven guilty, but things aren't looking good for him.