Henry Aaron, 1934-2021
Hammerin' Hank is gone.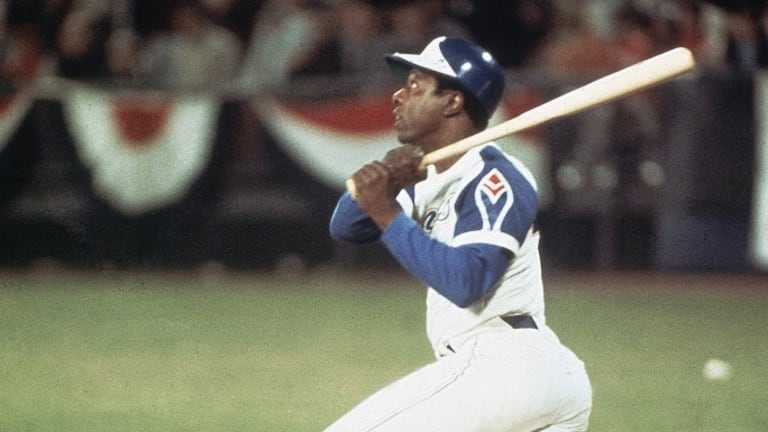 Atlanta's WSB-TV ("Braves legend Hank Aaron dies at age 86, daughter says"):
He is the one man that Muhammad Ali said he idolized "more than myself." He became known to the world as "Hammerin' Hank."

Legendary Atlanta Brave and Major League Baseball record holder Hank Aaron died Friday at the age of 86, according to Aaron's daughter.

Born in Mobile, Alabama, on Feb. 5, 1934, Henry Louis Aaron was one of eight children born to Herbert and Estella Aaron.

His family was so poor they could not afford baseball equipment, so he began honing his baseball skill by hitting bottle caps with sticks.

Aaron had his first major league tryout as a 15-year-old with the Brooklyn Dodgers in 1949.

Although he did not make that team, he did make an impact and returned to school to get his diploma.

In November 1951, at the age of 17, Aaron began his minor league career with the Indianapolis Clown's organization of the negro leagues.

In an interview with Channel 2-s Justin Wilfon at his 80th birthday celebration, "Hammerin' Hank" said his family's support helped him make his dream come true of playing baseball.

"If it hadn't been for my brother, my uncle, sharing their love and making me realize that — although I had a dream at that time — but if I keep looking and pursue it, that I could match it," Aaron said.
AL.com ("Baseball icon Hank Aaron dead at age 86"):
Hank Aaron came into life on Feb. 5, 1934, in Mobile on the wrong side of segregation. He left it on Friday as a national icon.

WGCL-TV in Atlanta reported Aaron's death at age 86.

Aaron reached the height of his fame on April, 8, 1974 – a misty night in Georgia when he hit a pitch from Los Angeles Dodgers pitcher Al Downing over the left-field fence in Atlanta-Fulton County Stadium for his 715th home run in the big leagues.

When Aaron pushed aside Babe Ruth's revered record of 714 – the most famous number in sports — it ended a quest during which the slugger endured racist hate mail and threats against his life. On the night Aaron broke the record, his bodyguard stood disguised as a fan, ready with a gun hidden in a binoculars case, and police snipers were on the stadium roof, fortunately showing life-saving judgment when two teenagers jumped out of the stands to join Aaron during his trot around the bases.

"These people feel this is going to be a weak part of me," Aaron said about the hate mail he began to receive when it became apparent he would threaten Ruth's record. "They think they'll upset me with their words or their shouts, that they'll get me where I can't do the job. This won't happen. I don't like it, but I always do my best. This only makes me more determined."

Sports Illustrated later reported that Aaron received 930,000 pieces of mail in 1973. After Aaron broke the record, his detractors melted away.

Aaron learned baseball on the sandlots of Mobile and honed his batting eye hitting hurled bottle caps with sticks. He was good enough that local scout Ed Scott signed him to play for the Indianapolis Clowns in the rapidly dying Negro Leagues, where Aaron got his first pro experience in 1952 as a shortstop making $200 a month.

Two months into his pro career, Aaron had been discovered by "organized" baseball, which until its integration by Aaron's hero and mentor, Jackie Robinson, in 1947, had been all-white in the 20th century. Aaron helped integrate the Northern League at Eau Claire in 1952 and the South Atlantic League at Jacksonville in 1953, all the time hitting like a top prospect.

Aaron also became the first black player for the National League's Milwaukee Braves in 1954, jumping from Double-A baseball to the big leagues and becoming the final player from the Negro Leagues to reach the Major Leagues.
AJC's Terrence Moore ("Baseball great Henry 'Hank' Aaron, 86, passes into history"):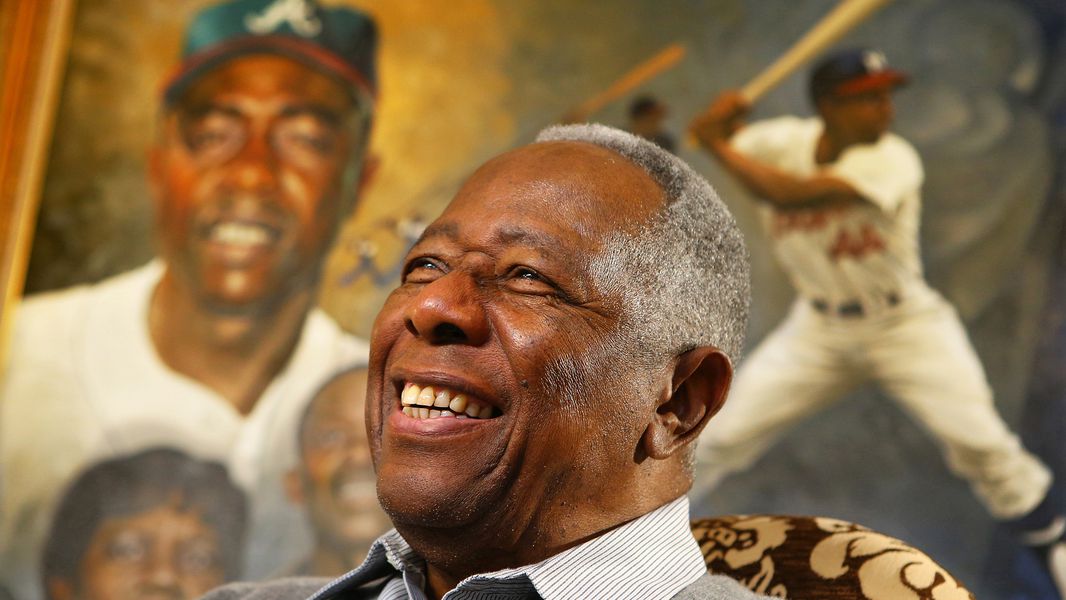 In March of 1954, with his place in the major leagues far from assured, Hank Aaron was granted a start in a Milwaukee exhibition game versus Boston, only because Bobby Thomson, the regular left fielder and Aaron's idol, had just broken his ankle.

Already possessed of dramatic timing at the age of 20, the rookie promptly drilled a ball that carried the wall, flew over a row of trailers parked outside the Sarasota park and reverberated so loudly in the Red Sox clubhouse that the great Ted Williams emerged, as Aaron recalled, "wanting to know who it was that could make a bat sound that way when it hit a baseball."

Over the next 23 years, a nation of fans would join in Williams' wonder, as Aaron was transformed from a raw, cross-handed line-drive hitter into the game's most prolific force. A Hall of Famer, Atlanta's first professional sports star, and, in a soft-spoken way, an agent of change in the post-Jim Crow South, Aaron came to embody the city as he embodied the Braves.

Baseball's all-time home run king died Friday at the age of 86, according to Channel 2 Action News and serveral reports. The Braves have not confirmed Aaron's death.

"I don't think too many people got a chance to know me through the years, and that was something that was my own doing, because I'm actually kind of a loner, a guy that has stayed to himself," Aaron said in a 2006 interview with The Atlanta Journal-Constitution. "A lot of people thought they knew me, but they really didn't.

"They pretend that they know me, but I travel alone. I do just about everything alone. I have associates, but I don't have many friends. I would just want to be remembered as somebody who just tried to be fair with people."

In a funhouse way, Aaron could be viewed differently from varying angles. To a 19-year-old kid breaking in with the Braves in 1968, Aaron was not a star, but an "extra parent."

"I've always loved the guy," said Dusty Baker, an Aaron teammate for eight years long before he became a three-time National League manager of the year. "He'd cut those eyes at you, and you knew you had to straighten up and stop doing wrong. He was always full of honor and dignity."

To a Milwaukee auto dealer's kid, who came to know Aaron while arranging loaner cars for the 1950s-era Braves, he was a fellow lover of the game.

Bud Selig said that though he and Aaron had little in common, they forged a life-long friendship because of their love of baseball.

"He's just been held with such reverence by everybody," said Selig, who in 1999 established the Hank Aaron Award for the yearly offensive leader in both the National and American Leagues. "He got over all of that horrible, horrible hatred of the 1970s when he was breaking Babe Ruth's [career homerun] record, and he was so classy and so dignified through it all and afterward. I run into people who don't know him as well as I do, and they just say, 'Wow, what a wonderful person.'"

To a refugee of the Ohio coal fields, he was a man of amazing grace.

"I never saw him angry," said Hall of Famer Phil Niekro, who recently died and broke in with the Braves in 1964 and was Aaron's teammate for 11 seasons. "I never even saw the man get upset. I'm sure it had to have happened, but if he ever was angry, he kept it to himself."
Aaron only joined the Major Leagues 11 years before I was born and he broke the Babe's iconic record when I was 8. It's truly remarkable how much the world changed in between. As much racism at he endured at the time—and, indeed, still manifests today—there has never been a point in my life where the notion that a Black man shouldn't be allowed to play sports with White men wouldn't have seemed absurd.
We weren't a sports-watching family but I knew who he was. He was, like Muhammad Ali, a figure who transcended sports. Indeed, there was even a candy bar named after him.
Later, when I did become a baseball fan—and of those same Atlanta Braves with whom he spent most of his iconic career—he was a regular feature in his role as elder statesman and advisor to the team.
Despite his reticence for letting people in on his private life, he was a leader right up to the end. Just three weeks ago he publicly received the COVID vaccine to help set the example.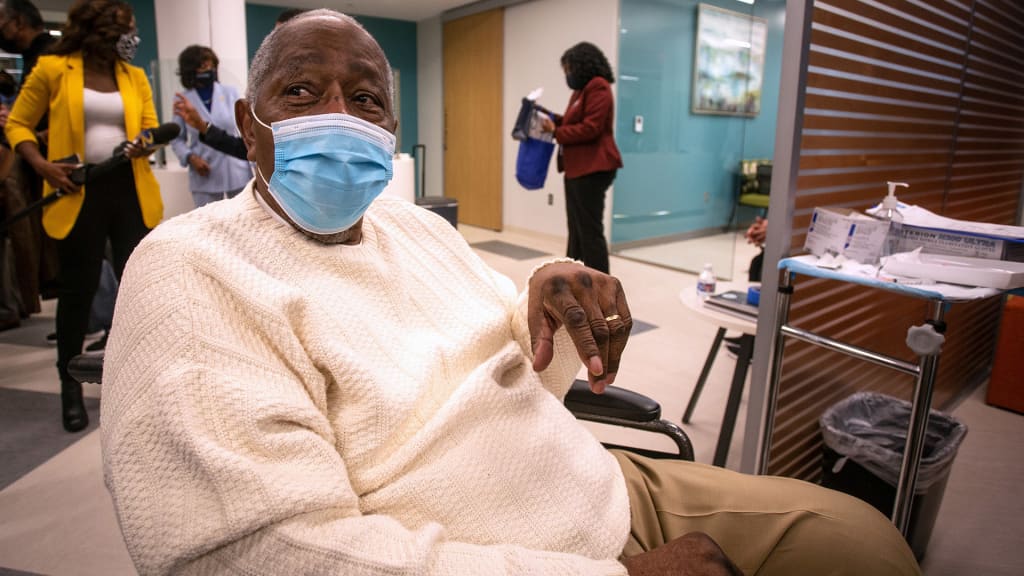 Hank Aaron expressed pride after being injected with the COVID-19 vaccination. The iconic Hall of Famer hopes his willingness to be vaccinated Tuesday will help lessen concerns some Black Americans may have about receiving the shot.

"[Getting vaccinated] makes me feel wonderful," Aaron told The Associated Press. "I don't have any qualms about it at all, you know. I feel quite proud of myself for doing something like this. … It's just a small thing that can help zillions of people in this country."

Aaron, former United Nations ambassador Andrew Young and former U.S. Health and Human Services secretary Louis Sullivan were accompanied by their spouses and other civil rights leaders when they were vaccinated at the Morehouse School of Medicine.

Aaron and his wife, Billye, have been top donors to the medical school, which Sullivan founded in Atlanta in 1975.
Rest in peace.