Atlanta Braves Win World Series
The city's second major championship was among the most improbable.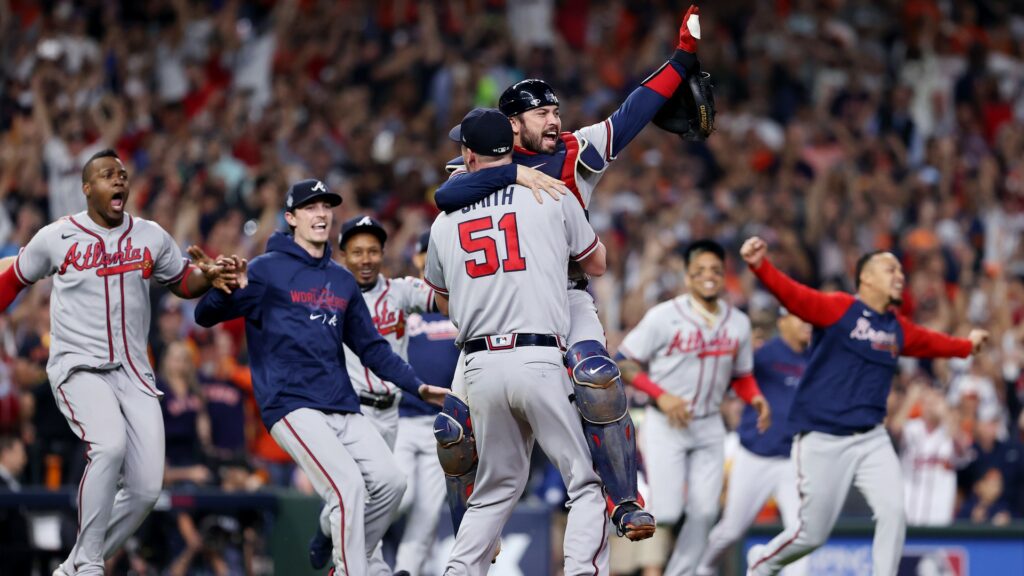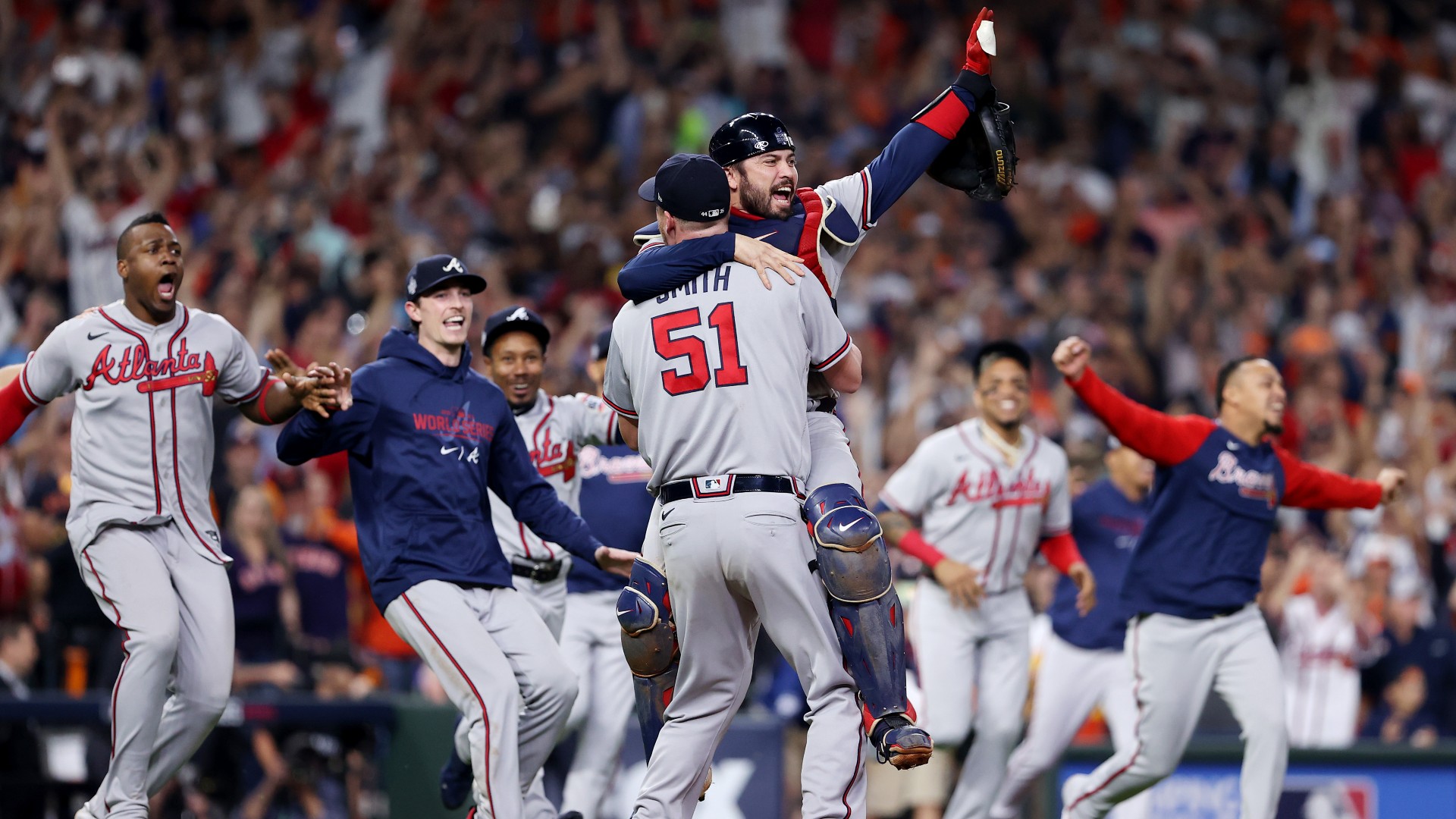 My best run as a sports fan was the early 1990s. In 1992, my first year in grad school at Alabama, the Crimson Tide went undefeated, winning its first national championship in thirteen years and the Dallas Cowboys won their first Super Bowl since the 1977-78 season. Even my undergrad alma mater, Jacksonville State, won the Division II football championship. The Atlanta Braves made it to the World Series for the second year in a row, losing again. The Cowboys won again in 1993. In 1995, the Cowboys won their third in three years and the Braves finally won it all.
If you had told 1995 me that, a quarter-century later, neither the Cowboys nor the Braves would have won another title–or that the Cowboys wouldn't have so much as made it to the conference championship game—I would have scoffed at the notion.
Thankfully, I've had some solace in the intervening years with a historic run by Alabama under Nick Saban, with six national championships and two losses in championship games in the last dozen years.
The Cowboys, who have won six straight games for the first time in ages, are a favorite to contend for another Super Bowl this year. And, of course, the Braves finally pulled off another World Series win all these years later.
Nobody could have seen this one coming.
ESPN ("Atlanta Braves finish off Houston Astros for first World Series championship since 1995"):
On this night, in Game 6 of the World Series, they connected on the final out that cemented a 7-0 victory over the Houston Astros and capped the Braves improbable ascendance.

They were ravaged by injuries early, dismissed as late as August and counted out at practically every juncture of these playoffs, but the 2021 Braves — with a new outfield at midseason and a depleted starting rotation by the end — are World Series champions for the first time since 1995. They rode a dominant Max Fried, rolled after Jorge Soler's prodigious home run and ended it on Swanson's throw to Freeman, who dropped to a knee, raised both hands in the air and then mobbed his teammates near the pitcher's mound at Houston's Minute Maid Park.

"We hit every pothole, every bump you could possibly hit this year, and somehow the car still made it onto the other side," Freeman said. "It's just an incredible group."

[…]

The Braves came into this World Series with 16 consecutive postseason appearances without a title, the longest streak of all time. Now it's finally over.

Brian Snitker, who has spent the past 45 years in the Braves' organization but didn't become their major league manager until Year 40, received the World Series trophy from MLB commissioner Rob Manfred and couldn't find the words.

"I'm numb," he said from the makeshift stage. "I'm numb."

Freeman, the cornerstone of this franchise for the past decade, had shoved the baseball from the final out in his back pocket and planned to deliver it to Snitker.

He couldn't find the words either.

"I'm kind of trying to tell you guys things of how I feel because I don't really feel anything yet," Freeman said from the dais. "It's going to hit hard soon. I don't know when. Maybe it's when we get to see everybody in Atlanta."
The obstacles that befell the team were almost comical.
Marcell Ozuna, signed to a $65 million extension to bolster the Braves' offense, was arrested in late May on domestic violence charges and never returned. Mike Soroka, one of their promising starting pitchers, re-tore his Achilles tendon in late June and never contributed. And Ronald Acuna Jr., their superstar center fielder, tore his ACL on July 10, spoiling what was looking like an MVP season.

By the end of July, the Braves sat five games out of first place and two games below .500. But their run differential was promising, and their revenues were higher than projected, so their general manager, Alex Anthopoulos, engineered trades to acquire four outfielders that drastically altered the course of their season.

"I can't say enough about Alex," Snitker said of Anthopoulos, who couldn't celebrate with the team because he had tested positive for COVID-19 three days earlier. "I always say the only thing he's guilty of is he never stops trying to make this thing better. He's just a tireless worker, he and his staff, trying to make this club better all the time. He's never going to cash the chips in ever. If there's ever slightly a chance or a glimmer of hope, he's going to go out and go for it."

Bolstered by Anthopoulos' moves, the Braves won 36 of their last 55 regular-season games and ran away from the rest of the National League East. They dispatched the Milwaukee Brewers in four NL Division Series games then dethroned the mighty Los Angeles Dodgers — a team that led the sport in run differential and won 18 more games — to become the first team in MLB history to reach the final round despite not boasting a winning record until Aug. 6.

They were powered by Adam Duvall, Joc Pederson, Eddie Rosario and Soler, their four new additions. By Austin Riley, who became a star in his age-24 season. By an excellent trio of starting pitchers (Fried, Charlie Morton and Ian Anderson) and a dynamic bullpen foursome (A.J. Minter, Tyler Matzek, Luke Jackson and Will Smith). And most of all, by their linchpin, Freeman, a pending free agent who continued to be a steady presence.

The World Series was won on contributions from practically everyone.

Morton suffered a broken leg in the third inning of Game 1, but the Braves' offense got after Framber Valdez and never let the Astros get close. Anderson began Game 3 with five hitless innings, and the Braves' four high-leverage relievers allowed only two the rest of the night. In Game 4, Swanson and Soler provided a lead with back-to-back home runs in the seventh, and Rosario preserved it with his glove in the eighth. In Game 6, the Braves' best pitcher dominated around an offense that suddenly became suffocating.

Fried scattered four singles through six innings and set the tone at the onset, after Michael Brantley stepped on his right ankle on an eventual infield single. There were two on with none out in the bottom of the first, but Fried retired the next three batters in order, two on strikeouts, and cruised from there.

"Indescribable," Fried said of being the winning pitcher in a World Series clincher. "It's something you dream about as a kid, something you always want to happen and you dream about. And to be able to have this moment, it's really special."
The Astros, rightly, were favored by a huge margin. The Braves stole one on the road but at the cost of their best starting pitcher. They threw two "bullpen games" and took a three games to one lead before giving up a big lead in the final game in Atlanta. And then came up big last night to seal it on the road in Game 6.
That they did it without so many of their best players—and arguably the best player in all of baseball in Acuna—is just remarkable.
The Athletic's Jeff Schultz ("Braves' World Series title — finally, something good and unexpected for Atlanta") has covered the team for decades.
This was for a city's tormented sports fans, who after most of the past 56 years could not have absorbed another body blow. This was for a franchise that until recently had a run of 18 miserable seasons without winning a playoff round and four years ago was humiliated and slapped by baseball's lords for the worst international prospect signing scandal anybody had ever seen, forcing the front office to be flushed. This was for Hank Aaron and Phil Niekro and William Bartholomay, who moved with this team from Milwaukee in 1966 and no doubt enjoyed this from their view, high above Houston, well north of the clouds.

Most of all this was for Brian Snitker, who rode buses for more than three decades while his wife and kids followed behind the team bus in their Chevy Astro van, and Freddie Freeman, who in 2014 signed an eight-year contract extension, only to see the organization then torn down for a rebuild.
This is not just only the second championship since the Braves moved to Atlanta in 1966 it's the second major sports championship for the city, period. The Falcons have lost two Super Bowls, including, most infamously, one to the Patriots after taking a commanding 28-3 lead.
Even aside from the injuries, this was unfathomable:
Sports are best when unexpected things happen. This was beyond unexpected. The Braves were eight games out of first place on June 16. It took until game No. 111 for them to get above .500 for the first time. Then they lost the next day.
And what a great story for the manager:
While Snitker was in the clubhouse getting doused with champagne, his wife, Ronnie, was on the field with family members. She held her 18-month-old grandson, Hank, choking back tears, as she tried to put the family's journey in perspective.

"It's hard to remember any of the crazy stuff now that this is here — everything culminated in this," she said.

Snitker coached and managed in the minors from 1982 to 2015 before getting his first coaching job with the Braves. Ronnie and their two children followed behind team buses for many of those seasons.

"What I was thinking was he can't do this without his kids," she said. "That was my job — to keep his kids there with him. I drove after the bus. My kids didn't get summer vacations. When we went to Huntsville, Alabama and Chattanooga, we just took them to places there."

The Snitkers bought three Chevy Astro vans during that period. Why the same van? Because Ronnie had learned how to pack it perfectly with cardboard boxes and suitcases for road trips, and she didn't want to learn a new configuration.

"We had matching cardboard boxes, and when we got there, those were our coffee table and end table," she said.

Snitker was expected to be fired after the 2017 season by former executives John Hart and John Coppolella. But then both of them were excommunicated after the signing scandal, Anthopoulos was hired, and he threw the manager a life preserver.

This all would make a great movie one day, but nobody would believe it.

They won 88 games in the regular season, the least of any postseason team.

They won 11 in the playoffs, the most of any team.
Back in the 1990s run, I was single and in my 20s. And, mostly, living in the Central time zone. For several seasons, I watched just about every Braves game from first pitch to last out. The combination of a changing television landscape,* moving to the DC area, and changing life responsibilities have turned me into a casual fan of the sport. I just don't have the time to watch 162 games or, indeed, catch more than a little of the playoffs. It's hard enough to justify watching 6 hours of football on fall weekends.
So, this championship doesn't mean as much to me as the one in 1995 or the ones the Tide has won during the Saban era. I'm just not invested in the team in the same way. But I'm happy they won.
It's also worth noting the weird irony that Atlanta finally won another championship months after MLB stripped the city of the All-Star Game and the amateur draft in a bizarre attempt to punish Georgia for enacting new voting laws that had the effect of making it harder for Blacks to vote. The Georgia Bulldogs, which has won a college football championship in 1980 during Herschel Walker's heyday, if also atop the initial College Football Playoff ranking and heavily favored to break their four-decade drought.
_____________
*Around the time I moved north, Major League Baseball changed its rules such that cable networks like TBS, which aired most Braves games, and WGN, which aired most Cubs games, were considered "national" broadcasts whose revenues had to be shared with the other teams whereas "regional" outlets like the Yankees' YES network did not. Not shockingly, the Braves and Cubs moved their games off of the networks that could be readily seen by out-of-region fans.