McConnell Pulls The Plug On Senate Health Care Reform Bill
With the defection of two more Senators, the latest effort to 'repeal and replace' the Affordable Care Act has gone down in flames.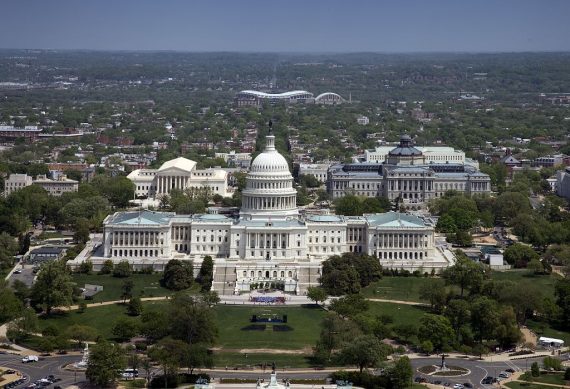 Senate Majority Leader Mitch McConnell pulled the plug on the Better Care Reconciliation Act, the Senate's attempt to 'repeal and replace' the Affordable Care Act after two more Senators announced their opposition:
WASHINGTON — Two more Republican senators declared on Monday night that they would oppose the Senate Republican bill to repeal the Affordable Care Act, killing, for now, a seven-year-old promise to overturn President Barack Obama's signature domestic achievement.

The announcement by the senators, Mike Lee of Utah and Jerry Moran of Kansas, left their leaders at least two votes short of the number needed to begin debate on their bill to dismantle the health law. Two other Republican senators, Rand Paul of Kentucky and Susan Collins of Maine, had already said they would not support a procedural step to begin debate.

With four solid votes against the bill, Republican leaders now have two options.

They can try to rewrite it in a way that can secure 50 Republican votes, a seeming impossibility at this point, given the complaints by the defecting senators. Or they can work with Democrats on a narrower measure to fix the flaws in the Affordable Care Act that both parties acknowledge.

Senator Mitch McConnell, the Republican leader, conceded Monday night that "the effort to repeal and immediately replace the failure of Obamacare will not be successful." He outlined plans to vote now on a measure to repeal the Affordable Care Act, with it taking effect later. That has almost no chance to pass, however, since it could leave millions without insurance and leave insurance markets in turmoil.

But President Trump was not ready to give up. He immediately took to Twitter to say: "Republicans should just REPEAL failing ObamaCare now & work on a new Healthcare Plan that will start from a clean slate. Dems will join in!"

In announcing his opposition to the bill, Mr. Moran said it "fails to repeal the Affordable Care Act or address health care's rising costs."

"There are serious problems with Obamacare, and my goal remains what it has been for a long time: to repeal and replace it," he said in a statement.

In his own statement, Mr. Lee said of the bill, "In addition to not repealing all of the Obamacare taxes, it doesn't go far enough in lowering premiums for middle-class families; nor does it create enough free space from the most costly Obamacare regulations."

By defecting together, Mr. Moran and Mr. Lee ensured that no one senator would be the definitive "no" vote.

House Republicans, after their own fits and starts, passed a bill to repeal the Affordable Care Act in May, a difficult vote that was supposed to set the stage for Senate action. But with conservative and moderate Republicans so far apart in the Senate, the gulf proved impossible to bridge. Conservatives wanted the Affordable Care Act eradicated, but moderates worried intensely about the effects that would have on their most vulnerable citizens.

The Senate Democratic leader, Chuck Schumer of New York, responded to the announcement on Monday by urging his Republican colleagues to begin anew and, this time, undertake a bipartisan effort.

"This second failure of Trumpcare is proof positive that the core of this bill is unworkable," Mr. Schumer said. "Rather than repeating the same failed, partisan process yet again, Republicans should start from scratch and work with Democrats on a bill that lowers premiums, provides long-term stability to the markets and improves our health care system."

Roughly 20 million people have gained coverage through the Affordable Care Act. Repealing the law was a top priority for Mr. Trump and Republicans in Congress, who say it has driven up premiums and forced consumers to buy insurance they do not want and cannot afford.

The opposition from Mr. Paul and Ms. Collins to the latest version of the Senate bill was expected, so Mr. McConnell had no margin for error as he unveiled it. But he managed to survive through the weekend and until Monday night without losing another of his members — though some expressed misgivings or, at the very least, uncertainty.

Mr. McConnell had wanted to hold a vote this week, but he was forced to abandon that plan after Senator John McCain, Republican of Arizona, had surgery last week to remove a blood clot from above his left eye. That unexpected setback gave the forces that opposed the bill more time to pressure undecided senators.

Already, Mr. McConnell was trying to sell legislation that was being assailed from many directions. On Friday, the health insurance lobby, which had been largely silent during the fight, came off the sidelines to blast as "unworkable" a key provision allowing the sale of low-cost, stripped-down health plans, saying it would increase premiums and undermine protections for people with pre-existing medical conditions.
The Senate bill was already on its last legs well before Senators Lee and Moran announced their opposition, of course. Almost as soon as the revised bill was released last week, it drew the opposition of two Senators from opposing ends of the GOP Caucus who gave different reasons for opposing the deal. On the conservative side, Rand Paul said he opposed the bill because it didn't sufficiently repeal the Affordable Care Act and instead called on the Senate to simply go forward with repealing the PPACA and worry about replacement at a later date. Susan Collins of Maine, on the other hand, appeared to speak for many in the more moderate wing of the Senate GOP Caucus when she said that the bill went too far to the extent that it undermined protections for people with pre-existing conditions and the changes it made to the PPACA's expansion of Medicaid in those states that chose to participate in that part of the law. In addition to those two Senators, though, there were as many as a half dozen or more Senators who had not yet expressed an opinion on the bill, including people such as Lisa Murkowski of Alaska and Dean Heller of Nevada, both of whom had come out in opposition to the original draft of the Senate bill, which was pulled shortly before the July 4th recess when it became clear that the Senate would not be able to hold a vote before taking that relatively short break.
In the end, it seems clear now that the Senate GOP's entire 'repeal and replace' effort was doomed once that initial effort failed to make it to a vote. It was quite obvious at the time that Senate leadership wanted to take a vote on the original draft of the bill before the recess because they realized that sending Senators back to their states with the bill still standing out there would mean that Senators would be exposed to constituents during holiday parades and town hall meetings, many of whom would be strongly opposed to the Senate 'repeal and replace' effort. Additionally, they seemed to anticipate that the longer the bill was public without the Senate voting on it, the stronger public opposition to the bill would become. As it turns out, that's exactly what happened. Many Senators returned home to constituents angry about what the Senate was considering, and polls showed that the public strongly opposed the plan and even that support for the Affordable Care Act was far stronger than support for any of the Republican 'repeal and place' plans. Then, Senator McConnell was forced to delay the vote yet again due to the fact that John McCain will be out of town for at least a week and he could not afford to lose a single vote.
If McConnell is to be believed, the Senate will now move on to a plan that would repeal the Affordable Care Act but not include any kind of replacement. Instead, implementation of the repeal would apparently be delayed for at least two years with the intention that Congress would work on devising a replacement during the delay period. Even if a bill like this were to pass the House and Senate and make it to the President's desk, though, it's not likely that things would turn out the way McConnell seems to think they would. Kicking the can down the road on replacement would essentially guarantee that Congress will not come up with any kind of a deal. In such an event, it's likely that the remainder of this year will be taken up by matters such as the budget for the next fiscal year, the possibility of legislation dealing with tax reform and infrastructure coming down the road, and, of course, the ongoing investigation into Russian efforts to interfere in the election and possible collusion between Trump campaign officials and Russian officials in that regard. Looking beyond that, once we get to the end of the year and the beginning of 2018, both parties in Congress would be focusing on the midterm elections and 2019 would mark what is effectively be the beginning of the 2020 campaign. The idea that there is going to be any more consensus on a replacement bill during that time period is, frankly, laughable. If the GOP was going to pull this off, it had to happen within this first year of the Trump Presidency. The fact that it clearly won't means that, once again, the effort to 'repeal and replace' Obamacare would be doomed. In the end, the most likely outcome would be that Congress would quietly vote to extend the delay in implementation of any repeal bill to give themselves more time until, eventually, they just pass a bill that would effectively repeal the repeal and the basic structure created by the PPACA would remain in place.
Before we get there, though, the Senate would have to pass a bill repealing the Affordable Care Act, and that doesn't seem likely at all. While such a bill is likely to bring Senators such as Rand Paul, Mike Lee, and Jerry Moran back into the fold, it is unlikely to gain the support of moderates such as Susan Collins and would likely send people such as Murkowski and Heller into the 'no' camp as well. One of the main reasons for this is that the Congressional Budget Office has already said that a repeal-only bill would lead to some 34 million people without insurance coverage and premium increases near or over 100% over a ten year period. With a score like that, it will be difficult for other wavering Senators, such as Ohio's Rob Portman and Wisconsin's Ron Johnson. It would also likely make it difficult for Senators such as Lindsey Graham, John McCain, and others to support the bill. As The Washington Post's James Hohmann and CNN's Chris Cillizza both state this morning, the reality is that a repeal-only bill is likely doomed in the Senate and may not even have a chance in the House of Representatives if it were ever placed on the floor there. Additionally, unlike the bill that the Senate was set to eventually consider until last night, a repeal-only bill is unlikely to fully qualify for consideration under the Senate's reconciliation procedures, which means that McConnell would need sixty votes to either begin or end debate on the bill and proceed to a final vote. Since it's unlikely that any Democrats are going to cross the aisle to help Republicans in this instance, that would mean that the repeal idea would die a quick and rather ignominious death. So, while Republicans will likely put up a show over the next several weeks of trying to repeal Obamacare, the reality is that they will most likely fail to do so and that we'll be left with the status quo, which would amount to a tremendous defeat both for Congressional Republicans and for the Trump White House.
Update: Since I posted this bill, two Republican Senators, Susan Collins of Maine and Shelly Moore Capito of West Virginia, have announced they cannot and will not support a repeal-only bill. Senator Rob Portman, meanwhile, expressed "uncertainty" about such a bill, suggesting that he's leaning toward opposition. Additionally, Senator Bill Cassidy of Louisiana made comment's similar to Portman's, thus putting him in doubt when it comes to supporting a pure repeal bill. With Collins and Capito opposed, the bill cannot survive even one more Republican defection.
Update #2: Alaska Senator Lisa Murkowski has announced she opposes Senator McConnell's repeal-only plan, meaning that it is effectively dead:
Sen. Lisa Murkowski (R-Ala.) says she will not support moving forward with a plan to repeal ObamaCare with a delayed replacement, effectively killing the latest legislative gambit from Sen. Majority Leader Mitch McConnell(R-Ky.)

Murkowski, who had balked at the last version of the ObamaCare bill, said she is a "no" on the motion to proceed to a repeal-only plan. She is the third Republican senator to take that position.

"No. I said back in January that if we're going to do a repeal there has to be a replacement. There's enough chaos and uncertainty already," she told reporters Tuesday.

Earlier Tuesday, Sens. Susan Collins (R-Maine) and Shelley Moore Capito(R-W.Va.) also said they will not support moving to the repeal-only bill. Republicans can only afford two defections.
Senator McConnell's plan lasted about eighteen hours.
Update #3: I've written a separate post about the failure of the repeal-only proposal.