Senate GOP's Plan C On Health Care Dies In Less Than A Day
What looks like it will be the Senate GOP's last effort on the issue of health care reform died less than a day after being put on the table.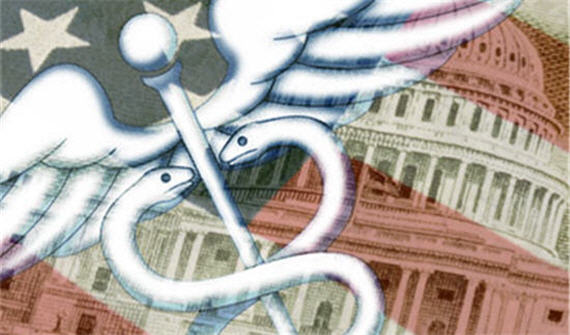 As I noted in updates to this morning's post, Senate Majority Leader Mitch McConnell's latest effort on health care reform died within eighteen hours after he first floated it thanks to the defection of three of the five female Republican women in the Senate:
WASHINGTON — With their bill to repeal and replace the Affordable Care Act in tatters, Senate leaders on Tuesday pushed to vote on a different measure that would repeal major parts of President Barack Obama's health law without a replacement — but that plan appeared also to collapse.

Senators Susan Collins of Maine, Shelley Moore Capito of West Virginia and Lisa Murkowski of Alaska, all Republicans, immediately declared they could not vote to repeal the Affordable Care Act without a replacement — enough to doom the effort before it could get any momentum.

"I did not come to Washington to hurt people," Ms. Capito said in a statement. "I cannot vote to repeal Obamacare without a replacement plan that addresses my concerns and the needs of West Virginians."

Senator Rob Portman of Ohio hinted strongly that he too would oppose it.

The collapse of the Senate Republican health bill — and the failing struggle to find yet another alternative — highlighted a harsh reality for Senate Republicans: While Republican senators freely assailed the health law while Mr. Obama occupied the White House, they have so far not been able to come up with a workable plan to unwind it that would keep both moderate Republicans and conservatives on board.

By midday Tuesday, the Republican Party's seven-year-old promise to repeal the Affordable Care Act appeared broken. At the White House, President Trump said his plan was now "to let Obamacare fail," suggesting Democrats would then seek out Republicans to work together on a health measure.

"It will be a lot easier," Mr. Trump said, adding, "We're not going to own it. I'm not going to own it. I can tell you the Republicans are not going to own it. We'll let Obamacare fail and then the Democrats are going to come to us."
More from The Washington Post:
As divisions between the two main ideological camps within the GOP widened Tuesday, Republicans were scrambling to contain the political fallout from the collapse of a months-long effort to rewrite Barack Obama's signature domestic accomplishment.

President Trump predicted Tuesday morning that Republicans may wait for the federal insurance market to collapse and then work to broker a deal to rewrite the nation's landmark health-care law, while Senate leaders pressed ahead with a plan to repeal the Affordable Care Act with no immediate replacement.

But it became quickly apparent that GOP leaders, who were caught off guard by defections of their members Monday night, lacked the votes to abolish parts of the 2010 law outright. Three centrist Republican senators — Susan Collins (Maine), Shelley Moore Capito (W.Va.) and Lisa Murkowski (Alaska) — all said they would oppose any vote to proceed with an immediate repeal of the law.

"I did not come to Washington to hurt people," Capito said on Twitter. She added, "I will only vote to proceed to repeal legislation if I am confident there is a replacement plan that addresses my concerns."

Collins said in a statement that she had urged Senate Health, Education, Labor and Pensions Committee Chairman Lamar Alexander (R-Tenn.) to hold hearings in an attempt to fashion a new legislative fix for the ACA, while leaving it in place in the meantime.

"We can't just hope that we will pass a replacement within the next two years," she said. "Repealing without a replacement would create great uncertainty for individuals who rely on the ACA and cause further turmoil in the insurance markets."

Trump, for his part, blamed the demise of a plan to rewrite the ACA on Democrats "and a few Republicans," but he suggested that the drive to overhaul the law was not completely over.

Speaking to reporters in the Roosevelt Room on Tuesday afternoon, Trump said he was "disappointed" in the demise of the Senate bill. Now his plan is to "let Obamacare fail; it will be a lot easier," he said. "And I think we're probably in that position where we'll just let Obamacare fail."

"We're not going to own it. I'm not going to own it," the president said. "I can tell you the Republicans are not going to own it. We'll let Obamacare fail, and then the Democrats are going to come to us."

Trump's latest comments intensified the current political uncertainty on Capitol Hill, where GOP leaders were debating what to do next, and they raised anxiety among insurers that must commit to staying on the federal health exchange within a matter of weeks.

Republicans are reeling after two more GOP senators declared their opposition Monday to the party's plan to overhaul the nation's health-care system, likely ending their quest to make good on a GOP promise that has defined the party for nearly a decade and has been one of Trump's top priorities.
Despite the fact that three Senators have indicated their opposition and that others are likely to join them, Senate Majority Leader Mitch McConnell announced this afternoon that the Senate would still hold a vote on the repeal-only plan:
Senate Majority Leader Mitch McConnell (R-Ky.) said Tuesday that the Senate will push forward with trying to repeal ObamaCare.

"Sometime in the near future we'll have a vote on repealing ObamaCare," McConnell told reporters after a closed-door caucus lunch.

McConnell acknowledged that his conference does not now have the 50 votes it needs to pass its healthcare repeal bill.

And on Tuesday, there was evidence that he does not have the votes to bring a bill repealing ObamaCare to the floor.GOP Sens. Lisa Murkowski (Alaska), Susan Collins (Maine) and Shelley Moore Capito (W.Va.) all said Tuesday that they would oppose taking up the Houss-passed ObamaCare repeal bill, which would then be used as a vehicle for Senate action.

"At some point we need to find out where the votes are," Sen. Roy Blunt (R-Mo.), a member of GOP leadership, acknowledged to reporters.
Notwithstanding McConnell's position that the Senate will continue to push forward, the fact that three Senators have already announced their opposition to a bill similar to the 'repeal and delay' strategy that McConnell announced yesterday evening means that the bill is effectively dead before even making it to the floor. Even if such a bill could qualify for consideration under the Senate's reconciliation procedures, losing three Senators means that Republicans lack even the 50 votes they would need to pass the bill with Vice-President Pence's tie breaking vote. Additionally, the fact that the bill already appears to be dead means that other Senators will be under no pressure to back McConnell's bill given the fact that it's going to fail anyway. At the very least, this likely means that McConnell will lose the support of Senators who expressed doubts about a repeal-only path on health care such as Rob Portman of Ohio and Bill Cassidy of Louisiana. It also likely means that he'll lose Senator Dean Heller, who opposed the first version of the Senate GOP health care reform proposal thanks in no small part to a combination of what he was hearing from his constituents, the urging of his state's Republican Governor Brian Sandoval, and the fact that he faces a tough fight for re-election in 2018. Other Senators eager to save their own necks would likely join them.
After the sudden collapse of the revised version of the Budget Reconciliation Act yesterday, the fact that Senator McConnell's repeal-only proposal collapsed so quickly isn't really very surprising. As I noted this morning, the Congressional Budget Office had previously estimated that a full repeal without any kind of replacement would result in some 30 million people losing insurance coverage and insurance premiums rising at least 100% over a ten year period, an increase that would likely price even more people out of the market than any of the replacement plans considered by the House or Senate. Anyone who believed that such a plan would succeed where previous efforts had failed was obviously not paying attention during their civics class in High School. Indeed, it's probable that Senator McConnell, who has been around Washington long enough and become a master at using the rules of the Senate to his party's advantage as both Minority and Majority Leader, knew from the start that a repeal-only effort would fail. Most likely, he only put forward the repeal-only idea as a sop to the conservatives in the party who would complain if the Senate gave up on what has been a seven-year long war against the Affordable Care Act that now appears to be coming to a quick and sudden end.