Republican Health Care Chaos
The Senate left for vacation without a viable path forward on health care reform, and the road ahead seems treacherous and hard to navigate.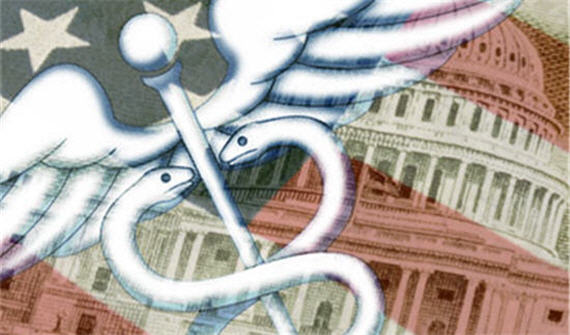 Not unexpectedly, Senators left Washington yesterday for a week-long break without coming up with changes to their version of health care reform, and now President Trump is suggesting that Congress should just repeal the Affordable Care Act and worry about replacing it at a later date:
WASHINGTON — With Senate Republicans already bogged down over how to dismantle the Affordable Care Act, President Trump on Friday tossed in a new complication with an old idea: The Senate could repeal the health law now, then replace it later.

Mr. Trump gave his blessing in a Twitter post after a Republican dissatisfied with the current repeal bill, Senator Ben Sasse of Nebraska, floated the two-stage approach as a backup plan. Mr. Sasse sent a letter to the president and made a pitch on Fox News on Friday as an agreement on a new version of the Senate's repeal bill remained elusive.

Other conservatives quickly picked up the idea — including Senator Rand Paul of Kentucky and the advocacy group Americans for Prosperity, backed by Charles G. and David H. Koch — presenting a new headache to Senate leaders who are trying to focus their conservative and moderate troops on finding a compromise.

Days ago, Senate Republican leaders spoke of finishing their revisions to the repeal bill by Friday, clearing the way for the Congressional Budget Office to prepare a new analysis of the bill. That way, after lawmakers return from their Fourth of July recess, the majority leader, Senator Mitch McConnell of Kentucky, could try to move ahead with a vote.

But Friday came and went without any agreement or public show of progress — and with no vote in sight. Instead, Mr. McConnell was dealing with a new dose of uncertainty about whether Republicans should continue on their current course or scrap their bill for a repeal-only measure that would probably have at least as much difficulty garnering enough votes to pass.

The health care debate almost certainly will continue deep into July, when Congress will face other pressing issues, including raising the government's statutory borrowing limit.

"We need repeal; we need replace," Mr. Sasse said on Fox News. "Trying to do them together hasn't seemed to work."

Republican leaders in Congress had embraced the repeal-now-replace-later mantra after Mr. Trump's election, envisioning legislation that would end the Affordable Care Act in a few years as they worked on a replacement. But that plan was blown up quickly in January when Mr. Trump publicly demanded that a replacement be adopted simultaneously. Since then, Mr. McConnell and Speaker Paul D. Ryan have choreographed a complicated legislative dance that would fulfill Mr. Trump's repeal-and-replace wishes.

Now, those wishes could be changing.

In his letter to the president, Mr. Sasse said that if a deal on a revised health care bill had not been struck by the time the Senate returned from its recess on July 10, Mr. Trump should call on Congress to "immediately repeal as much of Obamacare as is possible" under the rules that must be followed to avoid a filibuster, with a one-year delay on the repeal bill's implementation.

Then, he said, lawmakers should get to work on replacing the health law and should cancel their planned August recess.

"On the current path, it looks like Republicans will either fail to pass any meaningful bill at all, or will instead pass a bill that attempts to prop up much of the crumbling Obamacare structures," Mr. Sasse wrote. "We can and must do better than either of these — both because the American people deserve better, and because we promised better."

Soon after Mr. Sasse's appearance on Fox News, Mr. Trump wrote on Twitter, "If Republican Senators are unable to pass what they are working on now, they should immediately REPEAL, and then REPLACE at a later date!"

Asked about the tweet, a White House spokeswoman, Sarah Huckabee Sanders, said, "The president hasn't changed his thinking at all."

"We're still fully committed to pushing through with the Senate at this point," she said. "But we're looking at every possible option of repealing and replacing Obamacare."

Mr. McConnell was hoping that the Senate would pass his bill this week. But he dropped that idea on Tuesday after it became clear that he did not have the votes and would have to revise his bill for it to have any chance of passing. A spokeswoman for Mr. McConnell declined to comment on the president's tweet.
Trump's Tweet came at the same time that The Washington Post is reporting that Senate Republicans are quite concerned about the political impact of heading home for their week-long break without a replacement bill in place, especially since many of them have town hall events planned for the week at which health care concerns are bound to be a top issue of concern. As the Post reported, one such Senator is Bill Cassidy of Louisiana, who held a town hall yesterday at which the ongoing health care debate in Congress was the most dominant, if not the sole, issue that voters are asking about. Other Senators and Members of Congress are likely to face the same thing over the coming week, not only at town halls but also at community events over the Independence Day holiday Given the fact that all of the polling that has been done regarding that plan has shown the general public overwhelmingly opposed to the Senate's version of reform, this is entirely unsurprising of course. As it stands, though, that is exactly the scenario that the Senate GOP has walked into. Instead of having a replacement bill ready when they return from the short July 4th recess so that they can debate and vote on it in time for the recess at the end of July, Senate Republicans instead have nothing, and they now have a President who appears ready to undercut their strategy altogether by suggesting that they abandon the idea of replacing the PPACA altogether and just go with a straight repeal of the Affordable Care Act.
As the article quoted above notes, Trump's new apparent idea to just repeal the PPACA appears to have come from what he saw on cable news. Previously, both during the campaign and in the subsequent debate that has taken place since he took office, the President has generally taken the position that there needed to be a replacement for the PPACA ready to go into effect if Congress is going to repeal the law. Given the huge reliance costs that have been incurred both by the insurance industry and by individuals, this is the only sane way to approach this issue. Simply repealing the law, whether it would take place immediately or after some sort of waiting period as Senator Sasse suggested, won't work for a wide variety of reasons, not the least of them being that it would cause havoc for the insurance and health care industries since nobody would know for sure what awaits them. Additionally, the changes that the PPACA made to these industries cannot simply be undone by a bill repealing the PPACA in whole, especially since all of the 'replacement' bills have contemplated leaving some of the major components of the law, such as the exchanges, Medicaid expansion, protection for those with pre-existing conditions, and continuation on the ban on a lifetime cap on coverage, in place in some form or another.More importantly, some estimates have shown that simply repealing the PPACA would have a worse impact than either the Senate reform bill or the House version:
President Donald Trump wants Congress to repeal Obamacare now and worry about replacing it later. But that's a non-starter for many congressional Republicans who don't want to scrap a plan that's covering millions of Americans without something to take its place.

Repealing the health law without a replacement would kick about 18 million Americans off of health coverage in the first year — and reach 26 million a few years later, according to a CBO analysis of a 2015 bill to repeal the health law without a replacement. About 20 million people are covered now under the Obamacare markets or the law's Medicaid expansion. Repealing the entire law would remove subsidies, cut coverage, take away protections for pre-existing conditions and send premiums skyrocketing.

Coming up with the replacement has been far more difficult than lawmakers, or Trump, imagined. Senators left Washington Thursday for a week-long July Fourth recess having failed to get 50 votes to repeal and replace Obamacare in time for the late June vote GOP leaders had sought. Their new goal is to pass a bill in July, perilously close to the long August recess.
So this is where Republicans find themselves. The House-passed bill, which barely made it through the lower chamber with only a two-vote majority, cannot pass the Senate. The Senate's proposal, which is barely two weeks old at this point, proved to not even have sufficient support to get fifty votes in the upper chamber, and even if it could that Senate bill would most not likely survive a House vote. Meanwhile, the Senate was unable to come up with a revised bill before leaving town, meaning that there won't be a CBO score of any revised bill ready when it returns from its recess a week from Monday. Without that CBO score, the Senate cannot even take a vote to open debate on the replacement bill. That gives them just about three weeks before the scheduled August recess to put a bill forward, debate it, and vote on it if they can. In the meantime, they also have work to do on the budget for the next fiscal year, and a plate full of confirmations for Executive Branch positions, Ambassadorships, and Judical Branch positions to vote on. Now they have a President suggesting that they abandon their entire strategy and kick the can down the road toward in what would likely be a doomsday scenario where the PPACA would be automatically repealed without a replacement a year from now unless they acted. And 2018 will be an election year, so the odds they'll be able to get anything done then is exceedingly low. All of this makes the odds of nothing being accomplished on health care reform much more likely even as Republicans and Democrats alike acknowledge that there are flaws in the PPACA that need to be addressed if we're going to avoid a real crisis in a few years, or sooner.
For the moment, Senate Majority Leader Mitch McConnell is saying he'll stick with the Better Care Reconciliation Act and rejects the idea of merely repealing the PPACA. That position, though, binds McConnell into the bigger puzzle of how to get a seemingly dead in the water reform bill through a Senate where there seems to be more than enough opposition to kill the bill before it can take another breath. Perhaps he'll succeed, and indeed it's typiclly unwise to count McConnelll out in these situations, but it's not going to be easy.