Key Republicans Pushing To Have Obamacare Replacement In Place Before Voting On Repeal
With repeal of the Affordable Care Act now likely sooner rather than later, key Republicans are urging the party to have a replacement in place before repeal is voted on.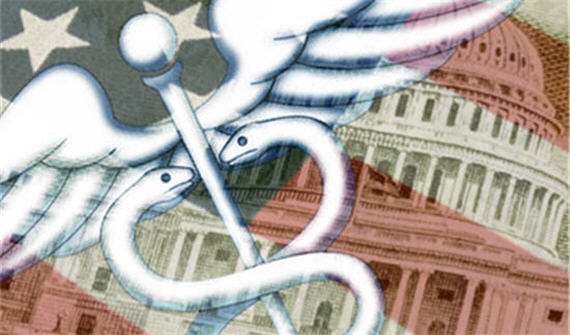 With Republicans taking control of both the White House and Congress for the first time in a decade in just over a week now, it's now inevitable that there will be sufficient support for Republicans to achieve something that has been a goal of the party since the 2010 mid-term elections, the repeal of the Affordable Care Act. In the immediate aftermath of the election in November, there were some Republicans who talked about repeal of the six year old law as soon as Donald Trump takes office, which would mean House and Senate votes on repeal within the next week so that the bill would be ready for the new President's signature almost as soon as he takes office. The closer we have gotten to Inauguration Day, though, the less likely such a quick repeal has become. For one thing, the Senate is quite busy at the moment with confirmation hearings for the new Cabinet, the public portion of which kick off today with hearings before the Senate Judiciary Committee on the nomination of Alabama Senator Jeff Sessions to be Attorney General. Additionally, with the actual prospect of repealing the PPACA actually now within the realm of likelihood, at least some Republican Senators are resisting the idea of repealing the Affordable Care Act without having a replacement in place:
After publicly airing some of their grievances with the GOP's current strategy of repealing Obamacare without a replacement plan, a handful of Republican senators put their concerns in legislative writing. Five senators on Monday evening introduced a measure that would delay the next steps on repealing the Affordable Care Act by more than a month. The senators, in their statements accompanying the provision, said the delay would buy Congress more time to work out of the the details of a replacement.

"This amendment will ensure that we move forward with a smart, responsible plan to replace the law as quickly as possible," said Sen. Rob Portman (R-OH) in a statement announcing the measure. He was joined by Bob Corker (R-TN), Susan Collins (R-ME), Bill Cassidy (R-LA.) and Lisa Murkowski (R-AK) in introducing the proposal.

The proposal would amend the budget resolution currently being considered by the Senate that is supposed to act as a vehicle for the Republicans' repeal effort. The budget resolution as it now stands directs the relevant committees in the House and Senate to come up with the actual repeal legislation that will be passed through the process known as reconciliation, which requires only a majority vote in the Senate. The budget resolution, which was introduced last week, gives the committees until Jan. 27 to submit their repeal bills for the next steps in the legislative process.

In contrast, the amendment introduced Monday evening would extend that deadline until March 3, so that the incoming Health and Human Services secretary (likely Georgia GOP Rep. Tom Price) has "adequate time to review what the Trump administration can repeal and replace administratively versus legislatively, and ensure that Congress puts in place a responsible timeline for replacing the law," according to the amendment's press release.
Also joining in the 'repeal and replace' position is Kentucky Senator Rand Paul, who says he has the support of President-Elect Donald Trump:
After Rand Paul spent the last week urging the GOP not to repeal Obamacare without having a replacement plan ready, his phone rang on Friday night with a call from a new supporter: Donald Trump.

"He called after seeing an interview that I had done [talking about] that we should vote on Obamacare replacement at the same time," Paul said in an interview on Monday. "He said he was in complete agreement with that."

With Trump going out of his way to bless the Kentucky senator's approach, Paul's week-long campaign to hold a vote on replacing Obamacare alongside a simultaneous repeal measure has seemingly upended the GOP's long-sought plans for a cathartic and immediate vote to gut the health care law. As news broke that Trump backed Paul's play, several other Senate Republicans were also beginning calls for a new strategy — threatening the trajectory of the party's rush to repeal the law.

On Monday in New York City, Trump said he's "not even a little bit" worried about how Republicans will replace Obamacare. "That's gonna all work out," said Trump, whose campaign pledge was to immediately repeal and replace President Barack Obama's signature health care law.

Paul said he wasn't trying to slow the process down, but instead said it's a "matter of speeding up" the replacement efforts. He's putting together an initial proposal containing the GOP's best ideas and will ship them this afternoon to Trump's administration after getting buy-in from the president-elect.

Still, he admitted that there are now enough critics in his conference to put the brakes on any effort to repeal the healthcare law before there's broad GOP buy-in around an alternative. Influential Republicans including Tom Cotton (R-Ark.) and Bob Corker (R-Tenn.), have also called for simultaneous repeal-and-replace, complicating plans to quickly pass a repeal bill by a majority vote in the narrowly split Senate.

"We need to work through the discussion. I think there are enough voices in the caucus that are saying we should do replacement when we repeal. So it could get to that point," Paul said, adding that he'd still likely support a standalone repeal bill. "I still would but I'd feel a lot better about it if we voted on replacement on the same day."

The GOP-controlled Congress is aiming at repealing the law as soon as it can, potentially shortly after Trump is sworn in. But on Sunday, Senate Majority Leader Mitch McConnell and Trump's top staffers did not present a clear-cut roadmap to a replacement plan, or a timeline for when one might be unveiled that has the support of the leadership.

McConnell said on CBS that he hadn't "heard Senator Paul's plan to replace it. But we will be replacing it rapidly after repealing it." Pressed twice on the timely, McConnell would only say that replacement would happen "quickly."

McConnell visited Trump Tower on Monday morning, telling reporters afterward that he had talked to Trump about "repealing and replacing Obamacare."

"It would be ideal if we could do it all in one big action. But look. It may take time to get all the elements of the replace in place," said Reince Priebus, Trump's incoming chief of staff, on "Face the Nation." "The full replacement may take more time than an instantaneous action."

But that's not what Paul says Trump conveyed to him on Friday evening.

"I'd hate to characterize his opinion on it other than he agreed with me that we should do it that at the same time," Paul said. "There is momentum growing for it."
The current intra-party debate in the GOP is not a new one, of course. From the start when Republicans took control of the House of Representatives in the 2010 mid-terms, and then again after they took control of the Senate in the 2014 mid-terms, there has been a debate between those who said that it was sufficient for the party to support repeal of the PPACA and those who said that the GOP should have some kind of replacement plan in place to accompany votes on repeal. This argument was also made by Democratic critics during each of the many occasions when the House voted to repeal the law in whole or in part, all of which of course proved to be symbolic due to the fact that Democrats controlled the Senate and/or the fact that there was a Democrat in the White House. Given the fact that the party did not have veto-proof majorities in either house of Congress, of course, this was a largely academic debate since it was never likely that a repeal and replace measure would have anything close to the kind of Democratic support it would need to become law. As a result, the dozens of repeal votes that took place in the House beginning in 2011 and the relatively smaller handful of repeal votes in the Senate since Republicans took control in 2015 have not included a replacement provision, and this has left them open to the valid criticism that they were merely symbolic and not to be taken seriously since the GOP was not proposing what would follow repeal of the law. Now, with repeal seemingly inevitable given the fact that Republicans reportedly plan to use the budget reconciliation process to push any repeal bill through the Senate so as to make an end run around Democratic efforts to filibuster a repeal bill, reality has opened up and Republicans are realizing that repeal without a replacement simply isn't a realistic possibility.
One consequence of this is the fact that the initial plan to repeal the PPACA and delay that replacement until a replacement can be voted on appears to be dead on arrival:
The Republican plan to repeal Obamacare and delay the implementation of the repeal — with a promise to come up with a terrific replacement later — is probably the party's best way to destroy Obamacare. Unfortunately for Republicans, it's also the best way to destroy the Republican majority in Congress.

Something big is happening in the Senate right now: The Republican plan, affirmed again today by Senate Majority Leader Mitch McConnell, is facing dire peril from Republican defections. Republicans need a House majority, 50 Senate votes, and soon-to-be President Trump to pass repeal and delay.

If Republicans lose three Senate votes, that drops them to 49, and repeal and delay cannot pass. At least three Republican senators (in addition to all the Democrats) now oppose repeal and delay. Rand Paul, of all people, has demanded that Congress repeal Obamacare at the same time it passes a plan to replace it. Paul has announced that he spoke with Trump and secured his agreement on this. Trump has not said so himself, confining his comments to date to a vague assurance, "That's all gonna work out."
These developments also come on the heels of a new Politico/Morning Consult poll that shows that while voters are generally supportive of repealing the PPACA, they are unsure about doing so without a replacement being in place:
Voters want — and expect — President-elect Donald Trump and the GOP-controlled Congress to repeal the 2010 health care law, according to a new POLITICO/Morning Consult poll released Tuesday, but they are skeptical of repeal without a plan to replace Obamacare and some of its most popular elements.

A majority of voters disapprove of the law, which is teetering on life support as Trump prepares for his inauguration next week and Republicans signal that repealing Obamacare is their top priority. Only 41 percent of voters surveyed approve of the law, while a 52-percent majority disapproves. More self-identified Democrats disapprove of the law (23 percent) than Republicans who approve (16 percent), and independents tilt strongly against it (36 percent approve, versus 54 percent disapprove).

On a list of six initiatives for Trump and congressional Republicans, repealing the health-care law ranks as the most important, with 26 percent of all voters, including 41 percent of Republicans, calling it their top priority

And voters are counting on changes to the law. A combined majority wants the law repealed in part (32 percent) or completely (27 percent). Fewer than a quarter of voters want the law expanded (24 percent), and only 11 percent want the law kept as-is.

A combined 73 percent of voters say it's either "very" or "somewhat" likely Trump and congressional Republicans repeal the law, while only 13 percent say it's "not too likely" Obamacare is repealed and 4 percent say it isn't likely at all.

(…)

Only 28 percent of voters say the law should be repealed "even if there is no current plan for replacing" it. Fully 61 percent say the law "should not be repealed until there is a new plan for replacing the law."
To be fair to Republicans, there have been replacement plans floating out there ever since the PPACA was passed. Senate Rand Paul, for example, has proposed a plan ever since coming to office in January 2011, and Congressman Tom Price, President-Elect Trump's selection to be the new Secretary of the Department of Health And Human Services, has had his own replacement plan for virtually the same amount of time. Additionally, other members of Congress have proposed their own plans, as have various conservative and right-leaning think tanks and public policy organizations in Washington and elsewhere. While each of the plans differs in significant respects, they are similar in many respects as well, with each of them containing elements of conservative-leaning ideas on the issue of health insurance reform that have been around for quite awhile now, such as tax-free Health Savings Accounts meant to cover routine medical expenses while most insurance is left to cover catastrophic care, tax breaks and subsidies for lower-income people to allow them to afford coverage, an end to the laws that forbid the sale of health insurance across state lines, and other changes in the law that analysts on the right believe will both lower the cost of health care and health insurance and expand coverage for people who cannot afford it.
The poll also makes clear at least one dilemma that Republicans must deal with heading into the upcoming debate about repeal and replacement, namely the fact that some provisions of the PPACA remain popular even though the public generally supports the idea of repealing the law:
One major complication to any replacement: Trump and some Republicans have pledged to consider some of the more-popular elements of the health-care law in a post-Obamacare framework, and the POLITICO/Morning Consult poll shows voters want to keep large parts of the law.
Testing eight separate elements of the law, more voters want to keep each of the eight provisions than want to repeal them, in some cases by overwhelming margins.

Nearly two-thirds of voters, 66 percent, favor keeping a provision that prohibits insurance companies from denying coverage to patients with pre-existing conditions. Sixty-three percent of voters want to keep the requirement that insurance companies allow policyholders to keep their children on their plans until age 26. Fifty-six percent think subsidies for low-income Americans to buy insurance should stay, and the same percentage wants to keep federal funding for states to expand their Medicaid programs.

Pluralities of voters also want to keep two other provisions of the law, though by narrower margins: 46 percent want to keep the elimination of lifetime and annual limits on health reimbursement to individuals, while 32 percent want that repealed. And 33 percent of voters want to repeal the long-derided medical-device tax, compared to 37 percent who want to keep it.

The most-popular elements of the law are also well-regarded by Republicans. Sixty-three percent of Republicans want Trump and Congress to keep the prohibition on denying coverage to those with pre-existing conditions, and 56 percent want to retain requiring insurance companies to allow the children of policyholders to stay on their plans until age 26.

While other provisions of the law are less popular with GOP voters, those voters are not overwhelmingly in favor of repealing them. Only 40 percent of Republicans want to repeal the 50-employee requirement, slightly fewer than the 44 percent who want to keep it. Just 38 percent want to repeal the subsidies for low-income Americans to buy insurance, compared to 43 percent who want to keep the subsidies. Forty-one percent want to repeal Medicaid expansion funds, while 40 percent want to retain those funds as part of the law.
The problem, of course, is that it's going to be difficult to find a way to keep these popular parts of the PPACA while simultaneously getting rid of the unpopular elements such as they employer and individual coverage mandates and other provisions that proved to be the death knell of the law in the mind of the public. This is because each of the provisions increases the costs of coverage for insurance coverage while making it harder for them to cover their costs by any means other than raising premiums for everyone rather than charging higher premiums for people that fall within certain categories based on documented actuarial reality. In any case, while also vowing to repeal the law, Republicans have said repeatedly that they would keep most if not all of these popular provisions of the PPACA, with provisions such as the coverage requirements for those with pre-existing conditions and continued eligibility for coverage under a parents' policy until the age of 26 being the most commonly mentioned as being likely to be maintained. So far, there have been minimal details about how these provisions would be reconciled with the repeal strategy, or how they would be integrated into a replacement plan, but it's clear that the GOP will have to deal with this prior to voting on any replacement plan at all.
So yes, the PPACA is going to be repealed in whole or in significant part, and most likely sooner rather than later, but not before Republicans are going to be required to get behind a coherent replacement plan. How they get there will be interesting to watch.