Ben Sasse to Leave Senate to Become Florida President
The Nebraska Republican got an offer he can't refuse.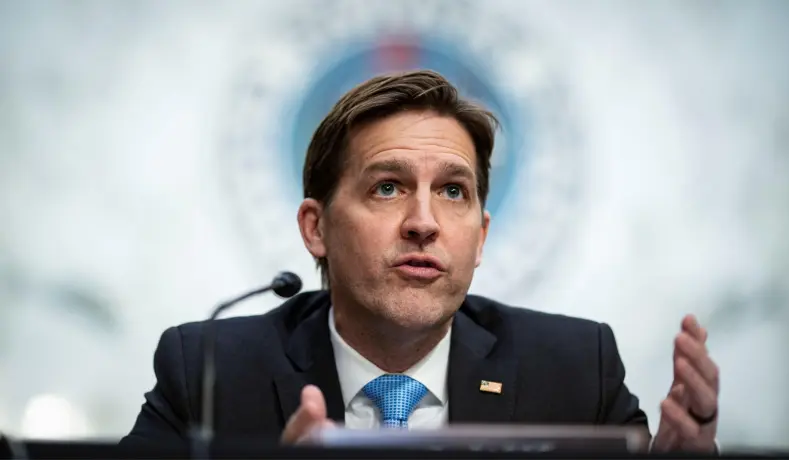 POLITICO ("Sasse likely to resign from Senate, putting all eyes on Ricketts"):
Ben Sasse is likely to accept a job as the president of the University of Florida and resign his Senate seat in the near future, according to two people familiar with the Nebraska Republican's plans.

Nebraska Gov. Pete Ricketts would then appoint a replacement for Sasse under state law, with the seat then up for a special election in 2024. One of the people familiar with Sasse's plans said Ricketts himself is viewed as a potential appointee for the seat.

The University of Florida confirmed Sasse's plans in a press release Thursday that announced him as the sole finalist for the position. Given the length of the university's process, the exact timing of his future resignation is up in the air but likely to happen this year.

Sasse said he and his wife have been "pursued by wonderful institutions the past two years, but we've resisted being a finalist. This time is different because the University of Florida is different: I think Florida is the most interesting university in America right now."

The second-term Sasse made a name for himself as a consistent Donald Trump critic in Congress as well as a reliable conservative vote. Despite his interest in academia, his resignation will be a bit of a surprise after he ran for reelection in 2020 and the potential that he could one day pursue higher office.
NYT ("Nebraska's Ben Sasse Plans to Resign From Senate for University Post") adds:
Mr. Sasse, who voted with six other Republican senators to convict President Donald J. Trump on impeachment charges following the Jan. 6, 2021, insurrection at the Capitol, and has harshly criticized his own party for backing Mr. Trump, was re-elected to his second term in 2020 and was not set to be on the ballot again until 2026.

But his academic background evidently was a draw for the group seeking a replacement for Kent Fuchs, the current University of Florida president, who is returning to teaching as the campus has been roiled by disputes over academic freedom.

"This is right for the University of Florida, right for the state of Florida and right for the Sasse family," said Rahul Patel, the chairman of the Presidential Search Committee. "Ben brings intellectual curiosity, a belief in the power and potential of American universities, and an unmatched track record of leadership spanning higher education, government and the private sector."

The recommendation of Mr. Sasse was the beginning of an extended formal process that might not be concluded until November or December, but the senator made it clear he would take the job if it was offered.
National Review ("Ben Sasse Explains His Decision to Leave Senate to Serve as University of Florida President"):
The deal isn't finalized, but Sasse told National Review in a brief phone interview on Thursday afternoon: "On Sunday night, [the university's] board chair flew up and walked me through how they had had a search committee meeting that ended last week and that there was a 15-0 vote on the search committee to deputize him to pursue just me" to serve as president.

Sasse, who formerly served as president of Midland University in Nebraska, was reelected in 2020 and still has four years left in his current Senate term. Why leave now?

"I honestly think this is the most interesting university in the country right now," said Sasse. "I think it's the most important institution in the most dynamic state in the union."

Sasse said that he had "been courted by a lot of universities about presidential vacancies for a couple of years and [had] never really taken them seriously" until the University of Florida came along. He spoke, among other things, about the university's "board and faculty that's just incredibly entrepreneurial"; its plans to build new campuses and programs; its hospital system (the second-largest in the state); and its having "the largest supercomputer on an academic campus on earth."

What does he say to Nebraskans disappointed by his decision to leave the Senate without serving out the entirety of his second term? "Nebraskans have well understood that I didn't expect to be in politics as a lifelong calling. I need to get back to building stuff," Sasse said. "The best picture in the dome of the U.S. Capitol is Washington surrendering power."

During his first term, Sasse often expressed disillusionment with politics and sometimes his own party, leaving many to wonder why he was even pursuing a second term in 2020. Sasse told me in 2019 one reason he was seeking another term was that he had a "calling" as "a Tocquevillian or a principled pluralist or a constitutionalist" to fight on behalf of that faction within the conservative coalition, which he had come to realize was smaller than he once thought. Asked how he squares that 2019 comment with his early departure from the Senate, Sasse said on Thursday that "Tocquevillian society is about building things. The center of America really isn't political power. . . . I think the University of Florida is better positioned to build than any university in America right now."
Sasse has had a career that I don't understand. He's obviously quite talented. He was the valedictorian of his high school class in a smallish Nebraska town in 1990 and got a bachelor's degree in government from Yale in 1994. Then, according to his Wiki, "From September 1994 to November 1995, Sasse worked as an associate consultant at the management consulting firm Boston Consulting Group. For the next year, he served as consultant/executive director for Christians United For Reformation (CURE). During his tenure, CURE merged with the Alliance of Confessing Evangelicals (ACE), and Sasse became executive director of ACE in Anaheim, California." That's an odd path for someone with a BA in government but fine.
Then he went back to school: "In 1998, Sasse earned a Master of Arts in liberal studies from the Graduate Institute at St. John's College. He also earned a Master of Arts, Master of Philosophy, and in 2004 a Doctor of Philosophy in history from Yale University."
So, what does he do with his doctorate in history, with a prize-winning dissertation on the atheist movement's Supreme Court fights?
From January 2004 to January 2005, Sasse served as chief of staff for the Office of Legal Policy and as a part-time assistant professor at the University of Texas at Austin, commuting to Austin to teach. Sasse left the Department of Justice to serve as chief of staff to Representative Jeff Fortenberry from January to July 2005.

Sasse then advised the United States Department of Homeland Security on national security issues from July to September 2005 as a consultant. He moved to Austin, Texas, to resume his professorship full-time from September 2005 to December 2006.

From December 2006 to December 2007, Sasse served as counselor to the secretary at the United States Department of Health and Human Services (HHS) in Washington, D.C., advising the secretary on a broad spectrum of health policy issues, from healthcare access to food safety and security.

In July 2007, President George W. Bush nominated Sasse to the post of assistant secretary for planning and evaluation in the U.S. Department of Health and Human Services. The Senate confirmed him in December 2007 and he served until the end of the Bush administration, in January 2009. While at HHS, Sasse took an unpaid leave from the University of Texas.

During 2009, Sasse advised private equity clients and health care investors and taught at the University of Texas. In October 2009, he officially joined the Lyndon B. Johnson School of Public Affairs Center for Politics and Governance as a fellow, before being appointed president of Midland University. While at Texas, he was critical of Obama-era proposals to expand public health care programs. He criticized public-option proposals as a step toward single-payer health insurance and health-care rationing. He supported a plan to lower the cost of Medicare by raising the eligibility age and cutting benefits. He also coauthored a paper proposing limits to Medicaid reimbursements for hospital care for the uninsured.
So, he spends eight years in grad school, earns three masters degrees and a doctorate in history and then somehow parlays that into running a major office at Justice, advising the Secretary of HHS, and then heading up planning at HHS. None of those jobs seem to have anything to do with his academic training. Along the way, he keeps his hand in academia but, oddly, more as a public policy wonk than as a historian. And also somehow became an expert financial advisor because, well, why the hell not?
At any rate, he's now five years out of his PhD program, has dabbled in teaching, and held three government jobs. What's next?
Sasse was announced as the 15th president of Midland Lutheran College (now Midland University) in October 2009. At 37, he was one of the youngest chief executives in American higher education when he took over leadership of the 128-year-old institution in spring 2010. . . . The school was experiencing financial and academic difficulties; Sasse has been credited with "turn[ing] it around", rebranding "Midland Lutheran College" as Midland University, instituting new policies (including spot quizzes and class attendance), and "prodigious fundraising".

Sasse was installed as president on December 10, 2010. When he was appointed, enrollment was at a historic low and the college was "on the verge of bankruptcy". During his tenure as president, enrollment grew from 590 to 1,300 students. When nearby Dana College was forced to close, Sasse hired much of its faculty and enabled most of its students to transfer to Midland.
Sasse would have seemed an odd choice to run a university but it seems he was pretty good at it.
At any rate, after four years, he decided to run for the open Senate seat in Nebraska and, as you might have guessed, won. And, in 2020, despite being an anti-Trump Republican, he easily won re-nomination and re-election.
The University of Florida is indeed a great national university* and it's understandable why Sasse would take the job. He apparently has a knack for fundraising, which is essential to the job. And being in charge of a major university has to be more rewarding in a lot of ways than being one of a hundred Senators.
Beyond that, while he might have had a bright future in politics, including being a plausible contender for the 2024 Republican Presidential nomination, in a different environment he's in no man's land in this one. He's been a consistent and vocal #NeverTrump guy going back to 2016, so he has no future in today's GOP. He's a religious conservative, so he can't just switch over to the Democrats.
So, getting the hell out of Dodge may well be his best move.
___________________
*While the US News ranking system is justly criticized, it's a useful shorthand. UF is tied with the University of North Carolina and Wake Forest for 29th among national universities, one spot behind the NYU/Michigan/USC/the University of Virginia who are tied for 25th. They're ahead of a lot of schools that I think of as more prestigious, including Tufts, Boston College, Cal-San Diego, Texas, and Wisconsin.