Americans Favor Obamacare Over GOP Replacements Two-To-One
New polling indicates that the Affordable Care Act has gained in popularity with the American public, while Republican reform efforts are viewed overwhelmingly negatively.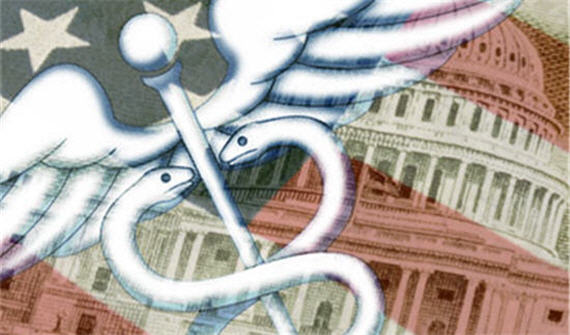 A new poll indicates that the American public opposes the Republican health care reform plan and that support for the Affordable Care Act is hitting new highs:
Republicans racing to pass a bill that would overhaul the Affordable Care Act (better known as Obamacare) certainly understand that their efforts aren't polling well. In survey after survey, a majority of respondents view their legislative proposals unfavorably. At the same time, survey after survey shows Obamacare as more popular than not.

In the new Washington Post-ABC News poll released Sunday, we decided to ask the question directly: Which do you prefer, Obamacare or the Republican replacement plan?

By a 2-to-1 margin — 50 percent to 24 percent — Americans said they preferred Obamacare.

There's a split by party, as you might expect, with Democrats broadly favoring the existing law and Republicans the latter. But that split wasn't even, with 77 percent of Democrats favoring the legislation passed in 2010 by their party and only 59 percent of Republicans favoring their party's solution. Independents in this case came down on the side of the Democrats, with 49 percent favoring the existing law vs. 20 percent backing the GOP alternative.

What's more, roughly 6 in 10 Democrats and a third of independents strongly prefer Obamacare. Only 43 percent of Republicans strongly prefer their party's proposal.

Some respondents, unprompted, said they preferred some other proposal, or neither. One in 10 Democrats offered one of those responses, while about 2 in 10 Republicans and independents did.

More worrisome for Republicans hoping to pass a new bill is how the support broke out by demographic. Only among Republicans, conservatives, white evangelicals and white men without college degrees did more Americans support the GOP bill than Obamacare. In every other group analyzed, including older respondents and white women without college degrees — an important part of President Trump's voting base in 2016 — backed the existing law by some margin.
This polling mirrors other recent polls that show both the Senate and House reform bills to be widely unpopular both in the nation as a whole and among nearly all demographic groups with the exception of self-identified Republicans, although it's worth noting that even their support is not nearly as high as you might expect it to be. At the same time, the Affordable Care Act has seemingly become more popular as the debate over the GOP's various plans as intensified in Congress. One measure of that can be seen in the RealClearPolitics tracking average of polling on the Affordable Care Act where the current average shows the American public favoring the Affordable Care Act to be at an average of 46.8%, while an average of 43.0% oppose the law, The numbers from Pollster are similar, with an average of 47.8% favoring the PPACA and 42.6% opposing it. This continues a trend that shows public sentiment about the law turning positive at roughly the same time that President Trump came into office, which is perhaps an indication that much of the opposition to the Affordable Care Act was driven more by opposition to President Obama than it was to the details of the law itself.
In another new poll that could prove troubling for Republicans, a majority of Americans disapprove of the way President Trump is handling health care:
Americans view healthcare as the most important issue facing the country but are doubtful Congress will pass legislation lowering premiums and covering more people, according to a Bloomberg poll released Monday.

With the GOP push to repeal-and-replace ObamaCare serving as the poll's backdrop, 35 percent of Americans surveyed indicated healthcare was their top issue, more than twice as many as any other option. The other leading issues included unemployment and jobs (13 percent), terrorism (11 percent), immigration (10 percent) and climate change (also 10 percent).

A majority, 64 percent, disapproves of how President Trump is handling healthcare, compared to 28 percent approving.
With a Senate vote on the GOP's latest revision of their 'repeal and replace' bill delayed due to John McCain recovering from surgery over the weekend, this is precisely the wrong news for the Senate GOP leadership. To the extent that there are Senators wavering out there, and there may be as many as half a dozen on that list right now, numbers like these are unlikely to convince them to get behind the Senate bill, especially if they are people such as Nevada's Dean Heller who is widely viewed as the most electorally vulnerable Republican in 2018. Meanwhile, in other news, the Congressional Budget Office announced over the weekend that its score of the revised Senate bill, which had been expected, would be delayed until later in the week:
There's another possible delay to the Senate's consideration of a Republican bill to repeal and replace the Obama administration healthcare law.

The Congressional Budget Office had been scheduled to release an analysis on the latest GOP bill on Monday, including its estimated cost and scope of insurance coverage.

But the Senate Budget Committee on Sunday said the release had been postponed. The committee did not provide an explanation or indicate when the analysis was expected, saying it will provide further information and updates as appropriate.
This delay appears to be connected to the delay in Senate consideration of the revised bill, but it may also be due to the fact that the CBO will also be scoring the so-called Cruz Amendment along with the revised bill itself. Under that amendment, insurers would be free to offer plans that don't comply with the minimum coverage requirements of the law and offer them for sale to consumers. Health care policy analysts and health insurers alike have criticized the amendment, saying that it would disrupt the insurance risk pool to a significant degree and potentially lead some consumers to purchase insurance that would not cover them adequately in the event of a major illness. With these delays, opposition to the amendment seems only likely to grow.