GOP Out Of Step With Nation On 'Pathway To Citizenship' For Illegal Immigrants
Republican hardliners are pushing a position on immigration that is completely out of sync with the nation as a whole.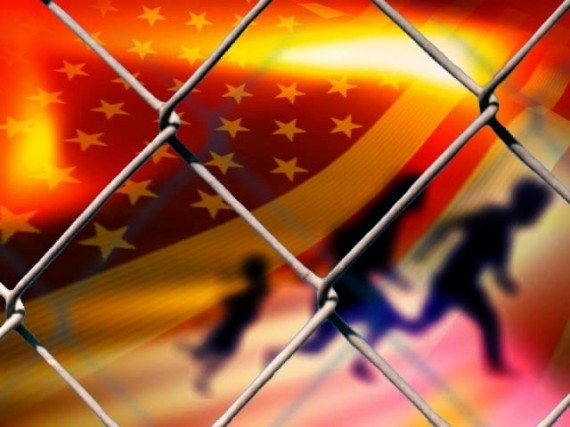 While immigration reform remains moribund in the House of Representatives, there seems to be general agreement among Republicans that the most controversial part of the Senate bill is the portion which would grant a temporary legal status to most of the people who are in the United States legally. The major exceptions in the law would either prohibit those with a criminal record from obtaining any kind of legal status, or make it much more difficult for them to do so. Eventually, the people granted this temporary legal status will become eligible to apply for Permanent Resident status, the so-called "Green Card" which hasn't been green in color for quite some time, and eventually to apply for citizenship if they so desire. In both cases, though, the Senate bill would require people who are here legally to wait longer to apply for these immigration benefits than a person who pursued emigration to the United States legally would have to wait, a requirement which seems quite reasonable under the circumstances. Under the Senate bill, for example, it would take at least 13 years before such people could proceed down either of these paths, and they would also be required to pay fines associated with their illegal status and to pay any unpaid income taxes they may owe. In the House, though, and specifically among Republican members and the GOP base, the very idea of any kind of pathway to citizenship is seen as a deal killer for immigration reform. Based on the polling, though, it seems rather obvious that this is yet another issue where Republicans are out of step with the country as a whole.
First up, The New York Times reports on a new poll from Public Religion Research Institute which shows widespread public support for the idea:
A consistent and solid majority of Americans — 63 percent — crossing party and religious lines favors legislation to create a pathway to citizenship for immigrants living in the United States illegally, while only 14 percent support legal residency with no option for citizenship, according a report published Monday by the nonpartisan Public Religion Research Institute.

Those surveyed expressed strong support for citizenship for 11.7 million immigrants in the country without documents just as Congress appears to be shifting away from that approach, with Republican leaders in the House working on measures that would offer legal status without a direct path to naturalization.

Sixty percent of Republicans, 57 percent of independents and 73 percent of Democrats favor a pathway to citizenship, according to the report. Majorities of Protestants, Catholics and Americans with no religious affiliation also support that plan.

The institute found that there is slightly less support for limiting the immigrants to legal residency than there is for a tough enforcement strategy of identifying and deporting them, a policy favored by 18 percent.

The report is based on results from four national surveys, one in Ohio and focus groups in Arizona, Florida and Ohio. It compares results from a national poll in March with a similar bilingual telephone survey that was conducted nationwide in English and Spanish from Nov. 6 to 10 among 1,005 adults, with a margin of sampling error of plus or minus three percentage points. The nonprofit research institute conducts surveys on public policy issues and religious values.

Support for citizenship has not changed significantly since March, the institute found.

The group drilled down into that issue, creating subgroups for the November survey who were asked questions with differing levels of detail about the requirements immigrants should have to meet to become citizens. When there was no mention of requirements, 59 percent supported an option for citizenship. When the question specified that immigrants would have to pay back taxes, learn English and pass background checks, support increased to 71 percent.

The requirements were "most important for Republicans," the report said. When the question did not mention requirements, only about four in 10 Republicans supported citizenship. When the requirements were described in more detail, Republican support increased to 62 percent.

In June, the Senate passed a broad bipartisan bill with a 13-year pathway to citizenship that includes the hurdles mentioned in the poll: paying back taxes and passing English tests and criminal background checks. House leaders have said they will not take up that measure, but will address immigration issues in smaller bills. Several House Republican leaders have said they are drafting measures that would provide "lawful status" for many unauthorized immigrants but no "special path" to citizenship.

According to the report, nearly seven in 10 Americans believe the 13-year wait for citizenship under the Senate bill is too long, while 24 percent said it was just right.
These results are largely mirrored in a Quinnipiac poll from earlier this month:
According to a Quinnipiac University survey from earlier in November, 57% of registered voters nationwide support a pathway to citizenship, while 13% say undocumented immigrants should be allowed to stay but not become citizens.

Twenty-six percent, however, say those immigrants should be required to leave, while four percent are unsure.
The Quinnipiac survey also shows that 44% of Republicans  support a pathway to citizenship, while 53% do not, although that number is divided between 15% who say that people here illegally should be allowed to stay, presumably under some other form of status, while 38% say that they should not be permitted to stay. Other polling has indicated that Republican opposition to a pathway to citizenship specifically, and immigration reform in general, is even stronger than this poll would indicate, although it's worth noting that the PRRI survey, which was of all adults rather than registered voters like the Quinnipiac and other polls has been, showed that even a majority of Republicans support the idea of a pathway to citizenship and the general outlines of the Senate bill. (You can read the full PRRI survey in this PDF file.)  However the numbers pan out, though, it's clear that the most activist wing of the Republican Party, most especially including the Tea Party movement stands strongly against almost any form of immigration reform, and most especially against the idea that the 11 million or so people who are here illegally  would receive some kind of legal status that could, eventually, lead them to become citizens of the United States.
Largely because of this, the very idea of a pathway to citizenship seems to be "dead on arrival" in the House of Representatives. Instead, the only immigration ideas that the House GOP seems to be considering are piecemeal efforts dealing with the children of illegal immigrants and, of course, the old Republican theme of "border security" and somehow ramping up security along America's southern border even more than it has been in recent years on the theory that this will somehow deal with the problem of illegal immigration. Completely ignored in any Republican proposals, though, is the question of what to do with the population of people here illegally. Any immigration plan that doesn't deal with that issue isn't really worthy of being called a plan at all.
In the end, though, the larger point is that this is yet another example of a policy issue where the GOP is acting in a manner that's totally out of sync with where the public stands on an important public policy issue. It's been fashionable over the past year to say that the GOP's position on immigration reform has the potential to harm the GOP even further among Latino voters, but what polls like this indicate is that the party is also out of step with the broader voting public, something that is true on a number of other issues as well. One wonders how long Republicans can think they can go on like this and not suffer for it at the ballot box.