ObamaCare Will Push 2 Million Out of Work! And That's a Good Thing!
A CBO report on the Affordable Care Act is getting a polarized reading.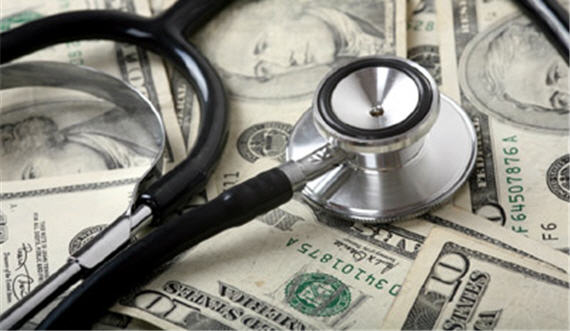 Memeorandum today is leading with a John Podhoretz piece in the New York Post headlined "Congressional Budget Office sends death blow to ObamaCare."
The Affordable Care Act, a k a ObamaCare, became law almost four years ago. It became operational last Oct. 1. Yesterday, Feb. 4, 2014, the ACA may well have been dealt its death blow.

The Congressional Budget Office released a major study of the government's budget and its effect on the overall economy over the next 10 years. In dull bureaucratic language, it delivers a devastating analysis of the inefficiencies, ineffectualities and problematic social costs of ObamaCare.

The one-two punch: Virtually as many Americans will lack health coverage in 10 years as before the law was passed — but 2 million fewer will be working than if the law hadn't passed.

One killer detail comes on Page 111, where the report projects: "As a result of the ACA, between 6 million and 7 million fewer people will have employment-based insurance coverage each year from 2016 through 2024 than would be the case in the absence of the ACA."

ObamaCare's key selling point was that it would give coverage to a significant number of the 30-plus million Americans who lack it. Now the CBO is telling the American people that a decade from now, 6 million-plus of their countrymen won't get health care through their employers who otherwise would have.
Wall Street Journal piles on with "The Jobless Care Act."
On Tuesday no less than the Congressional Budget Office reported that the health law is causing Americans to work less or not at all, in a remarkable intellectual turnabout for the budget shop that Democrats cited repeatedly when selling ObamaCare. Now CBO—full of liberal-leaning economists—says the economy will lose the equivalent of two million full-time workers by 2017 and 2.5 million over the next decade, a threefold increase over its prior estimate.

CBO's analysis is rooted in ObamaCare's complex design that includes new subsidies, taxes and mandates. For low-wage, lower-skilled or discouraged workers in particular, ObamaCare offers incentives that can force them to trade jobs for entitlement benefits.

BO's conclusion is that ObamaCare will encourage people to supply less labor by deciding not to take a job or by working fewer hours. The law's insurance subsidies are gradually taken away as income rises, "creating an implicit tax on additional earnings," the CBO observes. These effective marginal tax rates reduce the rewards for work—whether it be overtime, accepting a promotion, or training in the hope of higher future earnings. CBO doesn't note, though we will, that simply extending "free" coverage skews job search decisions by offering an in-kind bonus for unemployment.

CBO's job-loss prediction is all the more remarkable because it doesn't include the impact of ObamaCare's employer mandate, which requires businesses with 50 or more full-time employees to offer insurance or pay a $2,000 penalty for each worker beyond 30 employees. CBO more or less punts on the issue because the White House delayed the mandate for a year and the changes would be hard to model. But this means CBO is probably still underestimating job losses because common sense says that labor mandates raise hiring costs and induce businesses to hire less, or pay lower wages, or slash hours, or all three.
'But the flip side of this is pretty compelling. The editorial board of the New York Times proclaims ObamaCare is "Freeing Workers From the Insurance Trap."
The Congressional Budget Office estimated on Tuesday that the Affordable Care Act will reduce the number of full-time workers by 2.5 million over the next decade. That is mostly a good thing, a liberating result of the law. Of course, Republicans immediately tried to brand the findings as "devastating" and stark evidence of President Obama's health care reform as a failure and a job killer. It is no such thing.

The report estimated that — thanks to an increase in insurance coverage under the act and the availability of subsidies to help pay the premiums — many workers who felt obliged to stay in a job that provided health benefits would now be able to leave those jobs or choose to work fewer hours than they otherwise would have. In other words, the report is about the choices workers can make when they are no longer tethered to an employer because of health benefits. The cumulative effect on the labor supply is the equivalent of 2.5 million fewer full-time workers by 2024.

Some workers may have had a pre-existing condition and will now be able to leave work because insurers must accept all applicants without regard to health status and charge premiums unrelated to health status. Some may have felt they needed to keep working to pay for health insurance, but now new government subsidies will help pay premiums, making it more possible for them to leave their jobs.

The report clearly stated that health reform would not produce an increase in unemployment (workers unable to find jobs) or underemployment (part-time workers who would prefer to work more hours per week). It also found "no compelling evidence" that, as of now, part-time employment has increased as a result of the reform law, a frequent claim of critics. Whether that will hold up after a mandate that requires employers to provide coverage, which was delayed until 2015, kicks in is uncertain.
Michael Hiltzik of the LA Times agrees, weighing on on "Why the new CBO report on Obamacare is good news."

The Congressional Budget Office is out with its latest report on the Affordable Care Act, and here are a few bottom lines:
— The ACA is cheaper than it expected.

— It will "markedly increase" the number of Americans with health insurance.

— The risk-adjustment provisions, which Congressional Republicans want to overturn as a "bailout" of the insurance industry, will actually turn a profit to the U.S. Treasury.

Given all this, why are the first news headlines on the CBO report depicting it as calling Obamacare a job killer?

You can chalk up some of that to the crudity of headline-writing, and some to basic innumeracy in the press. But it's important to examine what the CBO actually says about the ACA's impact on the labor market. (You can find it at pages 117-127, excerpted here.)

The CBO projects that the act will reduce the supply of labor, not the availability of jobs. There's a big difference. In fact, it suggests that aggregate demand for labor (that is, the number of jobs) will increase, not decrease; but that many workers or would-be workers will be prompted by the ACA to leave the labor force, many of them voluntarily.

As economist Dean Baker points out, this is, in fact, a beneficial effect of the law, and a sign that it will achieve an important goal. It helps "older workers with serious health conditions who are working now because this is the only way to get health insurance. And (one for the family-values crowd) many young mothers who return to work earlier than they would like because they need health insurance. This is a huge plus."

The ACA will reduce the total hours worked by about 1.5% to 2% in 2017 to 2024, the CBO forecasts, "almost entirely because workers will choose to supply less labor — given the new taxes and other incentives they will face and the financial benefits some will receive."  That translates into about 2.5 million full-time equivalents by 2024 — not the number of workers, because some will reduce their number of hours worked rather than leaving the workforce entirely.

The overall impact on the community will be muted, moreover, because most of that effect will be seen at the lowest levels of the wage-earning scale. The effect will be "small or negligible for most categories of workers," the CBO says, because there will be almost no impact on workers who get their insurance from their employers or who earn more than 400% of the federal poverty line (for a family of three, that's $78,120), the point at which eligibility for federal premium disappears.

As for labor demand, the CBO estimates that on balance, the ACA will increase aggregate demand for goods and services, in part by relieving lower-income people of the burden of health insurance or healthcare expenses, so they can increase their spending on other things. In turn, that will "boost demand for labor," especially in the near term, while the economy remains slack.
For those who haven't been reading for the past several years, I opposed the passage of ObamaCare and still think that, on balance, it's a Band Aid on a broken system that further distorts the insurance market and diminishes personal freedom without fixing the underlying problem of out-of-control healthcare costs. But my preferred alternative, a base single payer system for all supplemented with private insurance for the well off, was and remains politically unviable. (As a side note, I think parts of the system, notably the exchanges, were essentially designed as a back door way of  breaking the link between employment and healthcare, thus opening the door for single payer.)
As for yesterday's CBO report, though, the NYT/Hiltzik view is surely correct. Regardless of one's views on the Obama administration or of the best way to address the shortfalls of the American healthcare delivery system, it's hard to construct an argument as to why people who can otherwise afford to retire should be forced to stay in their job solely because they have no alternative means of obtaining health insurance. Or, for that matter, why people who would otherwise prefer to move from one company to another to take  job they would otherwise find more suitable should feel forced to stay put in order to keep their health coverage. Surely, we can agree those are bad outcomes even if were disagree on whether the government ought be able to force insurance companies to cover pre-existing conditions, create healthcare exchanges, or mandate that individuals obtain insurance.