Republicans Introduce Obamacare Replacement That Leaves Much To Be Desired
Whether you call it TrumpCare, RyanCare, or GOPCare, the Republican replacement for the PPACA isn't very impressive.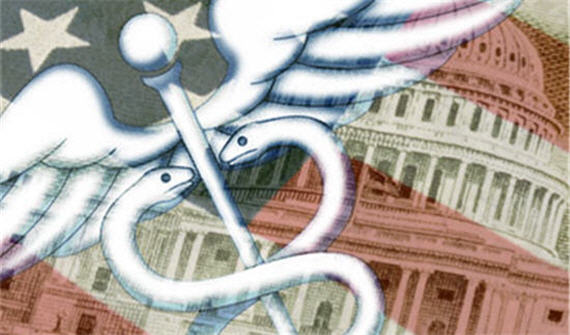 Late last night, House Republicans finally released their version of a replacement for the Affordable Care Act, and it's getting a lukewarm reception at best:
WASHINGTON — House Republicans unveiled on Monday their long-awaited plan to repeal and replace the Affordable Care Act, scrapping the mandate for most Americans to have health insurance in favor of a new system of tax credits to induce people to buy insurance on the open market.

The bill sets the stage for a bitter debate over the possible dismantling of the most significant health care law in a half-century. In its place would be a health law that would be far more oriented to the free market and would make far-reaching changes to a vast part of the American economy.

The House Republican bill would roll back the expansion of Medicaid that has provided coverage to more than 10 million people in 31 states, reducing federal payments for many new beneficiaries. It also would effectively scrap the unpopular requirement that people have insurance and eliminate tax penalties for those who go without. The requirement for larger employers to offer coverage to their full-time employees would also be eliminated.

People who let their insurance coverage lapse, however, would face a significant penalty. Insurers could increase their premiums by 30 percent, and in that sense, Republicans would replace a penalty for not having insurance with a new penalty for allowing insurance to lapse.

House Republican leaders said they would keep three popular provisions in the Affordable Care Act: the prohibition on denying coverage to people with pre-existing conditions, the ban on lifetime coverage caps and the rule allowing young people to remain on their parents' health plans until age 26.

Republicans hope to undo other major parts of President Barack Obama's signature domestic achievement, including income-based tax credits that help millions of Americans buy insurance, taxes on people with high incomes and the penalty for people who do not have health coverage.

Medicaid recipients' open-ended entitlement to health care would be replaced by a per-person allotment to the states. And people with pre-existing medical conditions would face new uncertainties in a more deregulated insurance market.

The bill would also cut off federal funds to Planned Parenthood clinics through Medicaid and other government programs for one year.

"Obamacare is a sinking ship, and the legislation introduced today will rescue people from the mistakes of the past," said Representative Kevin McCarthy of California, the majority leader.

Democrats denounced the effort as a cruel attempt to strip Americans of their health care.

"Republicans will force tens of millions of families to pay more for worse coverage — and push millions of Americans off of health coverage entirely," said Representative Nancy Pelosi of California, the Democratic leader.

Two House committees — Ways and Means and Energy and Commerce — plan to take up the legislation on Wednesday. House Republicans hope the committees will approve the measure this week, clearing the way for the full House to act on it before a spring break scheduled to begin on April 7. The outlook in the Senate is less clear. Democrats want to preserve the Affordable Care Act, and a handful of Republican senators expressed serious concerns about the House plan as it was being developed.

Under the House Republican plan, the income-based tax credits provided under the Affordable Care Act would be replaced with credits that would rise with age as older people generally require more health care. In a late change, the plan reduces the tax credits for individuals with annual incomes over $75,000 and married couples with incomes over $150,000.

Republicans did not offer any estimate of how much their plan would cost, or how many people would gain or lose insurance. The two House committees plan to vote on the legislation without having estimates of its cost from the Congressional Budget Office, the official scorekeeper on Capitol Hill.

But they did get the support from President Trump that they badly need to win House passage.

"Obamacare has proven to be a disaster with fewer options, inferior care and skyrocketing costs that are crushing small business and families across America," said the White House press secretary, Sean Spicer. "Today marks an important step toward restoring health care choices and affordability back to the American people."
Almost immediately, the House proposal faced criticism not just from Democrats, but from other Republicans:
On Monday, four Republican senators — Rob Portman of Ohio, Shelley Moore Capito of West Virginia, Cory Gardner of Colorado and Lisa Murkowski of Alaska — signed a letter saying a House draft that they had reviewed did not adequately protect people in states like theirs that have expanded Medicaid under the Affordable Care Act.

Three conservative Republicans in the Senate — Mike Lee of Utah, Rand Paul of Kentucky and Ted Cruz of Texas — had already expressed reservations about the House's approach.

In the House, Republican leaders will have to contend with conservative members who have already been vocal about their misgivings about the legislation being drawn up. "Obamacare 2.0," Representative Justin Amash, Republican of Michigan, posted on Twitter on Monday.

Representative Mark Meadows, Republican of North Carolina and the chairman of the conservative House Freedom Caucus, also offered a warning on Monday, joining with Mr. Paul to urge that Republican leaders pursue a "clean repeal" of the health care law.

"Conservatives don't want new taxes, new entitlements and an 'ObamaCare Lite' bill," they wrote on the website of Fox News. "If leadership insists on replacing ObamaCare with ObamaCare-lite, no repeal will pass."

The move to strip Planned Parenthood of funding and the plan's provisions to reverse tax increases on the high-income taxpayers will also expose Republicans in more moderate districts to Democratic attacks.

The bill would provide each state with a fixed allotment of federal money for each person on Medicaid, the federal-state program for more than 70 million low-income people. The federal government would pay different amounts for different categories of beneficiaries, including children, older Americans and people with disabilities.

The bill would also repeal subsidies that the government provides under the Affordable Care Act to help low-income people pay deductibles and other out-of-pocket costs for insurance purchased through the public marketplaces. Eliminating these subsidies would cause turmoil in insurance markets, insurers and consumer advocates say.

However, the House Republicans would provide states with $100 billion over nine years, which states could use to help people pay for health care and insurance.

The tax credits proposed by House Republicans would start at $2,000 a year for a person under 30 and would rise to a maximum of $4,000 for a person 60 or older. A family could receive up to $14,000 in credits.

Even with those credits, Democrats say, many people would find insurance unaffordable. But Republicans would allow insurers to sell a leaner, less expensive package of benefits and would allow people to use the tax credits for insurance policies covering only catastrophic costs.
Since the Republican proposal has yet to be scored by the Congressional Budget Office, it's difficult to say what the ultimate impact it might have on both Federal spending and individuals who have been benefiting from the Affordable Care Act might be. At a glance, though, it appears that this replacement would be woefully insufficient in addressing both the issues that the PPACA was originally intended to address and those issues created by the question of what to do about people who have become dependent on insurance provided under the PPACA. For example, the proposal keeps PPACA provisions such as the ban against denying coverage to people with pre-existing conditions, the provisions that allow parents to continue providing insurance under their own plans for children up to the age of twenty-six, the end of the lifetime cap on coverage, and the expansion of Medicaid. However, it seems highly likely that this will be short-lived at best, especially since Medicaid expansion would be phased out of existence by 2020, meaning that all of the people who have benefited from that portion of the PPACA would be faced with the choice of losing coverage again or trying to find it on the open market. Furthermore, while many of these provisions would be continued under the Republican proposal, it seems clear that costs will significantly increase for the people who have benefited from them and that many of them will be in danger of losing their coverage either due to the cancellation of existing policies or simple inability to pay increased premiums. Additionally, replacing subsidized premiums with tax credits would clearly not benefit poor people who don't make enough money to benefit from tax credits and would force many of these people to give up coverage entirely if they can't afford the premiums. Finally, the penalty for not having coverage, which essentially amounts to a 30% surcharge on insurance premiums for anyone who goes two months or more without coverage, seems at first glance to be far harsher than the penalty under the Affordable Care Act and unlikely to be much of an incentive for people who don't have coverage since it will make the cost of coverage even more prohibitive than it likely already is for them.
The reactions to the proposal seem to be overwhelmingly negative. Democrats, of course, are reacting about as you'd expect from a party that is utterly convinced that a PPACA was a good thing, with much of the criticism focusing on what the bill would allegedly do with regard to the poor. On the right, much of the criticism of the bill comes from conservative critics of the Affordable Care Act. These groups, instead prefer either repeal without any replacement whatsoever, which seems both politically and economically untenable, or a more conservative replacement bill such as the one put forward by Kentucky Senator Rand Paul. and conservative groups such as Americans For Prosperity, FreedomWorks, Heritage Action all coming out against the bill. Given this kind of opposition, the fate of this bill is far from certain.
What is certain, though, is that the proposal itself isn't really very impressive considering that it effectively took Republicans seven years to come up with what they believe to be a viable alternative to the PPACA. Even if you consider it a good thing that it retains many of the characteristics and provisions of the existing law, the fact that it changes them in ways that seem guaranteed to make insurance more expensive and less available certainly calls into question what exactly it is Republicans think they're accomplishing here. If you consider the PPACA to be all around a bad thing, on the other hand, the bill obviously doesn't go far enough in taking away the provisions of the law that were most objectionable to many on the right. If anything, all it really does is change those provisions to make them harder to obtain, more unwieldy, and more expensive, all of which seems to guarantee that insurance and health care costs will continue to rise, that the number of uninsured people will rise to levels not seen since the PPACA went into effect, and finally to bring us back to a pre-PPACA status quo that everyone agrees is simply unacceptable. If this is the best the GOP has to offer, then they may as not have acted at all.
As it stands, Republicans in the House appear to be addressing the anticipated opposition by pushing the bill through as fast as possible. The relevant House Committees are slated to begin markup on the bill tomorrow, but there apparently will be no hearings at all on the matter by any House Committee. Beginning the process this quickly means that they seem likely to try to push for a vote by the full House before the Congressional Budget Office is able to score the bill notwithstanding the long-standing promise that Republicans made when they first took back the House in the 2010 elections that they would follow so-called "regular order" in considering legislation, a process which includes both committee hearings and waiting for the CBO before formally moving forward on anything resembling a final vote. The reason for the rush, no doubt, is to avoid the ability of opposition groups, especially groups on the right, to unite opponents in a meaningful way before a final vote. Even if the proposal manages to pass the House, though, it's fate in the Senate remains unclear. For one thing, it's not yet clear that Republicans will be able to use the reconciliation process to bypass the Senate filibuster rule. If it can't be used, then the bill would effectively be dead on arrival since it will most likely be unable to gain sufficient Democratic support to overcome the sixty vote threshold. For another, even if Republicans can avoid the filibuster, it's not presently clear that they'll be able to keep their own caucus together behind the bill. Already, conservative Senators such as Rand Paul of Kentucky and Mike Lee of Utah are signaling their opposition to the House approach and pushing their own, far more conservative, alternative replacement bill. Additionally, more moderate Senators such as Lisa Murkowski and Susan Collins are voicing concerns about the changes the bill makes to the PPACA's Medicaid provisions and signaling that they too may oppose this plan. Given the how thin the GOP majority is, and the unlikelihood that they'd be able to get any Democratic crossover votes, a loss of as few as three votes would cause the bill to fail. In any case, as Republicans seek to push this bill through rapidly, it's worth remembering that it took the better part of a year for Democrats to make the changes to the PPACA and garner the support needed to pass the bill and send it to President Obama's desk. It's entirely likely that it could take nearly as long for Republicans to accomplish the same task with their bill, assuming their able to get it passed at all.