Policy Analysts From Left, Right, And Center Criticize House GOP Obamacare Replacement
Health care policy analysts seem united in their assessment of the House GOP's replacement for the Affordable Care Act, and it's overwhelmingly negative.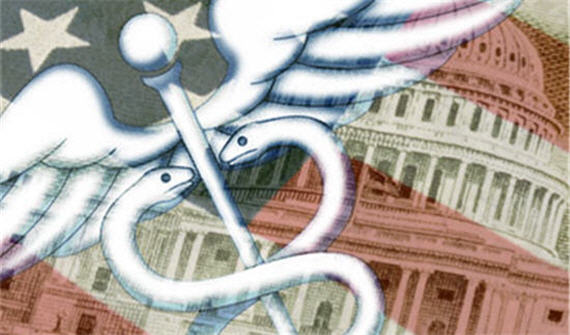 While House Republicans move forward with the health insurance reform bill that was introduced yesterday to what now seems like undeserved fanfare, health care policy experts from across the political spectrum are speaking out against it:
They rarely agree on much, but health care experts on the left, right and center of the political spectrum have found consensus on the House GOP's Obamacare replacement: It won't work.

While their objections vary depending on their ideological goals, the newly introduced American Health Care Act (AHCA) is facing an unrelenting wave of criticism. Some experts warn that the bill is flawed in ways that could unravel the individual insurance market.

The bill, experts said, falls far short of the goals President Donald Trump laid out: Affordable coverage for everyone; lower deductibles and health care costs; better care; and zero cuts to Medicaid. Instead, the bill is almost certain to reduce overall coverage, result in deductibles increasing, and will phase out Obamacare's Medicaid expansion.

(…)

Let's start with the primary objection from the center and left: It's very likely people will lose insurance coverage if the GOP plan became law, taking full effect in 2020. Possibly a lot of people.

Like any health care bill, including the current system, there are winners and losers within this shift. In general, younger and higher-income people looking for insurance on the individual market are poised to gain. Older, sicker and lower-income patients are the bigger losers.

For one, tax credits to help people buy health insurance in the individual market are less generous than the Affordable Care Act for some of the most vulnerable Americans. Under the ACA, these credits are based on a person's income and pegged to the cost of plans where the individual lives. Under the House bill, they are based on age and fixed. The bill also removes ACA subsidies that allows some lower-income customers to pay fewer out-of-pocket costs through their plan.

On the other hand, the House's tax credits are accessible at higher incomes than the ACA's: In the House bill, it's up $75,000 for an individual and $150,000 for a family. In the ACA, it's 400% of the federal poverty level, which is $47,520 for an individual and varies based on family size.

If you're a 40-year-old making $50,000 you might benefit from the House plan. Under Obamacare, you get nothing to help pay your premium, but you would get $3,000 under the House bill.

And if you're wealthy, you're in luck.

The House bill uses the savings from spending less on health coverage to eliminate taxes that pay for Obamacare: About $600 billion over the next 10 years, according to the Committee for a Responsible Federal Budget. Close to half of that revenue comes from surtaxes on high-income Americans. They're also more likely to benefit from an increased tax deduction on health savings accounts.

(…)

On the right, there's a more specific concern. The plan still retains the basic structure of the ACA, even as its benefits are less generous: Federal dollars to buy insurance, regulations on what that insurance provides, and a requirement that insurers take on customers with pre-existing conditions. Some have labeled it "Obamacare-lite" or "Obamacare 2.0."

"House Republican leaders sent a signal loud and clear: liberalism has already won," Phil Klein, a conservative commentator at the Washington Examiner, wrote.

While moderate Republicans and liberals fret that the Medicaid changes will leave people in the cold, conservatives worry that the bill will encourage states to sign up as many new participants as possible before the expansion ends, who then will be grandfathered in afterwards. It also punts its changes to the ACA's tax credits to 2020, when the political environment will be anyone's guess and there could be opportunities to delay or cancel the reforms.
One thing that analysts all agree on, though, is that the plan would do nothing to address rising health care costs:
[E]xperts complain that the GOP plan leaves out the most prominent proposals (especially among conservatives) that might drive costs down. And some of its features could potentially drive prices higher.

One big missing piece is that the bill does not eliminate Obamacare's "Essential Health Benefits," a list of 10 broad categories, like mental health or maternity care, that insurance plans were required to cover.

Proponents of the benefits argue they're needed to keep insurers from cherry picking healthy customers into cheaper low-benefit plans. Critics complain they raise premiums by giving insurers less flexibility to design plans and forcing consumers to buy more comprehensive plans than they need.

The earlier leaked draft of the House GOP plan would have left it to states to decide, but the bill that was introduced left out that provision. This is for procedural reasons: House Republicans concluded that the regulations can't be changed via the budget reconciliation process they are using to pass their health care bill.

The House GOP bill also balked at an earlier plan to reduce the tax deduction businesses get for providing health care. It was a politically perilous idea, but many policy experts supported the proposal, saying it would help drive down health-care costs and raise wages by reducing the incentive to offer more generous plans.

"This bill misses the mark primarily because it fails to correct the features of Obamacare that drove up health care costs," Edmund F. Haislmaier, an expert at the conservative Heritage Foundation who advised Trump's transition team, wrote on Tuesday.

The plan also leaves out Trump's proposal, backed by many on the left, to empower Medicare to negotiate lower drug prices. The president tweeted on Tuesday he plans to address it in a future bill.
In reality, the plan does very little to deal with the major problems that many people who have bought policies on the exchanges have encountered since the PPACA went into effect. For example, while the plan leaves in place the ban against denying coverage for people with pre-existing conditions, it leaves open the possibility that insurance companies can radically increase premiums for these customers while at the same time taking away the subsidies that were previously supposed to make such policies affordable. Additionally, the replacement for the PPACA's individual mandate seems guaranteed to increase the cost of insurance in the long-run, especially if younger, healthier people decide not to get insurance at all, something insurance companies count on to keep overall costs and expenditures down. Instead of an insurance mandate that includes a tax penalty, the House bill allows insurance companies to levy a fine equal to 30% of the premium against anyone who goes without insurance for more than two consecutive months. For most health, young people this is likely to be a far higher amount than the penalty under the PPACA would have been. It's also worth noting that many people end up going without insurance not by choice but because they either cannot afford it, or because they lost their job and aren't covered by an employer-provided policy anymore. Therefore, the logical choice for most of these people would be to go without health insurance rather than be penalized. To be fair, of course, that choice also exists under the PPACA since the fine for not having insurance is fairly low and, since it's paid through the income tax process, largely not visible to the individual consumer. Nonetheless, this change is likely to make insurance more expensive in the long run because it means that the pool of insured people will be older and, most likely sicker and more likely to make use of high-cost medical procedures and services.
In addition to these problems, The New York Times reports that other analysts believe that the Republican plans will cause millions of people to lose coverage:
Millions of people who get private health coverage through the Affordable Care Act would be at risk of losing it under the replacement legislation proposed by House Republicans, analysts said Tuesday, with Americans in their 50s and 60s especially likely to find coverage unaffordable.

Starting in 2020, the plan would do away with the current system of providing premium subsidies based on people's income and the cost of insurance where they live. Instead, it would provide tax credits of $2,000 to $4,000 per year based on their age.

But the credits would not cover nearly as much of the cost of premiums as the current subsidies do, at least for the type of comprehensive coverage that the Affordable Care Act requires, analysts said. For many people, that could mean the difference between keeping coverage under the new system and having to give it up.

"The central issue is the tax credits are not going to be sufficient," said Dr. J. Mario Molina, the chief executive of Molina Healthcare, an insurer that offers coverage through the Affordable Care Act marketplaces in California, Florida and several other states.

Martha Brawley of Monroe, N.C., said she voted for President Trump in the hope he could make insurance more affordable. But on Tuesday, Ms. Brawley, 55, was feeling increasingly nervous based on what she had heard about the new plan from television news reports. She pays about $260 per month for a Blue Cross plan and receives a subsidy of $724 per month to cover the rest of her premium. Under the House plan, she would receive $3,500 a year in tax credits — $5,188 less than she gets under the Affordable Care Act.

"I'm scared, I'll tell you that right now, to think about not having insurance at my age," said Ms. Brawley, who underwent a liver biopsy on Monday after her doctor found that she has an autoimmune liver disease. "If I didn't have insurance, these doctors wouldn't see me."

The Congressional Budget Office has yet to release its official estimates of how many people would lose coverage under the proposal, but a report from Standard & Poor's estimated that two million to four million people would drop out of the individual insurance market, largely because people in their 50s and early 60s — those too young to qualify for Medicare — would face higher costs. Other analysts, including those at the left-leaning Brookings Institution, have estimated larger coverage losses.

While the tax credits in the Republican proposal are the most generous for older people — $4,000 for a 60-year-old compared with $2,000 for a 25-year-old — they end up covering less of an older person's costs. As soon as next year, the Republican plan would allow insurers to begin charging older individuals much more than younger individuals. Insurers are prohibited today from charging the older person more than three times as much as the youngest, but the Republican plan would allow them to charge five times as much. A 64-year-old could see annual premiums increase by almost 30 percent to $13,100 on average, according to the S.&P. analysis.

For people like Alan Lipsky, a self-employed consultant in Arden, N.C., the Republican plan could have a huge financial impact. Mr. Lipsky, who is 60 and whose wife is in her 50s, receives a tax credit of $2,097 a month for his family of four and pays $66 a month out of his own pocket. His family's total annual tax credit of $25,164 would be reduced to $11,500 under the new plan, covering less than half of the total cost of his current coverage.

"I don't think the Affordable Care Act is perfect," said Mr. Lipsky, whose family deductible is $12,000 per year, "but at least for people like me it gives a baseline, and I'm worried I won't have that baseline anymore. What they're talking about is unaffordable for me."

(…)

The proposal would also eliminate another important element of the subsidies, the financial assistance available for low-income people with their out-of-pocket costs, such as deductibles and co-payments. While many of the plans now sold through the Affordable Care Act marketplaces have large deductibles, the cost-sharing reductions available protect lower-income people from medical bills that could otherwise run into the thousands of dollars. Analysts say the lack of out-of-pocket assistance is likely to make any plan much less attractive to low-income people.
In other words, while the House plan keeps many of the popular elements of the Affordable Care Act, it does so in a manner that seems designed to make sure that the people who benefit from those provisions will either face vastly increased premiums or face losing their insurance entirely, meaning that they will likely get dumped into the Medicaid system at some point, seek bankruptcy protection due to the burden of unpaid medical bills, or simply forgo treatment entirely because they can't afford it. This would put us back in what would effectively amount to the pre-PPACA health care world on steroids, with millions more people likely going without insurance and all the social costs that come from that, along with the fact that it would do nothing to control rising health care costs. Given that, it's no wonder that analysts on both sides of the political aisle are speaking out against it.