Americans Want Congress To Move On From Trying To 'Repeal And Replace' Obamacare
A new poll shows that most Americans want Republicans want to move on from their failed effort to 'repeal and replace' the Affordable Care Act.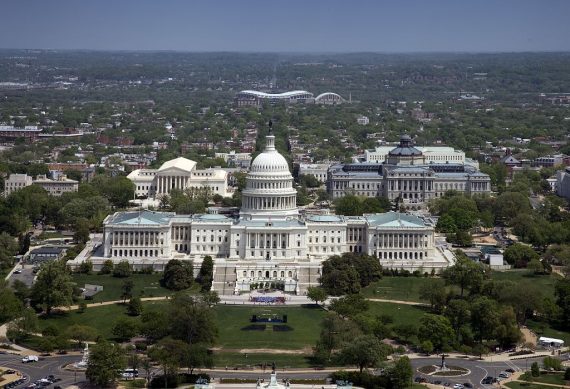 A new Reuters poll reveals that voters want Congress to move beyond the issue that has taken up the majority of the time in the House and Senate over the past three months or so:
NEW YORK (Reuters) – A majority of Americans are ready to move on from healthcare reform at this point after the U.S. Senate's effort to dismantle Obamacare failed on Friday, according to an exclusive Reuters/Ipsos opinion poll released on Saturday.

Nearly two-thirds of the country wants to either keep or modify the Affordable Care Act, popularly known as Obamacare, and a majority of Americans want Congress to turn its attention to other priorities, the survey found.

Republicans have vowed to dismantle the Affordable Care Act since Democratic President Barack Obama signed it into law in 2010, and it appeared they finally had their chance when Republican President Donald Trump took office in January. But the law, which helped 20 million people obtain health insurance, has steadily grown more popular.

The July 28-29 poll of more than 1,130 Americans, conducted after the Republican-led effort collapsed in the Senate, found that 64 percent said they wanted to keep Obamacare, either "entirely as is" or after fixing "problem areas." That is up from 54 percent in January.

The survey found that support for the law still runs along party lines, with nine out of 10 Democrats and just three out of 10 Republicans saying they wanted to keep or modify Obamacare.

Among Republicans, three-fourths said they would like their party's leaders to try to repeal and replace Obamacare at some point, though most listed other issues that they would give a higher priority right now.

Disappointment among Republicans and happiness among Democrats about the repeal's failure were palpable. Two-thirds of Republicans felt "bad" that the Senate failed to pass a healthcare bill, while three-fourths of Democrats felt "good," according to the Reuters/Ipsos poll.

When asked what they think Congress should do next, most Americans picked other priorities such as tax reform, foreign relations and infrastructure. Only 29 percent said they wanted Republicans in Congress to "continue working on a new healthcare bill."
This new poll comes out at the same time that Politico is reporting that, notwithstanding last week's defeat, Republicans still don't seem to be giving up on the push to 'repeal and replace' the Affordable Care Act:
Senate Republicans' party-line attempts to repeal Obamacare aren't dead just yet — at least not if President Donald Trump has anything to say about it.

Trump, increasingly impatient with the long-stalled repeal effort, met with three Senate Republicans about a new plan to roll back the health care law on Friday, signaling some lawmakers — as well as the president — are not ready to ditch their seven-year campaign promise.

The group is trying to write legislation that could get 50 Republican votes, according to multiple administration and Capitol Hill sources. The proposal from Sen. Lindsey Graham (R-S.C.) would block grant federal health care funding to the states and keep much of Obamacare's tax regime. White House officials also met with House Freedom Caucus chairman Mark Meadows (R-N.C.) to brainstorm how to make the idea palatable to conservatives, according to two sources familiar with the meeting.

The White House-health care huddle came just hours before Trump savaged Senate Republicans in a series of Saturday tweets for failing to repeal Obamacare. If the Senate doesn't pass a bill soon, Trump warned, he may halt Obamacare payments subsidizing health plans for low-income individuals — an idea adamantly opposed by Republicans and Democrats alike.

Trump also appeared to take a personal shot at lawmakers, seemingly warning that he could revoke their own health benefits on the exchanges.

"If a new HealthCare Bill is not approved quickly, BAILOUTS for Insurance Companies and BAILOUTS for Members of Congress will end very soon!" Trump tweeted Saturday afternoon.

(…)

In theory, the Senate could bring back up their party line budget "reconciliation" effort to gut Obamacare as soon as next week. Graham's bill has not been scored by the Congressional Budget Office and did not receive a test vote this week. It currently has a small group of supporters and will likely need major work to pass the Senate, like language defunding Planned Parenthood which would likely alienate a pair of moderate senators.

Sens. Bill Cassidy of Louisiana and Dean Heller of Nevada joined Graham at the White House on Friday, and each has joined Graham's bill as the new alternative plan for Republicans. The bill's supporters are telling administration officials and congressional aides that the bill will score far better than previous efforts, which CBO analyses project would cause millions more uninsured people and short-term spikes in premiums.

"I had a great meeting with the President and know he remains fully committed to repealing and replacing Obamacare. President Trump was optimistic about the Graham-Cassidy-Heller proposal. I will continue to work with President Trump and his team to move the idea forward.," Graham said late Friday.
One complicating factor for Senate Republicans is the fact that, after casting the decisive vote that finally killed the so-called "skinny repeal" bill that signified the Senate's last-ditch effort to pass something on health care, Senator John McCain has returned to Arizona to begin the regimen of radiation and chemotherapy necessitated by his recent diagnosis of brain cancer. It's not at all clear when he'll be physically able to return to Washington, and this means that Senate Majority leader can only count on 51 votes for any given piece of legislation for the foreseeable future, which means that he could only afford to lose one member of his caucus before it would become impossible to get a bill passed outside of the unlikely event of a Democratic defection. As things stand, the results of last weeks voting showed us that the number of Senators willing to vote against their party depending on what's in a particular bill is most certainly more than one. Additionally, even if they could agree on something that would pass the Senate, that bill would still need to be approved by the House of Representatives, something that proved difficult when the House itself was dealing with health care reform earlier this year.
In addition to the difficulties of getting anything through the Senate or House, there are a whole host of things on the schedule for both chambers of Congress, many of which need to be accomplished by the end of September if we are to avoid a government shutdown. Primarily, of course, there's the impending deadline for Congress to pass the bills necessary to authorize spending in the Fiscal Year that begins on October 1st. Without such authorization, we'll end up in the same kind of budget shutdown scenario that became reality for sixteen days in October 2013. In addition to that, although somewhat related, Treasury Secretary Steven Mnuchin has been repeatedly warning Congress that it needs to get around to raising the debt ceiling to avoid a situation where his department is unable to continue issuing debt to pay for mandatory spending such as interest on the national debt and entitlement programs as well as all the other things that Congress has authorized the Federal Government to spend money on. Most recently, Mnuchin has advised Congress that they must act on the debt ceiling by September 29th. Finally, there are a whole host of nominations to Executive Branch positions, Ambassadorial positions, and Judicial nominations that the Senate needs to deal with, although Majority Leader McConnell has indicated he intends to schedule votes on many of those nominations for the two weeks that he cut off the August recess, assuming that the Senate is really going to stay in session during that time given what happened with health care. All of this has to be dealt with before the House and Senate can move on to other issues, such as the tax reform ideas that members of both chambers have been talking about for months now. Given all of that, perhaps Republcians on Capitol Hill need to listen to what the polls are saying and more on from health care for now.