Can Donald Trump Be Stopped?
Donald Trump hasn't hit the point of inevitability yet, but time is running short if Republicans are going to stop him.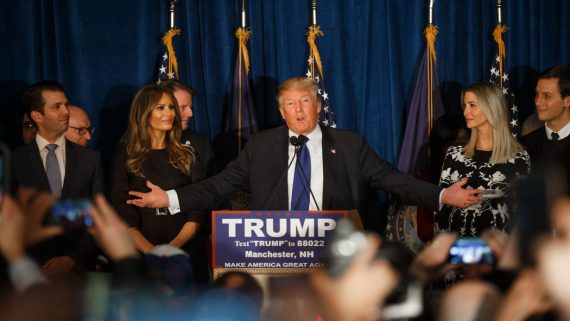 When the Donald Trump phenomenon began, it was easy for many pundits and, especially, many Republicans to dismiss him as a mere showman who was attracting support mostly because people found him to be entertaining. As time went on though, it became clear that there was more than just showmanship going on here. Not only did Trump's lead in the polls continue far longer than that the temporary fad that many thought it would be, but it survived time after time when Trump did or said something that would seemingly doom any other candidate, whether it was insulting Mexicans, John McCain, Megyn Kelly, Carly Fiorina, Ben Carson, a disabled New York Times reporter, or Muslims. Each time Trump did something that was supposed to doom his campaign, though, he only seemed to rise in the polls. Similarly, when Trump's position at the top of the polls was challenge, whether it was by Ben Carson in November or Ted Cruz in December, he managed to deftly launch attacks on both candidates that brought them back down to Earth and sent his numbers soaring again. Even as Trump entered the sixth month at the top of the polls, though, the doubters continued to play down his campaign, wondering if polls were overstating his support and whether he could translate support in the polls into votes on the ground. Once the voting began, all those questions were answered.
Over just the past three weeks, Trump has finished a strong second in the Iowa Caucuses and pulled off big wins in primaries in both New Hampshire and South Carolina. Tomorrow, he seems poised to win big in the Nevada Caucuses tomorrow. Additionally, he holds the lead in the Republican Delegate Count and has received more popular votes so far than any other candidate. Now, instead of wondering if the Trump phenomenon is for real, pundits and Republican leaders are wondering if Trump can be stopped:
Donald Trump leads nationally and in most state polls, but both Ted Cruz and Marco Rubio will likely be armed with the rationales and the resources to stay in the race through at least March, if not right up to the Republican National Convention in July.

Despite Trump's polling lead, there are significant obstacles to his running away with the nomination in the coming weeks. With Rubio buoyed by momentum, Nevada's organizing-heavy caucuses set for Tuesday, and the first half of March weighted toward states where Cruz is poised to finish strongly, there is little space for Trump to translate that lead into a certain nomination in the coming weeks.

"We're still in February. We're three states in to this. Trump's off to a good start but the dynamic of the race is changing after tonight," said Republican strategist Henry Barbour, a critic of Trump's.

Meanwhile, Rubio's strength makes him the standard-bearer of center-right Republicans and their deep-pocketed backers as Jeb Bush's departure from the race frees resources for the Florida senator and clears out a cluttered field before the real action begins.

"Until it clears out, it's an advantage for Trump," said one person close to the New York billionaire.

After that, Republicans seeking to block Trump from the nomination believe the polarizing businessman will struggle to bring new supporters into the fold.

"He has a low ceiling that's going to make it hard for him to close the deal as the field narrows," said Barbour. "His core vote's going to stick with him, but I have serious doubts that he can grow it to where he needs to to get to 1,237 delegates." Trump, for his part, maintains he will pick up a healthy chunk of the supporters freed up as his rivals drop out.

Time will tell. The results so far have only been a prelude. Including South Carolina, 4 percent of delegates have been awarded up to this point.
Frank Bruni at The New York Times is more sanguine about the matter:
It was going to happen. Of course it was going to happen. You just had to be patient. You just had to be strong.

But in the wake of his victories in New Hampshire and now South Carolina, the question is no longer "when." It's "if." And the answer isn't clear at all.

Consider this: From 1980 forward, no Republican presidential candidate has won both the New Hampshire and South Carolina primaries and gone on to lose the party's nomination.

And this: Over that same time period, only one Republican victor in South Carolina failed to become the nominee, and that was Newt Gingrich, in 2012. But Gingrich didn't have Trump's durable (and sizeable) lead in national polls. He didn't dominate the race's narrative and capture an exasperated electorate's mood the way Trump has.

(…)

Going forward, Rubio is probably the bigger threat to Trump than Cruz, who won only 26 percent of South Carolina voters who identified themselves as evangelical or born-again Christians despite having campaigned as narrowly and fiercely as possible for their favor. More of them chose Trump, who got 34 percent of the evangelical vote, and plenty of them chose Rubio, who got 21 percent.

That potentially spells trouble for Cruz in the Southern states on Super Tuesday that he'd hoped to dominate. Rubio, meanwhile, is better positioned than Cruz to pick up former supporters of Jeb Bush, who ended his candidacy Saturday night, and to compete well in states outside the South.

And in the days and weeks to come, Rubio will get even more help and money than he has so far from Republican bigwigs who are desperate to see someone less truculent and divisive than Trump or Cruz burst into the lead. His South Carolina showing redeemed his New Hampshire embarrassment and renewed their faith.

But Rubio hasn't notched a single victory yet. Trump has notched two, and whether they fully lived up to the advance polling is irrelevant. They're victories, plural. They're no fluke, no fad.

Naysayers can't claim that he's just a bad gaffe or an ugly revelation away from doom. There have already been gaffes aplenty—if you can call them gaffes. There have been revelations galore.

All Trump's fans see is someone barreling forward without apology and with a largeness that makes them feel a little less small. They see a winner. And it's no longer an illusion.
And Larry Sabato notes that, if Trump is going to be stopped then the time to do so is running short:
Most mainstream Republicans will sooner or later move to Rubio, but will it be soon enough? He can't keep on finishing second or third — or fifth, as he did in New Hampshire. You have to start winning, but where?

Trends from Iowa and New Hampshire manifested themselves once again in South Carolina. Trump did better among voters with lower education levels, while Rubio did better among the more educated. Cruz did well with the most conservative voters, but he doesn't show much appeal outside of the hard-liners. To have a shot, Cruz must do well in the most religious and conservative states. Unquestionably, South Carolina is one of them, yet Cruz didn't get a single delegate. Cruz is well-funded and has some theoretically promising states coming up on Super Tuesday — like his home state of Texas — but his hopes of winning the nomination seem to be dwindling, at least at the moment.

(…)

Let's make no mistake: Trump, amazingly, is in a commanding position to become the Republican presidential nominee. The fact that he won about the same share of the vote in New Hampshire and South Carolina — two wildly different states — shows the broad appeal of his campaign among a significant portion of the Republican electorate. As we noted in the Crystal Ball on Thursday, we're rapidly approaching a critical point in the Republican primary process: After Florida, Illinois, Missouri, North Carolina, and Ohio vote on March 15, nearly 60% of the Republican delegates will have been won. If someone is going to beat Trump, Rubio probably has the best shot, but the hour is growing late for all of the non-Trump candidates.
Sabato's analysis, not surprisingly, seems to be spot-on. At the moment, all of the momentum in the race for the Republican nomination lies with Donald Trump and that he stands to run away with the race unless something changes relatively soon. As it stands, of course, the biggest obstacle to stopping Trump is the fact that the non-Trump vote remains divided among a number of other candidates to an extent that allows Trump to run up wins, and grab the majority of delegates even in states where they are largely awarded proportionally, simply because the opposition is not united. The religious conservative vote that isn't going to Trump, for example, is split between Ted Cruz, Marco Rubio, and Ben Carson. Rubio also splits the 'establishment' or mainstream GOP vote with Ohio Governor John Kasich. And the generally "anti-Trump" vote is split up between four different candidates at this point. If Trump were only facing two challengers to Trump left in the race, or preferably from the point of view of those in the GOP who want to see Trump stopped, just one candidate, then it would arguably be harder for Trump to continue racking up victories and collecting delegates and it would give Trump opponents a single candidates on whom to focus their support.
As things stand, though, there's little sign that the field is going to shrink any time soon. Notwithstanding the fact that he has failed to follow up on his win in the Iowa Caucuses, which seem to be continuing their trend of being utterly meaningless in the race for the GOP nomination regardless of the year, Ted Cruz seems convinced that he is far better organized in the Super Tuesday and subsequent states and that this will work to his benefit. Other than Texas, though, there don't appear to be any states in which Cruz is dominating in the polling. Despite this, he appears unlikely to pull out of the race any time soon. Ohio Governor John Kasich's campaign seems intent on playing through to the primaries in Midwestern states such as Michigan and, of course, Ohio, where they believe Kasich can do well enough to pull off wins that will make him a player in the delegate count going forward. Marco Rubio's campaign will likely get a financial boost from the withdrawal of Jeb Bush, so he's unlikely to drop out as long as he believes he can hold on long enough to be the only candidate left in the race other than Trump. As for Ben Carson, it's hard to understand what motivates him but he seems intent on staying in the race and may only change his mind in that regard if they stop inviting him to debates at some point. There is, in other words, no reason for any of the men left in the race not named Trump to drop out of the race at this point and as long as that's the case it will work to Trump's benefit and make it much harder to stop him as the race goes on.
In addition to the incentives keeping the other candidates in the race, it's important to remember Trump's advantages. He continues to lead in the national polling, and presently leads in polling in ten of the fourteen states that will hold primaries or caucuses over the next three weeks. Additionally, it's worth keeping in mind that contrary to the assertion Marco Rubio made yesterday, it's a mistake to assume that every voter who has voted for a candidate other than Trump, or told a pollster they support a candidate other than Trump, is automatically a vote for one of the other candidates running against Trump. At least some portion of this non-Trump support will go to Trump himself, if only because the general tendency seems to be that voters end up getting behind the front-runner out of a desire to end the race and avoid further damage to the party that might result from the party. It may take longer for that to happen in Trump's case because of his higher negatives, but if he keeps winning it will happen.
So no, we have not reached the point where Donald Trump is the inevitable Republican nominee but time is running out and the current trends continue to be all in Trump's favor.