Trump Wins, Republicans Still Not Sure Who The Anti-Trump Should Be
Donald Trump is back on top, but the field below him remains as confused as ever.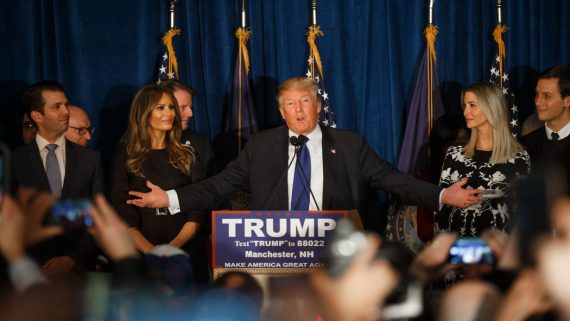 Much as it was with the the Democratic race, there seemed to be little doubt even well before the polls closed that Donald Trump was headed for a big win in the New Hampshire primary last night. In addition to the fact that he had been leading the polls in the Granite States for months and that no candidate had even come close to overtaking him in the polls, the reports throughout the day that voter turnout was up from four years ago, along with anecdotal reporting from reporters stationed at key precincts, seemed to make it clear that the New York billionaire was set to do what he was unable to in Iowa and get the supporters who had been backing him in the polls and coming to his rallies to get out and vote for him, something that many analysts doubted he could actually do. What remained unclear about the Republican race was what the field below Trump would look like, and that's where the surprises came.
The actual top line results from New Hampshire were, in some cases, fairly close to what the polls had been predicting. With roughly 92% of the precincts reporting, Trump comes in with just over 35% of the vote, which is better than the RealClearPolitics average had him pegged at heading into the voting but roughly consistent with where the many polls were actually putting his numbers in the final week of the race. Ohio Governor John Kasich came in second place with 15.8% of the vote as of the most recent count, which was better than he had been polling but consistent with reports we had been hearing all day yesterday about a last minute surge toward Kasich at the expense of other candidates, most specifically Marco Rubio. Ted Cruz, who had been something of a quite presence in New Hampshire for the most part, did will enough to claim third place with 11.7% of the vote as of the current count, which almost exactly matches his final RealClearPolitics average. Close behind Cruz is Jeb Bush at 11.1%, once again a number that almost exactly matches the final forecast. The disappointing finish of the night came from Florida Senator Marco Rubio, who finished in fifth place and currently comes in with 10.7% of the vote. After Rubio, New Jersey Governor Chris Christie came in sixth place with 7.5% of the vote, a far worse performance than Christie was hoping for and one which led his campaign to announce that the Governor and his wife were returning to New Jersey to discuss the future of the campaign rather than heading to South Carolina, a seemingly sure sign that Christie is likely to leave the campaign trail in the coming days. Finishing below Christie were Carly Fiorina and Ben Carson, both of whom seem intent on continuing in the race notwithstanding the fact that they have no viable path to victory at this point. In the end, though, the result ended up creating just the kind of jumble that many establishment Republicans opposed to Trump had feared:
MANCHESTER, N.H. — Republican leaders had aimed to bring a swift and orderly resolution to the party's presidential primaries, avoiding a long and costly fight that could stretch well into the spring.

Tuesday's New Hampshire primary dashed those hopes.

Despite strenuous efforts to overtake Donald J. Trump, none of his mainstream Republican opponents stood out from the pack. Now, they are left to muddle forward with no particular momentum into the next contests, in South Carolina and Nevada.

If any strong alternative to Mr. Trump is to emerge, senior Republicans say, it will most likely come only after a long nomination fight, spanning dozens of states and costing many millions of dollars. At this stage, his most formidable rival appears to be Ted Cruz, the hard-right Texas senator who won last week's Iowa caucuses, and who is even less acceptable to traditional party leaders than Mr. Trump.

Former Representative Thomas M. Reynolds of New York, who led the Republicans' campaign committee in the House of Representatives from 2003 to 2006, said there would ultimately be room in the Republican race for just one candidate besides Mr. Trump and Mr. Cruz. The New Hampshire outcome, he said, will most likely leave the traditional Republican candidates fighting among themselves. "For the establishment, it's almost like a hockey fight," Mr. Reynolds said. "And the gloves are off and the refs can't get in the middle of it."'

For a brief moment after the Iowa caucuses, Republicans believed that Senator Marco Rubio of Florida, the third-place finisher there, might catch up with Mr. Trump and perhaps even overtake him in New Hampshire. But after Gov. Chris Christie of New Jersey embarrassed him in a debate on Saturday, Mr. Rubio's support appeared to deflate. He was on track Tuesday to finish with a cluster of runners-up, in a group that included Mr. Cruz and former Gov. Jeb Bush of Florida, according to exit polls.

After fiercely defending his debate performance over the weekend, Mr. Rubio admitted in a speech Tuesday night that his clash with Mr. Christie had been disastrous, and pledged he would not stumble so badly again.

Gov. John Kasich of Ohio finished second in New Hampshire, where he concentrated virtually all his energy and campaign spending in the race and offered himself explicitly as a softer-edged Republican who could work with Democrats in Washington. But Mr. Kasich took less than a fifth of the Republican primary vote. Mr. Christie, whose attacks on Mr. Rubio upended the race but did nothing to buoy his own campaign, said he would return to New Jersey on Wednesday instead of traveling to South Carolina, to decide how to proceed in the race.

Michael O. Leavitt, a former governor of Utah and a top adviser to Mitt Romney's 2012 campaign, said he believed the window for any Republican candidate to clinch the nomination before the party's convention in Cleveland this summer was rapidly closing.

Mr. Leavitt, who has not endorsed a candidate in the race, said he had reviewed the delegate allocation rules for every state and concluded that Mr. Trump would have to capture about 45 percent of the popular vote to win a majority of delegates for the convention. Mr. Trump has not approached that threshold in the polls so far, and Mr. Leavitt said no other candidate was likely to do so as long as so many of them remained in the race. "It will be difficult for him to be a breakaway front-runner," Mr. Leavitt said of Mr. Trump. "There are a lot of candidates that have staying power, whether it's by living off the land or a 'super PAC' or a combination."

(…)

As election returns in New Hampshire gave little clarity to the Republican race beyond Mr. Trump's victory, the band of longer-shot contenders announced plans to campaign Wednesday in South Carolina. Mr. Rubio, Mr. Bush and Mr. Cruz have divided up many of the most consequential endorsements there, and George W. Bush, the former president, is expected to campaign for his brother in the state.

Mr. Kasich has vowed to compete in South Carolina, but his explicitly moderate brand of Republican politics will most likely be a tougher sell there than in New Hampshire.
Kasich second place finish was perhaps the most surprising part of the night, and it's likely to give more prominence to a candidate that has largely not held the spotlight to date largely because he didn't seem to be much of a contender for the nomination. In the end, Kasich's finish shouldn't be entirely surprising, though, because he was the one candidate in the field who approached New Hampshire the way New Hampshire likes to be approached, From August forward, Kasich spent a considerable amount of time criss-crossing the state, meeting people on the ground, appearing at town halls and otherwise engage in the type of old-fashioned one-on-one campaigning that tradition has always held works in the Granite State. Along with his SuperPAC, Kasich was also among the earliest to hit the airwaves in the state, and this strategy was good enough for him to be a continual strong performer in the polls in New Hampshire even as he languished nationally and elsewhere in the country. Now that he'earned a second place finish in the primary, though, it's unclear where Kasich goes from here. It's hard to see a midwesterner like Kasich doing well in South Carolina, for example, although the fact that the state has become a popular retirement destination for Ohioans could help him in that respect. More importantly, it's not at all clear that Kasich has either the funding or the campaign infrastructure to compete elsewhere in the country. His strong finish last night will likely help with that to some extent, but it seems obvious that many of Kasich's rivals will have a significant advantage over him going forward. One report has Kasich aiming at doing well in the upcoming primaries to concentrate on the midwestern primaries that start on March 15th where he can likely be expected to do quite well, and then use potential victories there to catapult him further. It's a smart strategy but it counts on Kasich doing well enough in the primaries that will be held between now and then to remain credible and on his being able to hold off challenges from whichever other candidates might be left by the time those primaries roll around.
Below Kaisch, there are Ted Cruz, Jeb Bush, and Marco Rubio, all of whom were separate by just over one percent of the vote in New Hampshire last night. Of these three, the candidate that still seems best positioned is Ted Cruz, both because of his ability to appeal to the evangelical voters that will once again be important in South Carolina and in the southern states that vote on March 1st. At the same time, though, Jeb Bush is also well-positioned to do well in South Carolina and, reinvigorated by a stronger than expected even a week ago finish, has the resources to continue his campaign well into March and, if necessary, beyond. At the very least, Bush seems likely to hold on at least until Florida given his political history there. The candidate with the most to lose going forward is Marco Rubio. Coming out of Iowa, it seemed as though he would be among the top three candidates in the race, but a devastatingly bad debate performance last Saturday turned everything around for the Florida Senator. Rubio can still bounce back from that performance, of course, and he'll get his first chance at that during the next debate this coming Saturday, but the impression of him that was created by Chris Christie's devastating cross-examination is likely going to live with him for some time to come, especially since he is now likely to become a target for both Bush and Cruz as they seek to clear the field before they turn their fire on the front-runner. If he can survive, then Rubio may still live up to the promise he seemed to be showing up until now, but it's not going to be easy.
As the candidates below him fight it out for a position and search for a strategy going forward, Donald Trump now stands in much the same position he was before his second place finish in Iowa caused people to doubt him. He leads nationally, as well as in South Carolina and Nevada, and his win in New Hampshire would seem to put to rest the doubts that his support was somehow not genuine. The test for Trump now, though, will be whether he will be able and willing to mount the kind of campaign he needs to be competitive as we get into the "real" part of the race. One-off rallies and television appearances aren't going to be good enough. Trump is going to need to campaign on the ground, and he's going to need to spend a lot of time on the ground in the upcoming primary states building up support. If the days before New Hampshire are any guide, it does seem that his campaign learned the lessons of Iowa. Trump spent much more time in New Hampshire leading up to yesterday's vote than he had in Iowa, for example, and he engaged in much more of the one-on-one and "town hall" style campaigning that he had been eschewing. Additionally, Trump's skills at gathering media attention will likely help him in the race for Super Tuesday, where it will be harder to do the kind of concentrated campaigning that was typical of New Hampshire. Finally, the fact that Trump largely matched his poll numbers in the Granite State suggests that his campaign learned the lesson of having an effective ground operation to help with get out the vote efforts. If they can repeat all of that in the states to come, then he's likely to remain a force in the GOP race for some time to come.
As things stand, we're just at the beginning of the race for the Republican nomination. Of the 2,472 delegates to the Republican National Convention up for grabs, only 1.8% have actually been won by candidates. Thus, it's far to early to say that any one candidate is destined to be the nominee right now. That being said, as things stand right now there's only one candidate who seems to be on a path to potential victory that has no obstacles along the way, and that's Donald J. Trump.