New Hampshire Likely To Be A Battle For Second, And Third, Place
The real question about the GOP primary in New Hampshire will likely be about who comes in second and third place. But what if there are no clear winners for these positions?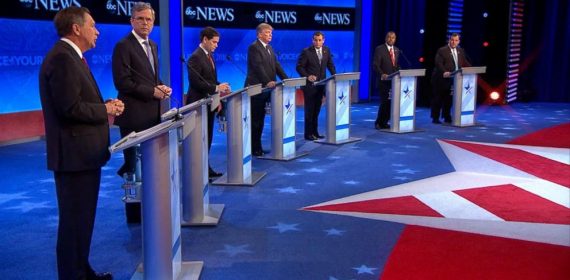 A new poll indicates that, while Donald Trump remains firmly in control of first place in New Hampshire, there is a tight fight for second place in the nation's first primary, and how that fight turns out could have a significant impact on how the race proceeds going forward after tomorrow night:
Donald Trump still has a commanding lead in New Hampshire two days ahead of the primary, according to a new Monmouth University poll released Sunday, but there's a four-way race for second place.

Trump commands 30 percent support from likely Republican primary voters in New Hampshire, the poll found. John Kasich, Marco Rubio, Jeb Bush and Ted Cruz were virtually tied for second place, with 14 percent support for Kasich, 13 percent each for Rubio and Bush and 12 percent for Cruz.

Other candidates were far behind. Chris Christie had 6 percent support, Carly Fiorina had 5 percent and Ben Carson had 4 percent.

(…)

The results on the GOP side were broadly in line with averages of recent polling in New Hampshire, with Bush and Kasich doing a little better they perform in the averages and Rubio doing a little worse. Bush was at 9 percent in the RealClearPolitics polling average and in the FiveThirtyEight weighted polling average. Kasich was at 12 percent in both averages, and Rubio was at 16 percent.
In addition to the Monmouth poll, a series of tracking polls being conducted in the Granite State through Primary Day also show a tight race for second and third place that could go in any number of directions in these last hours before voting begins. The University of Massachusetts tracking poll, for example, puts Trump at the top with 34%, followed by Marco Rubio and Ted Cruz tied in second place at 13%, and then Jeb Bush and John Kasich in third tied at 10%. The ARG tracking poll gives Trump 30%, followed by Marco Rubio and John Kasich at 16%, Ted Cruz at 10% and Jeb Bush at 9%. Finally the CNN/WMUR tracking poll puts Trump at 33%, followed by Rubio at 16%, Ted Cruz at 14%, John Kasich at 11%. and Jeb Bush at 7%. In each of these polls, New Jersey Governor Chris Christie has varied between four and six percent. Taking all these polls together, the RealClearPolitics average gives Donald Trump a seventeen point lead that seems to indicate that, barring some kind of collapse on the real estate executive's part, Trump is headed for a victory tomorrow. Just below Trump though, there are four candidates — Rubio, Cruz, Kasich, and Bush — that are separated by just 5.1 points in the polling average, which essentially amounts to the margin of error in most of the recent polling.
This essentially means that any four of these candidates, and potentially Chris Christie as well if he somehow exceeds expectations, could end up in second or third place coming out of New Hampshire. Alternatively, it suggests that we could end up with a situation where the polling matches the results of the voting and there are such small differences between the candidates immediately below Trump that nobody really has a legitimate claim to being part of the top three or four candidates going forward. Among other things, this would likely mean that the natural winnowing that we might expect after New Hampshire won't take place at all, and that these candidates will be able to argue that they still have a place in the race going forward. Among other things, this would delay the point at which an establishment/mainstream conservative candidate could emerge from the pack to join in the fight with Donald Trump and Ted Cruz, and that only works to the advantage of Trump and Cruz, who will continue working their own respective lanes in the GOP race and building up delegate counts that other candidates may find hard to compete with. The one way that this could potentially be avoided, of course, is if the candidates were to somehow agree among themselves that only one of them is truly viable to take on Trump, leading the others to leave the campaign trail. Of course, given the egos and the money involved, this almost never happens in politics and it seems unlikely to happen now. In any case, while many analysts are expecting that tomorrow will clear up the still muddy waters of the Republican race for President, the polls are indicating that, if anything, it could just as easily make them even more opaque.