From 17 Candidates, The Race For The GOP Nomination Is Effectively Down To Just Three
Six months ago, there were seventeen candidates for the 2016 Republican nomination. Now, the race is effectively down to three candidates.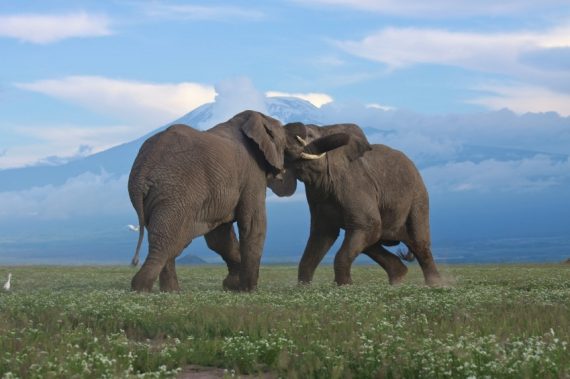 As Steven Taylor notes, former Maryland Governor Marin O'Malley has dropped out of the Democratic race for President, a development that is perhaps surprising mostly because many people were likely unaware that O'Malley was running for President at all.
The more significant winnowing, though, comes on the Republican side, where the race started out with so many candidates, seventeen, that debate organizers were forced to hold two separate debates to accommodate all, or at least most of, the candidates. Out of that field, Mike Huckabee, winner of the 2008 Iowa Caucus, also suspended his campaign:
DES MOINES — Mike Huckabee withdrew from the Republican presidential race after a poor showing in the Iowa caucuses, an event he won just eight years ago.

Huckabee joked with supporters that he was ending the campaign because of illness: "Voters are sick of me," he quipped.

He told about 200 campaign staff and supporters gathered at a West Des Moines event center that he had called the top three vote-getters — Texas Sen. Ted Cruz, businessman Donald Trump and Florida Sen. Marco Rubio — and congratulated them.

"They were very gracious. That's easy to do when you win," he laughed.

The former Arkansas governor had a harder time gaining traction in the Hawkeye State this time around. While Huckabee held town hall-style question-and-answer sessions in each of Iowa's 99 counties, it wasn't enough to gain support among caucusgoers looking for candidates who weren't part of the perceived establishment.

Huckabee often told audiences on the campaign trail that he wasn't part of the "Washington elite."

"I've never lived there," he said.

During the final two days of his Iowa campaign, Huckabee swatted down rumors that he would endorse Trump during a Trump rally Wednesday in Little Rock, Arkansas.

Huckabee had trouble raising money and securing air time during the various debates. He eventually faced relegation to preliminary debates with other low-rated candidates.
Huckabee's announcement did not come as much of a surprise given the fact that he had already said that he would drop out if he didn't finish in the top three in the 2016 Caucus. As of this morning, the former Arkansas Governor stands in ninth place with less than two percent of the vote.
Rick Santorum, who won the GOP Caucus in 2012, meanwhile, announced last night that he would be "reassessing" his campaign:
Former U.S. Sen. Rick Santorum, winner of the 2012 Iowa Republican caucuses, is reassessing whether to remain in the 2016 presidential race after a poor finish in Monday night's caucuses.

"We are going to spend a couple of days just thinking and praying, and figure out what we are going to do, and we will make a decision," Santorum told The Des Moines Register after addressing about 30 supporters at the Hilton Garden Inn in Johnston

After Iowa, Santorum had planned to focus on the Feb. 20 South Carolina Republican presidential primary, where he has scheduled a 46-county campaign tour starting Wednesday. But those plans could be in jeopardy after Monday night.

Santorum said he called U.S. Sen. Ted Cruz and congratulated him on his Iowa GOP caucus victory. Standing at a podium with his wife, Karen, and three of their children, the former Pennsylvania senator received cheers when he was introduced to his supporters at the hotel.

"We just have one thing we want to say: Thank you so much to the people of Iowa for a wonderful experience over the past five and a half years, and for the great reception that you gave to me and to the wonderful boost that you gave to me four years ago. I will never forget it," Santorum said.
Santorum, who famously eked out a victory over Mitt Romney four years ago finished last night in 11th place with less than 1% of the vote. One assumes that his 'reassessment' will soon be followed by the formal suspension of his campaign in the coming days.
One candidate who isn't leaving the race, though, is Kentucky Senator Rand Paul:
DES MOINES — After a disappointing finish in the Iowa caucuses, Rand Paul has decided to go on to New Hampshire rather than suspend his campaign, according to two aides familiar with his thinking.

Paul finished fifth on Monday. But the Kentucky senator is hoping that his libertarian style is a better fit in New Hampshire, a state known for its independent style.
A turnaround for Paul in New Hampshire seems unlikely given that he is presently sitting in ninth place in that state with an average of just 3.0% of the vote. Additionally, based on current criteria, Paul will not qualify for Saturday night's Republican debate in New Hampshire and it seems unlikely that he can perform any better in the Granite State than he did in Iowa. More likely than not, Paul will be out some point after New Hampshire and will turn his attention to his Senate re-election bid.
It's also likely that we'll see more candidates setting their campaign aside after New Hampshire barring some kind of miracle. This includes candidates such as Carly Fiorina and Ben Carson, who was the subject of some odd rumors last night that he had already withdrawn, as well as whichever of the 'establishment' Governors, Jeb Bush, John Kasich, Chris Christie, do not perform well enough in the Granite State to maintain a credible campaign.
Effectively, the campaign for the GOP nomination is down to three candidates — Donald Trump, Ted Cruz, and Marco Rubio — barring a breakout by one of the Governor's in New Hampshire, it seems quite possible that, by some time next week, it will be down to that number in reality, if not very close to it. This will make the race going forward quite interesting given the fact that the dynamics between Cruz, Trump, and Rubio will inevitably be taken up a notch when it is only the three of them on the stage at a future debate, and only the three of them out on the campaign trail. At least initially, of course, there will be a battle between all three of them to shrink the field even further, with the most likely battle being between Ted Cruz and Marco Rubio as the two fight to decide who will be the candidate to take on Donald Trump going forward. It will also be interesting to see how Trump responds to all of this. We've already seen that he is willing to take on both Rubio and Cruz and, for the most part, has done so quite effectively in the past. Whether he chooses to focus on just one of the two candidates initially or go after both of them, and how voters will respond to that, will be interesting to watch unfold. Eventually, of course, we'd end up with a one-on-one battle between either Trump and Cruz or Trump and Rubio. Given Trump's negatives among those who don't support him, one would think Trump would be at a disadvantage in that case, but this has been a year where we can expect the unexpected, so it's conceivable that anything can happen.
It's also possible that we'll see Trump fade away as we head down the primary calendar and that the final battle will be between Ted Cruz and Marco Rubio. In that case, you can expect that the Republican establishment and donor class will put its weight behind Rubio in an effort to stop Cruz. The fact that that battle will be between two young first-term Senators with a Latino background would provide an interesting background to a race that has already been quite a story in itself. Beyond ethnicity though, a Cruz-Rubio battle would be a battle for the soul of the GOP unlike any we've seen in at least a generation. Who wins could decide what kind of party the GOP will be for some time going forward.