Donald Trump Maintains Commanding Lead In New Hampshire While Rubio Inches Up
Donald Trump remains the favorite of those likely to vote in New Hampshire's Republican Primary, but Marco Rubio is starting to inch up in the polls in the Granite State.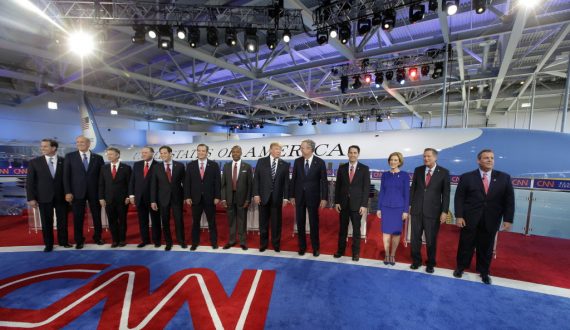 A new poll shows that Donald Trump is still at the top of the Republican field in New Hampshire, but also provides evidence of Marco Rubio's rising status in the Republican field:
Support for Marco Rubio among likely New Hampshire primary voters has tripled in two months, according to the results of a Monmouth University poll out Monday.

Donald Trump has led every major poll in New Hampshire since July, and this one is no exception. With 26 percent, the Manhattan billionaire leads Ben Carson, who took in 16 percent. Rubio, who polled at 4 percent in the September Monmouth survey, surged to 13 percent this time.

"Marco Rubio's standout performance in the last debate seems to have paid dividends in a contest that was supposed to be dominated by his former mentor Jeb Bush," said Monmouth polling director Patrick Murray in a statement. "Rubio's new-found support seems to be a little softer than for other candidates at the front of the pack, but it is not particularly solid for anybody."

In terms of favorability, Rubio (net positive 43 points) trailed only Carson (45 points), while Trump had a net-positive rating of just 6 points. New Jersey Gov. Chris Christie saw a big boost in his favorability ratings, and now enjoys a 54 percent favorable to 32 percent unfavorable standing. Two months ago, he drew a negative 38 percent to 46 percent result.

Behind Rubio, Ohio Gov. John Kasich earned 11 percent, followed by Texas Sen. Ted Cruz at 9 percent, former Florida Gov. Jeb Bush at 7 percent, Christie and Carly Fiorina at 5 percent each and Kentucky Sen. Rand Paul at 3 percent. All other candidates polled 1 percent or less, with 4 percent undecided.
Given that he has led in every poll taken in the Granite State since July, the fact that Donald Trump still has a comfortable lead here isn't really all that surprising, but it does indicate that his support continues to be solid and that the predictions that he was beginning to fade in the polls have largely proven to be premature at best. It's also notable that we don't see any evidence of the bump in the polls that Ben Carson has apparently received in Iowa reflected in this poll. For the most part, Carson is at the same level in New Hampshire that he has been for the past two months or so, with a fiew dips and rises along the way. These numbers also suggest that the national poll released last week showing Carson with a modest lead over Trump within the margin of error may be an outlier. Given the fact that the Republican electorates in Iowa and New Hampshire are distinctly different, and that the two states use different methods to select their preference among potential candidates, this isn't entirely surprising. Carson's distinctly conservative message is, not surprisingly, playing very well in Iowa, but its audience is limited in New Hampshire. Trump, on the other hand, is likely appealing to the same kind of voters in the Granite State that he is elsewhere in the country, and the fact that New Hampshire has an open primary that allows anyone to vote regardless of party affiliation could potentially benefit him in February, assuming his campaign puts together a well-run get out the vote effort.
Outside of Trump and Carson, the biggest news out of this poll is the fact that Marco Rubio seems to be continuing a rise in the polls that began after the second Republican debate and continued well into October, and that the kudos he was receiving in the wake of last week's debate may start having an impact on the polls. Previously, Rubio has been polling in the high single digits in the Granite State, so numbers showing him edge close to Carson are certainly something worth paying attention to, especially since it arguably puts him in the class of contenders in what, for Republicans, is arguably the far more important contest when compared to the Iowa Caucuses. It's still too early to tell if this is the moment that Rubio has been waiting for but, along with other good news he's received over the past week, it's likely to be well-received at his campaign headquarters.
Looking at the polling average, RealClearPolitics continues to show Trump comfortably in the lead at 29 percent, with Ben Carson well behind at 16% and Rubio in third place at 10%. Jeb Bush, who was once the predominant candidate in New Hampshire, is in fourth place at 8.5% and Ohio Governor John Kasich, who has done better in the Granite State than most other parts of the country thanks to an aggressive media campaign, right behind him at 8.3%. After that, there's a significant drop off, with Ted Cruz and Carly Fiorina tied at an average of 6.5%, Chris Christie and Rand Paul tied at 3.8%, and every other candidate average one percent or less. Things are somewhat different in the Pollster average, with Rubio in sixth place at 6.4% behind candidates such as Fiorina, Kasich, and Bush as well as the two frontrunner, but that's largely due to the fact that Pollster includes polls that may or may not be entirely reliable. In any case, even there it does seem as though the Florida Senator is ticking upward.
We're likely to see more polling, from New Hampshire and elsewhere in the coming week, so it's best to take one number with a grain of salt, but at least for now it seems clear that Donald Trump continues to be the dominant force in the Republican race and will likely stay there for the foreseeable future. Marco Rubio, though, seems to be inching upward and we may be at the beginning of a trend that puts him into serious contender status. Where he goes from there is, of course, anyone's guess.