Clinton Gets Aggressive With Sanders In Wake Of New Hampshire Loss
If last night's debate is any indication, Hillary Clinton's campaign is about to get much more aggressive in its critique of Bernie Sanders.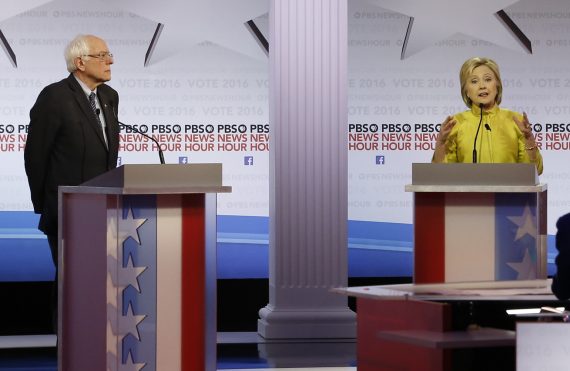 With the race for the nomination now in full swing, Hillary Clinton and Vermont Senator Bernie Sanders met for another debate in Wisconsin last night, and in with the shadow of a big loss just behind her Clinton was perhaps more aggressive against the Vermont Senator than she has been to date:
MILWAUKEE — Hillary Clinton, scrambling to recover from her double-digit defeat in the New Hampshire primary, repeatedly challenged the trillion-dollar policy plans of Bernie Sanders at their presidential debate on Thursday night and portrayed him as a big talker who needed to "level" with voters about the difficulty of accomplishing his agenda.

Foreign affairs also took on unusual prominence as Mrs. Clinton sought to underscore her experience and Mr. Sanders excoriated her judgment on Libya and Iraq, as well as her previous praise of former Secretary of State Henry A. Kissinger. But Mrs. Clinton was frequently on the offensive as well, seizing an opportunity to talk about leaders she admired and turning it against Mr. Sanders by bashing his past criticism of President Obama — a remark that Mr. Sanders called a "low blow."

With tensions between the two Democrats becoming increasingly obvious, the debate was full of new lines of attack from Mrs. Clinton, who faces pressure to puncture Mr. Sanders's growing popularity before the next nominating contests in Nevada and South Carolina.\

She is wagering that even voters excited by Mr. Sanders's inspiring message will reconsider their support when they learn of his lack of experience in foreign policy and his vague explanations for how he will pay for his expansive government programs.

Mrs. Clinton pounced from the start, after Mr. Sanders demurred in saying how much his proposals would increase the size of the federal government. She stepped in and said that by economists' estimates, the government would grow 40 percent under Mr. Sanders.

And rather than bashing him as she did at their debate last Thursday, she appeared to try to get under his skin by implying that he had not been transparent about the cost of his programs, such as his proposed expansion of government health care.

"This is not about math. This is about people's lives, and we should level with the American people," Mrs. Clinton said. She then repeated a jab at Mr. Sanders's reputation as a truth-teller that she would return to during the debate: "You need to level with people about what they will have at the end of the process you are proposing. And based on every analysis that I can find by people who are sympathetic to the goal, the numbers don't add up."

"I don't know what economists Secretary Clinton is talking to," Mr. Sanders responded, insisting that families could come out with savings. "That is absolutely inaccurate."

Mr. Sanders, who has exuded confidence since his New Hampshire win, raising more than $6 million in the 24 hours after the polls closed there, was more pointed and even belittling of Mrs. Clinton at times. He said bluntly that some of her attacks were wrongheaded, and he was dismissive after Mrs. Clinton talked about her plans to increase federal spending by about $100 billion a year. After Mrs. Clinton responded to a question by saying, "once I'm in the White House," he began his next answer by saying, "Secretary Clinton, you're not in the White House yet," drawing some murmurs and jeers.

The candidates had one of their sharpest exchanges of the race when the moderators of the debate asked them what is typically a softball question: which leaders they admire. Mr. Sanders named Franklin D. Roosevelt and Winston Churchill, while Mrs. Clinton named Nelson Mandela — and then used the question to berate her opponent for his complaints about Mr. Obama over the years.

"The kind of criticism that we've heard from Senator Sanders about our president, I expect from Republicans," she said. "I do not expect from someone running for the Democratic nomination."

Mr. Sanders called the comment a "low blow" and said that while he disagreed with Mr. Obama on occasion in the Senate, the president was a friend.

(…)

Mrs. Clinton's pointed critique of Mr. Sanders was part of a new calculation by her campaign that the debate format, in which Mrs. Clinton excels, was the best way to draw attention to Mr. Sanders's record and his minimal expertise in foreign policy. The role of commander in chief became another flash point on Thursday, when Mr. Sanders argued that his judgment was better than Mrs. Clinton's, and more important than her experience. He criticized Mrs. Clinton's 2002 vote to authorize the war in Iraq, her push to oust Col. Muammar el-Qaddafi in Libya and her consulting of Mr. Kissinger.

"I'm proud to say that Henry Kissinger is not my friend," Mr. Sanders said, saying Mr. Kissinger had enabled genocide in Cambodia under Pol Pot.

Mrs. Clinton turned the exchange back on Mr. Sanders, noting that he had sidestepped requests to identify his own foreign policy advisers.

"Well, it ain't Henry Kissinger," Mr. Sanders snapped back.

Mr. Sanders also criticized Mrs. Clinton for telling CNN in 2014 that the children who entered the United States from Central America should be sent back, a statement that made some young Latinos question her commitment to their communities.

"I made it very clear that those children needed to be processed appropriately," Mrs. Clinton said. But she said the United States also had to send a message to parents "not to send their children on this dangerous journey in the hands of smugglers."

"These are children," Mr. Sanders said. "I don't think we use them to send a message, I think we welcome them into this country."

Mrs. Clinton, sensing her rival's relative inexperience on world affairs, offered a somewhat belittling reply at one point in the exchange: "It's a big, complicated world out there," she said.
As Jonathan Martin notes in his analysis of the debate for The New York Times, the shift in tone that Clinton seemed to be displaying at this debate appears to be aimed at reminding Democratic voters that the election had entered a more serious phase, and that however infatuated they may be with many of the ideas that Senator Sanders has expressed on the campaign trail, and which have drawn so many supporters to his side. This is something that Clinton has hinted at before, but she has not stated quite as specifically as she did last night, but it's one that seems to have much truth behind it. Although she didn't come right out and put it this way, the truth of the matter is that it's highly unlikely that a President Sanders would ever really be effective at getting his ideas implemented. For one thing, Republicans are likely to continue their hold on the House of Representatives through the redistricting that will take place in the wake of the 2020 Census, and quite probably well beyond that absent the kind of wave election we saw in 2006 or 2010. Republicans could also continue to hold on to the Senate, or at least have a sufficiently large minority to be able to use the legislative filibuster to block legislation that would somehow make its way through the House. Furthermore, the nature of Senate elections over the next several cycles suggests that party control of the upper chamber is arguably just as likely to switch back and forth between Republican and Democratic control as it is to stay under the control of one party for an extended period of time. In any case, under these circumstances, the idea that Sanders, who has never successfully originated a bill that was signed into law in his entire legislative career, would be able to get things as complicated as "single payer" health care or "free" college tuition through Congress is really quite fanciful. We haven't gotten to the point where Clinton is being this explicit in her critique of Sanders, but much of her rhetoric last night makes it clear that this is where she's headed. Senator Sanders is great as an idealist, Clinton is saying to voters, but as a President he'd be utterly hopeless when it comes to getting anything done.
Clinton's concentration on foreign affairs is also unsurprising. Whereas Clinton has experience in this area both from her time as a Senator and Secretary of State, this is an area in which Sanders has never really had much to say. Indeed, most of his commentary on the issue of foreign affairs on the campaign trail has been to criticize Clinton, both for her vote in favor of the Iraq War more than ten years ago and the decisions she supported during her time as Secretary of State such as the intervention in Libya. Even conceding that Sanders criticisms here are good ones, they don't demonstrate much about his own positions on foreign policy or how he'd handle the various issues that would likely come up in the world were he to become President. Foreign affairs has been an area of weakness for Sanders before, both in debates and in one-on-one interviews, and the Clinton campaign obviously knows this, which is why she's likely to continue hitting on this topic.
Generally speaking, it would appear that Clinton's campaign is aiming to get Democratic voters to look past Bernie Sanders and his idealism and begin to focus on what can realistically be accomplished and who is best suited to achieving those goals. The hope, obviously, is that Democratic voters will conclude that it's Clinton and her seemingly more pragmatic approach to politics that would best fit that bill. In that regard, the consensus from analysts who watched last night's debate appears to be that Clinton won the night, but it's unclear what impact this will have on the race going forward. So far at least, Democratic voters who have actually gone to the polls have appeared to be quite attracted to Sanders' idealism. Now that we're entering a more serious phase of the race, though, we may start to see voters become more serious about questioning who should really represent their party going forward. That, combined with what still appears to be an overwhelming advantage on Clinton's part among minority groups, is what is likely to propel her past Sanders in the end. The only question is how much longer Democrats are going to continue feeling 'the Bern.