If Only A Contested Convention Can Stop Trump, It's A Plan That's Unlikely To Succeed
It seems increasingly apparent that the only way to stop Donald Trump now is by trying to force a contested convention. It also seems clear that such a plan probably wouldn't succeed.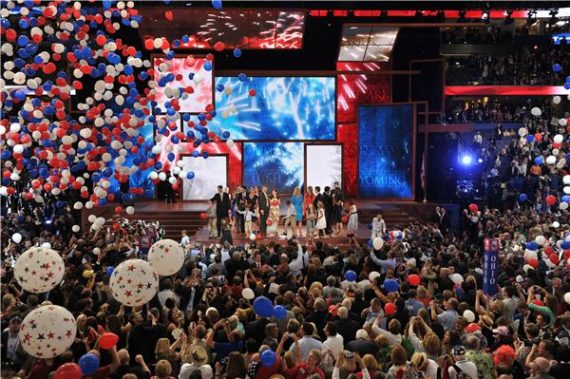 Over at The New York Times, Nate Cohn looks at the state of the race so far and concludes that, absent a drastic change in how the race is unfolding, Donald Trump will eventually reach the majority he needs to become the Republican nominee on the first ballot in Cleveland, and that in any case the best that any of Trump's opponents can hope for at this point is a contested convention where Trump has a substantial plurality of the delegates, but has fallen short of a majority by the time the race gets to Cleveland:
Donald Trump did not amass a majority of delegates on Super Tuesday. But he could soon.

If the people in the rest of the nation vote as the Super Tuesday results suggest they would, Mr. Trump would easily amass a majority of delegates and avoid the contested convention that his opponents hope to force and win.

He could even do so without wins in Ohio and Florida, the two largest winner-take-all states, where he faces opponents in their home states.

Mr. Trump would amass so many delegates because the rules become more biased toward candidates who win, allowing him the chance to take an overwhelming share of delegates with just a minority of the vote. It becomes easy to win lopsided delegate margins starting March 15, when states are allowed to apportion their delegates on a winner-take-all basis. At the same time, the primary calendar doesn't become less favorable and may even become more advantageous to him, depending on which candidates stay in the race.

But the results so far also indicate he could still be defeated, suggesting Mr. Trump is far from winning a majority of the popular vote. He could be denied a majority of delegates if the field narrowed to Mr. Rubio.

If the remaining states vote as one would expect based on their demographics and the results so far, Mr. Trump will defeat Marco Rubio by a margin of 37 percent to 25 percent over the rest of the race. Ted Cruzwould take third place over the rest of the primary season, with 22 percent of the vote. (These figures were calculated by weighting the candidate's projected vote share in congressional districts by Mitt Romney's vote in 2012, to more appropriately reflect the importance of caucuses. The actual popular vote would be worse for Mr. Cruz.)

Mr. Trump's 12-point lead over Mr. Rubio would translate into a huge majority of the outstanding delegates. He would be favored to amass around two-thirds of the delegates that remain — or around 1,100 additional delegates on top of the more than 300 delegates he already holds. That would easily be enough for Mr. Trump to clear the 1,237 delegates needed to win.

It would even be enough to withstand losses in both Ohio and Florida, two big winner-take-all states.

It's important to emphasize that these estimates aren't predictions. They assume the rest of the country will vote as it has so far, and the race could easily change. Perhaps Mr. Rubio will fade after his showing on Super Tuesday. Maybe an organized "stop Trump" effort will have an effect.

But the estimates nonetheless make an important point: There won't be a contested convention if things keep going as they have been.

Mr. Trump would fare well in the pure winner-take-all states as well as the states with a mix of winner-take-all by statewide vote and congressional district. Many of these states, like New York and New Jersey, are traditionally strong for establishment-backed candidates. But the results so far suggest Mr. Trump would have a significant advantage there, as he did in Massachusetts — his best state on Super Tuesday.

Mr. Trump is vulnerable in some states and at a disadvantage in few. He trails in just Kansas, Hawaii, North Dakota, Utah, Wyoming, Nebraska, South Dakota and Idaho. Elsewhere, Mr. Trump holds a lead and often a commanding one.

That doesn't mean that his rivals can't or won't deny a majority of delegates to Mr. Trump.

It would be easier if Mr. Rubio, not Mr. Cruz, were the main rival to Mr. Trump. The model shows Mr. Rubio is on track to surpass Mr. Cruz in delegates by the end of the primary season, despite his struggles so far.

That may seem surprising, since Mr. Rubio has won fewer states than Mr. Cruz. But the states about to vote are more moderate and plainly worse for Mr. Cruz than the states that have already voted.

Mr. Cruz has nearly no chance to win the delegate-rich blue states later in the calendar. He's not even on track to exceed 15 percent of the vote in several states where Mr. Trump would need to be slowed, while Mr. Rubio is in striking distance.

(…)

In the end, the Republican rules aren't very complicated. If Trump can win by the margin he did on Super Tuesday, he's going to earn a majority of delegates no matter how many candidates remain in the race. If another candidate, most obviously Mr. Rubio, can start to fight him to a draw in the later states, then Mr. Trump could be denied a majority of delegates. The results so far suggest that's possible, since Mr. Trump is not close to the pace needed to win a majority of the popular vote.

Whether Mr. Trump would lose the nomination if he entered the convention with a large plurality of delegates is a separate question. But a contested convention is nonetheless the best the traditional candidates can hope for.
Politico reports that a group of GOP insiders has reached a similar conclusion, and also concluded that it would now be essentially impossible for any candidate other than Trump to win a majority of delegates prior to the Republican National Convention in July. And, according to a CNN report, this is the scenario that Mitt Romney seems to have in mind based on his suggestion yesterday that voters and donors engage in strategic voting designed to deny Trump the majority of delegates:
Mitt Romney has instructed his closest advisers to explore the possibility of stopping Donald Trump at the Republican National Convention, a source close to Romney's inner circle says.

The 2012 GOP nominee's advisers are examining what a fight at the convention might look like and what rules might need revising.

"It sounds like the plan is to lock the convention," said the source.

Romney is focused on suppressing Trump's delegate count to prevent him from accumulating the 1,237 delegates he needs to secure the nomination.

(…)

Most Republican states allocate their delegates proportionally, or in a hybrid format that gives delegates both to the statewide winner and at the congressional district level. This means rather than winnowing the competition down to a single Trump alternative, it could make more sense for all of the current candidates to stay in the race for a stop Trump movement, according to one source.

In addition, two senior Republican Party insiders told CNN that the convention scenario is now dominating a lot of conversation in GOP fundraising circles. To be sure, both of these sources are skeptical about Romney being able to execute this plan, but both believe that there is a real attempt underway to try to do this.

In the meantime, they said to look for Republicans like Romney to continue to cast doubt on Trump's business record and to keep pushing for him to release his tax returns.

"His bankruptcies have crushed small businesses and the men and women who worked for them," Romney said of Trump during his speech Thursday. "He inherited his business, he didn't create it. And whatever happened to Trump Airlines? How about Trump University? And then there's Trump Magazine and Trump Vodka and Trump Steaks, and Trump mortgage? A business genius he is not."

Asked by CNN's Wolf Blitzer about reports that Romney would try to block Trump at the convention, RNC Chairman Reince Priebus said he had not heard about that or had any conversations about that.

"Not really. This is the kind of conversation that's so far way from where this process is at. There are 1700+ more delegates to go," he said, adding later, "I just think it's a waste of time playing those matrix games right now."

If creating doubt about Trump's success starts to pay dividends and the convention plan were to come to fruition, these Republican Party insiders believe it will likely drive Trump into a third party candidacy in the fall.

Trump has repeatedly threatened an independent run if he isn't treated "fairly" by Republicans.

After Romney attacked Trump in a blistering speech Thursday morning, Trump hit back by mocking Romney's 2012 loss at a campaign rally in Portland, Maine — pointing to Romney's efforts to secure Trump's endorsement.

"He was begging for my endorsement. I could have said, 'Mitt, drop to your knees' — he would have dropped to his knees," he said.

He said of 2012: "That was a race, I have to say, folks, that should have been won. … I don't know what happened to him. He disappeared. He disappeared. And I wasn't happy about it, I'll be honest, because I am not a fan of Barack Obama, because I backed Mitt Romney — I backed Mitt Romney. You can see how loyal he is."
Part of CNN's report included the seemingly outlandish idea that once it became clear that Trump didn't have a majority of delegates under this scenario, the nomination could then be opened to not only Trump and the candidates who garnered what would likely be far fewer delegates than he did, but also to candidates who had not entered the race at all, and one of the names mentioned as a potential nominee is none other than Mitt Romney himself. Now, to be completely accurate it's only fair to note that Mitt Romney has said in an interview given since his speech yesterday that he is not a candidate for President and does not intend to become one, but he's also said in an interview with Bloomberg that he would support a plan along the lines described here, and Gabriel Sherman says that we shouldn't necessarily believe Romney's insistence that he's not interested in playing the part of candidate again:
The scenario that's been floated in recent days by GOP insiders I've spoken to is that Romney could enter the Republican primary race late in California and New York to deny Trump the delegates necessary to clinch the nomination. Then, at a brokered convention, Romney would emerge as the party's choice on a second ballot. There's no real hope that Romney would be able to beat Clinton — it would essentially be a suicide mission — but losing in 2016, while being able to cast the Trump phenomenon as a fringe aberration, would be better for the party in the long run.

Romney's speech contained many hints that he could put this plan into action. He included the requisite praise of Establishment candidates. "The only serious policy proposals that deal with the broad range of national challenges we confront today come from Marco Rubio, Ted Cruz, and John Kasich. One of these men should be our nominee," he said. But as each day goes by, with none of these candidates demonstrating an ability to stop Trump, the GOP seems to be grasping for an alternative. And the logical one is Romney himself.

Romney spoke of putting country first. "We've been blessed with great people, people who placed the interests of the country above their own," he said, further describing a Trump presidency as a dystopian hellscape, like the alternate 1985 ruled by Biff Tannen in Back to the Future II. He cast this outcome as the end of the world as we know it. "There never was a democracy that hasn't committed suicide," he said, quoting John Adams. To prevent this, Trump must be halted.

Romney may not have explicitly volunteered for the job, but he has now made clear his willingness to be drafted.
If this read's like some kind of plot out of a reboot of The West Wing, that's because it largely is. In the real world, the odds of a plan like this actually coming to fruition and succeeding in its goal of stopping Trump are really more the stuff of the fantasies of a political junkie or a television writer rather something that is likely to happen in the real world. What makes it the most unrealistic, of course, is the number of things that would need to go right in order for it to work. The first, of course, is that Trump would have to lose in both Ohio and Florida, and probably do so by margins sufficient to deny him many delegates out of the result. Right now, polling shows him leading substantially in the Sunshine State, and leading narrowly in the Buckeye State. If Trump manages to pull out wins in both states over the next two weeks, then it would seem that the door would close on even the contested convention strategy  Theoretically, it might still be possible for the combined effort of Rubio, Cruz, and Kasich to deny Trump a majority would survive even these Trump victories, but it would make success in forcing a brokered convention much more difficult, for the reasons that Nate Cohn much more difficult. It's also possible that Trump may find winning individual races more difficult going forward since the calendar after March 15th includes many more closed primaries that would theoretically prevent the independents that seem to be rallying to Trump's side from participating in the primary. That presumption, though, precludes the possibility that many of these independents will take the steps necessary to register as Republicans in time to be able to vote for Trump and the likelihood that, the more likely it starts to appear that Trump will be the nominee the more Republican voters will start to rally around him in order to bring the race for the nomination to a quick end. Finally, the entire scenario presumes that all three candidates will stay in the race long enough to divide the vote up and trade victories in a way that denies Trump the delegates he needs to get to the magic number of 1,237. In order words, it's a plan that requires absolutely everything to go nearly absolutely perfectly between now and June, and the odds of that happening seem to me to be somewhere between slim and none.
Even if the plan to deny Trump the majority he needs to win the nomination on the first ballot succeeds, though, there's something ridiculously outlandish about the idea that Republican insiders would then be able to succeed in keeping him from getting the nomination without doing serious damage to the party, and most likely guaranteeing that Hillary Clinton would be elected 45th President of the United States by a comfortable margin in November. Even if Trump does not have a majority of the delegates when the convention opens in Cleveland he will likely have a substantial plurality of delegates, perhaps only a few hundred, or even less, than he needs to get elected on the first ballot. The other candidates would likely have a roughly even split of the remaining delegates, but none of them would be close to Trump's plurality. In addition to delegates, Trump will also likely have wins in the majority of the states and a substantial plurality, or possibly even a majority of the total popular votes cast over the course of the four months of primaries or caucuses between February and June. The prospect of the party trying to snatch the nomination from Trump under these circumstances seems absurd when you think about it for even a second. To people outside the party looking in on television, it would seem like a perversion of the democratic process that the primaries and caucuses are supposed to represent and, as John Sexton notes, at Hot Air, it would confirm all of the worst suspicions of Trump's supporters and other activists on the right:
There is precisely zero chance Trump's supporters are going to graciously accept defeat and calmly consider which alternative GOP candidate to support. Instead, they are going to feel (and to some extent rightly so) that their candidate has had the nomination stolen from him by the dreaded establishment. Like the incredible Hulk, they are going to get angrier and probably stronger. The #NeverTrump movement is going to be dwarfed by the #NeverWhoever movement started by Trump's camp if Romney's plan plays out. And when Trump goes third party the raucous energy his supporters have brought to the GOP is going to walk out the door with him.

Maybe it doesn't matter. Maybe for Romney and others in the party this has become a matter of principle and a fight for the legacy of the GOP. If so that's one thing. But it's important to known ahead of time that the one thing Romney's stop Trump effort is least likely to do is actually stop Trump.
So, while the #NeverTrump movement concentrates on its effort to force a contested convention, one wonders if they've considered the fact that we've reached the point where stopping Trump will likely do as much damage to the Republican Party as nominating Trump will do.