Even Donald Trump's Own Supporters Can't Say What He'd Do As President
This is not a serious Presidential campaign, it is a bloviating sideshow.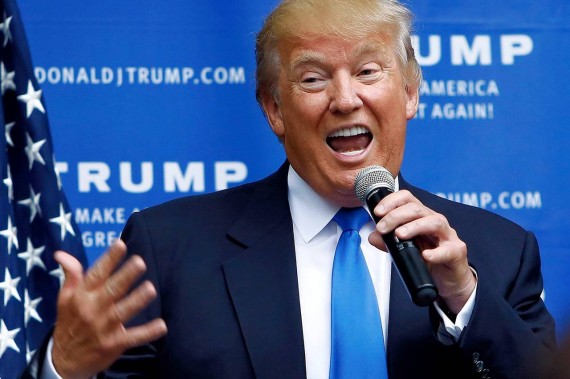 If you need any further demonstration of the utter banality of the Donald Trump phenomenon, consider what happens when someone asks one of his supporters what he would do if he were actually elected President:
Donald Trump might be leading in the polls, but even his biggest supporters don't seem to know what would happen if he were voted into the Oval Office. When CNN asked Robert Kiger, head of the Trump Super PAC Citizens for Restoring USA, just what a Trump administration would accomplish, his answer was incredibly vague: "I think he's going to accomplish everything that he set out to do," Kiger replied, without much elaboration. In fact, aside from asserting that Trump is the most galvanizing political figure since Ronald Reagan and stressing that he will secure the U.S.-Mexico border, Kiger seemed clear about little else in the GOP hopeful's agenda.

Kiger isn't the first Trump supporter to be stumped by the question of whatexactly The Donald would do in office. Just two days before Wednesday's CNN interview aired, Trump campaign head Michael Cohen was unable to provide any supporting evidence to the claim that Trump was a better candidate for veterans issues. "So what is Donald Trump going to do?," CNN's Chris Cuomo asked Cohen. Cohen's response: "Donald Trump fixes things. You gotta acknowledge that."
Here's the video of Kiger's appearance this morning:
This isn't entirely surprising, of course. It mirrors the responses I get from people I have encountered online who identify themselves as Trump supporters. In the end, it is clear that their support for him is based mostly on the fact that he is acting like jerk rather than on any specific ideas that he has. Additionally, if you actually listen to anything that Donald Trump has said in the speeches or cable news appearances, most of which are either taped in advance or done over the phone, since entering the race, you'll find that he is completely devoid of substance on any of the issues that he has brought up and that there are a whole host of issues that he never bothers to mention. Additionally, a quick perusal of his campaign website reveals that it doesn't even have a rudimentary version of an "Issues" section setting forth a summary of what the candidate believes regarding the issues of the day. This is something that is usually found on the campaign website of even the most incompetent candidate for local office, never mind a candidate for President of the United States. The entire Trump shtick boils down to him insulting the people he's running against, insulting the President, insulting Mexicans, and creating a media spectacle where ever he goes. Because of this, he has virtually taken over the entire political news cycle for the past month and guaranteed himself a place in next month's debate, which is likely to yield a performance that will guarantee that this sideshow will continue for some time to come.
Add into this the numerous reports that have come out in the month since Trump entered the race indicating that he barely has anything that could be called a campaign organization in early primary states such as Iowa, New Hampshire and South Carolina, and that he has snubbed efforts by state GOP officials to coordinate with his campaign, and it quickly becomes clear that, notwithstanding the fact that he is rising in the polls, and notwithstanding the fact that he has complied with the FEC requirements for a Presidential candidates, including today's release of a large financial report, Donald Trump is not a serious candidate for President. He is, instead, the same person he has been since he became a cultural and media phenomenon in the 1980s. He is a showman who's entire reason for existing is to enhance the Trump brand and get the media to do his bidding. I don't know how much longer this absurd spectacle will continue, be please don't anyone mistake it for actual serious politics.