Donald Trump Continues To Lead GOP Field In Post-Debate Polling
One week after the second Republican debate, Donald Trump is still at the top of the GOP field, and that doesn't seem likely to change any time soon.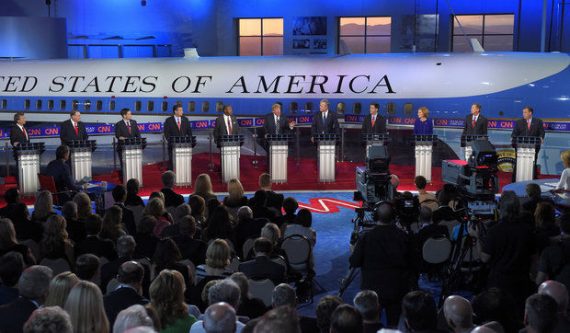 In the wake of last week's Republican Presidential debate, the conventional wisdom was that Donald Trump had "lost" the debate with a repeat of the performance he had given at the August 6th debate, while candidates such as  Carly Fiorina and Marco Rubio had allegedly improved their position. Almost immediately after the debate ended, and for days afterward, pundits predicted that we had seen the peak of Donald Trump and that this would be the beginning of the end of the phenomenon that began when he entered the race in mid-June. Of course, as I noted at the time, many pundits had been predicting that one event or another would be the beginning of the end of Donald Trump throughout the summer only to be proven wrong, so there was no reason to believe that this last debate would be any different. In the initial polling that came out in the wake of the debate, Trump had dipped slightly while Ben Carson and Carly Fiorina had risen a bit in the wake of what some had concluded were solid debate performances. This morning, we have three new polls that seem to confirm what we saw at the end of last week and show that, while Trump has declined in the polls somewhat he remains firmly entrenched as the Republican frontrunner just as he has been for the past three months.
First up, the new Quinnipiac poll shows Trump slipping somewhat from where he had been previously, but still at the top of the race:
Donald Trump's momentum appears to have stalled, according to the latest national Quinnipiac University survey released Thursday.

Trump still leads the pack among registered Republican voters with 25 percent, statistically unchanged from last month's Quinnipiac survey that put him at 28 percent. It's the second major national poll this week showing a slight decrease from last month, as Trump experienced an 8-point drop in the CNN/ORC survey released Sunday.

In the latest Quinnipiac poll, retired neurosurgeon Ben Carson came in second with 17 percent, an increase of 5 points from last month, followed by businesswoman Carly Fiorina at 12 percent, up 7 points, former Florida Gov. Jeb Bush at 10 percent, up 3 points, Florida Sen. Marco Rubio at 9 percent, up 2 points, and Texas Sen. Ted Cruz at 7 percent, who remained steady. Other candidates polled at 2 percent or less, with 9 percent undecided.

Fiorina won last week's second primary debate, a plurality of voters said, at 28 percent to 11 percent for Trump, the next-closest candidate. But a plurality of 20 percent also said that Trump lost the debate.
Next up, the new Fox News poll shows Trump maintaining his lead in the race despite the fact that he is also perceived as having had the worst performance in last night's debate:
Donald Trump is holding onto his sizeable lead among Republican primary voters, a Fox News poll showed Wednesday, despite being perceived as delivering the worst performance in last week's debate.

The poll has the billionaire businessman nabbing 26 percent support, with retired neurosurgeon Ben Carson gaining on him with 18 percent, and former Hewlett-Packard CEO Carly Fiorina also edging up with 9 percent.

The trio of political outsiders all improved their standing from the prior Fox News poll conducted after the Aug. 6 debate, in which Trump came in with 25 percent, Carson with 12, and Fiorina with 5 percent.

The strong numbers show the extent to which anti-Washington sentiment has boosted those who have never before held political office, while experienced hands such as Jeb Bush have sunk to single-digit support. Trump maintained his post at the top despite respondents saying he offered up the worst performance at last week's CNN Republican presidential debate. Fiorina, meanwhile, landed the best impression.
Along similar lines, a new Bloomberg Poll finds what seems to be strong sympathy for many of Trump's themes while he continues to lead the GOP race:
Americans are "fed up" with politics, suspect the wealthy are getting an unfair edge, and think the country is going in the wrong direction, according to a new Bloomberg Politics poll that lays bare the depth and breadth of the discontents propelling outsider candidates in the Republican presidential field.

The survey shows that 72 percent of Americans think their country isn't as great as it once was—a central theme of front-runner Donald Trump's campaign. More than a third prefer a presidential candidate without experience in public office.

Three of the four candidates leading the Republican field fit that description: Trump, the first choice of 21 percent of registered Republicans and voters who say they lean that way, followed by neurosurgeon Ben Carson with 16 percent, former Florida Governor Jeb Bush with 13 percent, and former Hewlett-Packard CEO Carly Fiorina with 11 percent.

Fiorina and Carson have seen the strongest gains among Republicans since the survey was taken a month ago. In the interim, voters have had their first extended looks at the candidates in two nationally televised debates. Fiorina's numbers, at 1 percent in the August poll, leaped by 10 percentage points while Carson jumped 11 percentage points, up from 5 percent. Trump's numbers have remained unchanged. Together, the three candidates who have never held political office account for 48 percent of the Republican vote.
Looking at the national field, the RealClearPolitics average shows Trump at 24%, with Ben Carson and Carly Fiorina as the only other candidates in double digits. Jeb Bush and Marco Rubio come next at slightly over 9% each followed by Senator Ted Cruz at 6.5%, but after them the numbers begin to drop off precipitously. Chris Christie and Mike Huckabee both come in at 3.5%, followed by John Kasich at 3.0% and Rand Paul at 2.3%. After Paul, no other candidate remaining in the race is averaging about 1% of the vote, and most of them are barely registering at all. In other words, the Republican race doesn't look all that much different than it did prior to the debate, exactly for the fact that Donald Trump does seem to have declined in the polls somewhat, as this chart shows: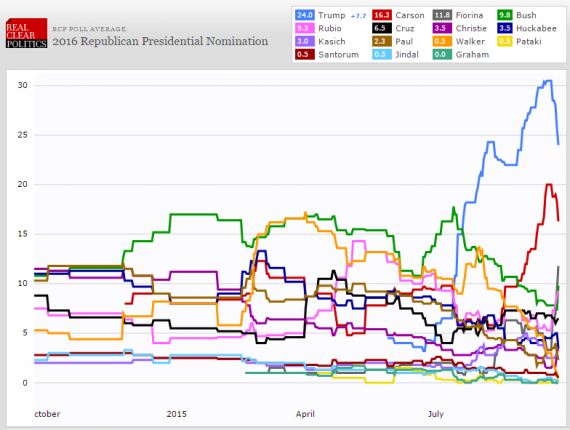 As the chart shows, there has been somewhat of a decline in Trump's numbers since the debate. Right before the debate, Trump was averaging 30.5% in the polls and since then he's seem his numbers fall six points to 24%. At the same time, though, we've also seen that his closest competitor in the polls, Ben Carson, has also seen his numbers decline while there really hasn't been any sign that Carly Fiorina or anyone else received enough momentum from the debate to turn them into any kind of contender. Given that, the fact that Trump has dropped from a high that was likely artificial to begin with doesn't necessarily mean that we're seeing the often predicted beginning of the end of the Trump campaign that so many pundits, including myself, have forecast more than once. Instead, what we're likely to see that Trump will maintain his lead over the other candidates, especially when his main competitors are two people who clearly aren't any more fit for the Presidency than he is and are thus unable to position themselves as credible alternatives to a candidate who continues to say many things that the Republican base continues to agree with. If Trump is going to be challenged effectively, it will be by one of the establishment candidates who can appeal to conservative voters while at the same time positioning themselves as the measured and credible alternative to a man who is basically the living embodiment of an Internet comment thread. The problem for the Republican Party, though, is that so far none of those candidates have been able to break through the cacophony surrounding Donald Trump. Until they are, there's no reason to think that this is going to end.