Republicans Against Legal Immigration
Two Republican Senators are introducing legislation that would result in drastic reductions in the number of people allowed into the country legally.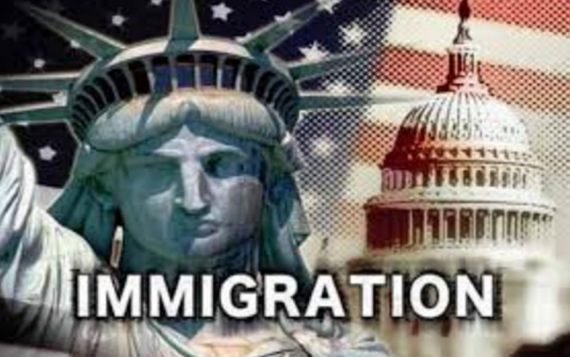 With the apparent blessing of the Trump White House, a Republican Senator from Arkansas is set to introduce legislation that would drastically decrease the number of people who can enter the United States legally:
Overlooked in Donald Trump's campaign crusade against illegal immigration was his vow to crack down on legal immigration, too.

Now, Sen. Tom Cotton (R-Ark.), a reliable Trump ally, is taking steps to execute that part of the president's immigration vision — and it could provoke a showdown between two competing ends of the GOP: the working-class populists led by Trump and the establishment Chamber of Commerce wing.

The outspoken, 39-year-old Cotton has written the first in what may be a series of bills to revamp the nation's immigration system. Cotton will start off with legislation being unveiled Tuesday that will dramatically slash the number of immigrants who can obtain green cards and other visas every year.

The conservative rising star is poised to step into the role being vacated in the chamber by Sen. Jeff Sessions (R-Ala.), who has long preached the economic virtues of restricting legal immigration in favor of U.S. citizens — a view disputed by business-friendly Republicans who have pushed for a more expansionist immigration policy. Sessions is set to be confirmed as attorney general this week.

"Donald Trump was the only one who saw that most Americans don't like our current immigration system," Cotton said in an interview with POLITICO on Monday. "This is just the area of politics where I think leaders and elites are most disconnected from the people. Not just Republicans but in both parties, in business, in the media, in the academy, culture and so forth."

The Arkansas senator has already spoken with Trump and key White House officials about his immigration proposals, and says the administration has been receptive. And Cotton dismisses research that shows the economic boon of immigrants, including low-skilled workers, by paraphrasing George Orwell: "Only an intellectual could believe something so stupid."
The details of Cotton's proposal are about as bad as his rhetoric would have you believe:
Cotton's new legislation, being formally proposed Tuesday with Sen. David Perdue (R-Ga.) and detailed exclusively with POLITICO in advance of its release, swings an axe at the nation's green-card system by eliminating several avenues for U.S. citizens and permanent residents to sponsor family members for green cards.

Right now, U.S. citizens and permanent residents can sponsor a variety of family members, including spouses, parents, siblings and married adult children. Cotton and Perdue's plan would allow only spouses and unmarried minor children to get green cards, although they would permit a modest number of visas for aging adult parents whose American children are their caretakers.

The bill also dumps the diversity visa lottery, which allots about 50,000 visas per year for citizens of countries that traditionally have low rates of immigration to the United States. And it would limit refugees to 50,000 annually — in line with levels outlined in Trump's controversial executive order.

"Sen. Cotton and I are taking action to fix the shortcomings in our legal immigration system," Perdue said. "Returning to our historically normal levels of legal immigration will help improve the quality of American jobs and wages."

All told, the number of legal immigrants allowed into the United States under the bill — named the Reforming American Immigration for Strong Employment (RAISE) Act — would plummet by 40 percent in the first year and by 50 percent over a decade, according to analysis by Cotton's aides.

Advocates of reduced immigration are delighted.

"With the introduction of this bill, Sen. Cotton has made it clear that he's stepping not necessarily into the shoes, but onto the platform where Sessions' shoes have been," said Roy Beck, the president of NumbersUSA, which calls for less immigration. "This is beyond anything that Sen. Sessions ever did."

Cotton says his legislation is the first step in revamping the current immigration system from one based on family ties toward a more skills-oriented one, a move that Republicans generally support. But the intraparty collision comes with Cotton's push to tighten the number of low-skilled foreign workers into the country.

"For too long, our immigration policy has skewed toward the interests of the wealthy and powerful: Employers get cheaper labor, and professionals get cheaper personal services like housekeeping," Cotton wrote in a December New York Times op-ed. "We now need an immigration policy that focuses less on the most powerful and more on everyone else."

His arguments, however, run counter to research that show immigrants are a net boon to the economy, from the high-skilled foreigners coveted by the tech industry to employees who work at hotels, restaurants and in agriculture. The so-called Gang of Eight bill passed by the Senate in 2013 crafted a new "W" visa program that would allow up to 200,000 low-skilled guest workers in the country per year.

(…)

The Trump administration is also entertaining new orders to curb legal immigration programs such as the H-1B visa prized by the tech industry.

Cotton didn't address employment-based green cards or related visas in his latest measure, noting that the laws governing those issues are more complicated and "touch more entrenched interests." He also declined to say directly whether he is open to expanding the pool of 85,000 H-1B visas allotted per year.

"There are obviously abuses of the H-1B visa program. I think those abuses need to be addressed before we even consider expanding the program," Cotton said. "That said, if the evidence demonstrates that say, software companies need PhDs with computer science degrees and they're going to pay them a wage that's in the top 1, top 5, top 10 percent of local wages, I'm open to that kind of evidence."

Mark Krikorian, whose Center for Immigration Studies supports restricting the number of immigrants here, says Cotton has been a rarity among Republicans in that he consistently raised issues surrounding legal immigration in addition to the more oft-discussed debate over illegal immigration.

"He's relatively young, he's a rock star among lots of conservatives, combat veteran, the whole thing," Krikorian said. "And so for him to be the one to carry the standard of immigration reduction really does give it legitimacy."
Previously, the anti-immigration forces on the right have claimed that they are only really concerned about illegal immigration and the national security issues raised by having a border that can be as easily exploited as the one between the United States and Mexico. They claim that they want to secure the border in no small part to protect Americans from people with nefarious or criminal intentions from getting into the United States undetected. There's always been something somewhat suspect about these arguments, of course, given the fact that our northern border with Canada is just wide open, and much longer and harder for border patrol on either side of the border to police, but has never really been the focus of the kind of concern that these forces express for the border with Mexico. Additionally, there's been little focus by these groups on the fact that one of the largest sources of illegal immigrants in the country comes from people who arrive here legally but end up overstaying their visas, or staying in the country even though they've violated the terms of that visa such as someone here on a student visa who stops pursuing an education and then just blends into the community. Instead, the focus remains on the alleged menace of people who have crossed into the United States from Mexico, the vast majority of whom are gainfully employed as unskilled or even skilled workers in the construction trade, at restaurants, and in other fields.
When the subject turns to immigration a whole, though, opponents of immigration reform that would actually try to deal with the issues created by what is at least a significant population of undocumented immigration while also fixing the known defects in the legal immigration system insist that they are not opposed the legal immigration. Legislation like what Cotton and Perdue will be proposing, though, clearly puts the lie to that claim since it would have the impact of severely gutting the ability of people to come to the country legally under a variety of visa categories, including many that are clearly intended to attract high-skilled workers and top students. The changes would also have the impact of separating families and making it harder for political and other refugees from getting to the United States at a time when the worldwide refugee problem appears set to get to the United States, forcing many of them to stay at refugee encampments around the world that, while operated by the United Nations and staffed by people trained to deal with refugees, are less than ideal. All of this comes at the same time that the White House is seeking to make its own proposals regarding immigration and the President's Senior Adviser, Steve Bannon, has been a long-time opponent of legal immigration who has favored restricting the number of people allowed into the country.
What this proposed legislation does, of course, is to put the lie to the claim by opponents of immigration reform that they aren't aiming at halting or restricting legal immigration. This is precisely what Cotton's proposal would do, of course, and appears to be among the priorities of one of the most influential advisers to the President of the United States. Not only does this run counter to ideas that have been an important part of this country for more than two centuries, it would be economic suicide. Countless numbers of economic studies have shown that immigration is a benefit to the economy, even when it means immigration of low-skilled workers who serve as competition for American workers at the lowest level of the economy. The economy also benefits from the number of high-skilled people who come here to work and end up contributing greatly to their adopted nation. In addition to providing employers with a wider labor pool from which to choose, it also benefits consumers by keeping prices down and American businesses at all level by increasing their potential customer base. Additionally, the United States has been able to avoid the problems associated with a declining an aging population such as that faced by nations such as Japan largely thanks to immigration from around the world. Cotton, Bannon, and others would seek to stem the flow of these people into the country. In the process, they'd be doing far more harm than good.
At the very least, I can say that Cotton is doing us a favor by putting this legislation on the table. Now, Republicans in the Senate and the House, and across the nation, will be forced to take a position, thus allowing us to separate the real anti-immigration forces from the rest of the party and forcing them to take a stand on an issue that, until now, they've largely been dodging.