"Border Security" And GOP Political Pandering
There are many fallacies contained within the GOP's insistence that immigration reform must begin and end with "border security."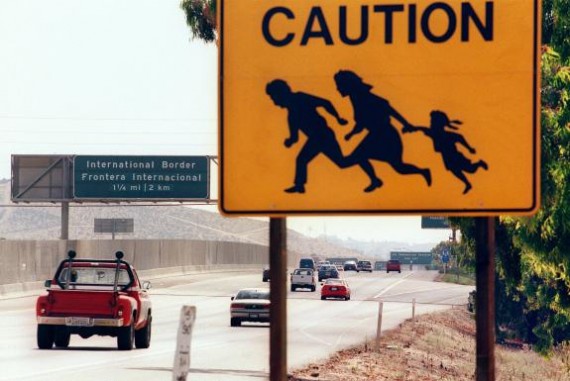 As I've noted before, the beginning and end of Republican policy when it comes to immigration seems to be centered almost completely on the idea of "border security." When the Senate was debating the Gang of Eight immigration bill, for example, nearly every amendment that the Republican opponents of the bill introduced dealt in one way or another with that issue, and attempted to impose conditions on other parts of the bill that would have prevented much of the rest of the bill from going into effect until there was some kind of certification that the border, specifically only the southern border in most cases, was "secure," however that was supposed to be defined. During the course of that debate, its advocates agreed to an amendment drafted by Senators Hoeven and Tester that greatly increased the presence of agents on the southern border as part of an effort recruit more votes in favor of the bill. Additionally, an alternative immigration plan offered by Senator Rand Paul would have required certification of border security before any other elements of the bill went into effect.
Throughout all of this, though, there was very little discussion on the part of the Gang of Eight opponents about what they meant by "border security" exactly and what would have constituted sufficient proof to them that the border was in fact "secure." Indeed, given the current state of things, one has to wonder what more the Ted Cruz's of the world would expect. According to studies, illegal entries to the United States are at 40 year lows, and overall immigration from Mexico has hit 60 year lows. Last year, we learned that net immigration from Mexico to the U.S. may be below zero. As for enforcement, President Obama is on a pace to have more deportations under his watch than President Bush did in his eight years. Given those numbers, is it really possible to make the border more "secure?"
Matthew Ygleisas points out that it wouldn't be very easy:
[F]or all the talk of "build a way" and "secure the border" one of the biggest lapses in our border security regime is that any citizen of a Visa Waiver Program country can just hop on a plane and fly over here no questions asked. If you're Greek, tired of the 27 percent unemployment rate, and your uncle's a plumber in Chicago who's happy to help his family out by taking your on as an apprentice, then there's nothing standing in your way.

We could secure the border by eliminating the Visa Waiver Program but we didn't create the program in a fit of absent-mindedness. It's good for tourism and tourism-related industries as well as for multinational companies that folks can travel conveniently from Europe, Taiwan, Japan, and South Korea easily and conveniently. What's more, if we started requiring visas to enter the country some of those other countries might reciprocate which might be even more annoying. The traditional calculus has been that these are rich enough countries that we don't need to worry that large numbers of people want to come here and work off the books, but that's a question of trade-offs.
Yglesias brings up a good point here. For all the talk of "securing" the border, building fences and walls, and sending more and more enforcement agents, if not members of the National Guard to the Mexican border, one of the biggest sources of people who are here legally are people who came here legally, typically on tourist or student visas, and overstayed their visa or people from one of the Visa Waiver Program nations who simply came here and stayed without anyone being the wiser. Even if we ended the Visa Waiver Program, which would be a massive administrative headache and inconvenience that would also impact Americans' ability to travel to European and other nations, tracking down everyone who has overstayed a visa is be no means an easy thing to do, especially if they are staying with family or friends and living under the radar.
Another area where increased enforcement is commonly talked about is at the employment level. It makes some sense, of course. Make it harder for people who are here illegally to find a job and you remove an incentive for them to come here in the first place. As Yglesias points out, though, enforcement isn't any easier at the employer level:
Tough employer sanctions sound good, but stories about middle class families and local small businesses getting hit with tough fines for being duped by fake documents sounds less good. Conservatives are usually well-aware of the fact that even well-intentioned regulations can have a lot of compliance costs for people and firms who aren't really doing anything wrong, but immigration enforcement is just a special case of the general principle. That's not a reason to have zero immigration enforcement any more than it's a reason to allow for unlimited air pollution. But enforcement isn't costless and doesn't just happen "at the border." We want people to be able to come to the United States to visit, and once they're here it's difficult to entirely prevent other people from giving them money in exchange for doing useful work.
Another proposed enforcement tool at the employer level is the so-called E-Verify system, which would require every employer to electronically verify immigration status before hiring anyone. That too sounds like a good idea, but it comes with heavy costs too. There are compliance costs for employers which, while not a big deal for big businesses, can be quite the administrative headache for a small business. One also has to wonder if such a system would also require someone who hires, say, a housekeeper or nanny to utilize the system and, as Yglesias notes, to be able to recognize fraudulent documents even though they are hardly professionals in that regard.  Additionally, as many on the right have pointed out, the E-Verify system itself is one step closer to a National ID card and a serious threat to privacy.
Even the ideas that Gang Of Eight opponents were proposing come with costs. All that increased in security on the southern border has to be paid for, after all, and building a "border fence" would require the Federal Government to seize private land in many areas of Texas, New Mexico, and Arizona, something that has already been the subject of bitter and protracted litigation in those parts of the border area where the Federal Government have been attempting to build fences and set up monitoring station. Are conservatives really in favor of increasing the Federal Budget and seizing private property to achieve their goal of border "security?"  That's a question they'll have to answer for themselves.
The ultimate question, of course, is what the opponents of immigration reform actually mean by border "security." The idea, for example, that the border with Mexico is ever going to be completely secure is simply a fantasy. Logistically it would be a near impossibility, and many of the measures that we could implement to achieve it would be offensive to American standards of liberty. Similarly, outside of a world where the police would have near blanket authority to demand to see someone's "papers" without any real probable cause, catching everyone who overstays a visa isn't going to happen either. As Yglesias says, that doesn't mean we shouldn't engage in enforcing our immigration laws, but like everything else there are costs and benefits in doing so. Considering that, in most cases, people here illegally are doing nothing more than working and living their lives rather than causing any actual harm to anyone else, one has to wonder if its really worth it turn Immigration and Customs Enforcement into the kind of nationwide Immigration Police that we'd need for the kind of world that reform opponents seem to want. I would suggest that immigration reform opponents are aware of all of this, and that, for the most part, their concentration on border "security" is pure political pandering rather than a serious policy proposal.