Rand Paul's Fatally Flawed Immigration Reform Plan
Senator Rand Paul has stepped into the immigration debate, but his plan is less than desirable.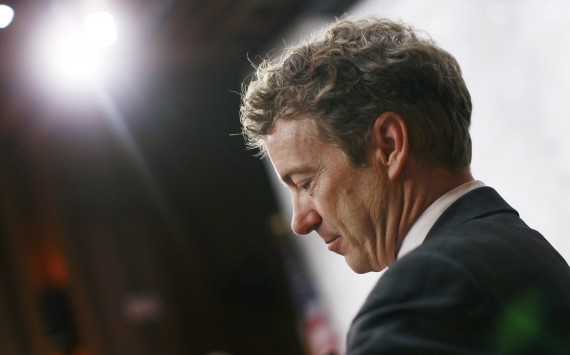 In yet another sign that he is at least considering the possibility of running for President in 2016, Senator Rand Paul became the latest Republican to put forward an immigration reform plan:
The dramatic shift in the Republican Party on immigration continued Tuesday, as Sen. Rand Paul (R-Ky.), a conservative tea party icon and possible 2016 presidential contender, endorsed an overhaul of the nation's immigration laws that would allow the nation's estimated 11 million illegal immigrants to obtain legalized status.

"Immigration will not occur until conservative Republicans, like myself, become part of the solution. That's why I'm here today: to begin that conversation and become part of the solution," he said in a breakfast speech Tuesday morning before the U.S. Hispanic Chamber of Commerce in Washington.

Paul's position is especially significant because a number of other Republicans have been debating whether their party should endorse allowing people who broke U.S. immigration laws to remain in the country without fear of deportation.

He made his comments a day after the Republican National Committee released a somber autopsy of the GOP's November election losses. It called for the party to embrace and champion an overhaul of the immigration system as its only hope to appeal to a growing bloc of Hispanic voters.

Paul outlined his own principles for an overhaul in a speech that elaborated on a proposal he made first in a Washington Times column in February.

The Kentucky senator outlined a path to legalization that would be more demanding than the principles advanced by a bipartisan group of senators who aim to introduce legislation in April. That group includes another likely 2016 contender and possible Paul rival, Sen. Marco Rubio (R-Fla.).

Paul also called for expanding legal immigration — not a universally held position in the Republican Party. Some of its members believe that allowing more legal immigration will make it harder for Americans to find jobs.

Paul said he sought to turn illegal immigrants into taxpayers, which could ultimately lead to their becoming citizens. Despite early reports that he would endorse a pathway to citizenship in the speech, however, he did not specifically address the citizenship issue.

That is key because Republicans have been vigorously debating among themselves whether full citizenship should eventually be available to those who came to the United States illegally.

Paul said he would want Congress to be involved in certifying that border security has improved sufficiently to open the legalization path, a requirement that many immigrant advocates are sure to oppose as unnecessarily injecting politics into the process.

"Some may object to this," he acknowledged. "But if we don't, I don't think we'll get conservatives on board."

He suggested that within two years, illegal immigrants should be able to seek temporary worker visas that would allow them to live and work in the United States without fear of deportation.

Many news outlets, including The Washington Post, had reported that Paul would back a "path to citizenship" in his speech to the Hispanic Chamber of Commerce. Those reports started circulating Monday evening, when the Associated Press obtained an advance copy of Paul's remarks.

"The AP story was wrong, which spurred a lot of erroneous reports," Paul's office said in a statement. "He does not mention 'path to citizenship' in his speech at all."

One Paul adviser told The Post that the path Paul is endorsing does not make it any easier to attain citizenship than current law allows.

"They would get into the back of the line and get no special privileges to do so," said the adviser, who was not authorized to comment publicly. "What his plan is extending to them is a quicker path to normalization, not citizenship, and being able to stay, work and pay taxes legally."
There are some similarities between Paul's plan and the one put forward by a bipartisan group of Senators including Florida's Marco Rubio last month but, as Byron York, there are also some key differences:
Paul, according to top aides, would begin with border security, without immediate legalization.  Under his proposal, the border would have to be verified secure by some government agency and then — this is a key step for Paul — voted on by Congress on a yearly basis.  Only after Congress declares the border secure would the process of legalization, and then a path to citizenship, begin.

It's a huge difference for conservatives who object to the immediate legalization measures now under consideration.  "The border security has to be first and verifiable," before anything, including legalization, happens, says a Paul aide.

In addition, Paul believes forcing Congress to verify border security will greatly increase the chance that border security is real, and not a charade.  "We feel like if you just hand the Obama administration a big pile of reforms and say, 'Oh, by the way, you have to tell us the border is secure' — we will get the reforms and not the border security," says the aide.

Finally, Paul envisions his reforms instituted piecemeal after the certification of border security — not all at once, and subject to delay if security lapses.
Under the Rubio/Senate proposal, the entire plan would be implemented at once and people who are here illegally would be able to apply for legalization as soon as the law goes into effect. When the plan was released, this resulted in  much criticism of Rubio on the right, largely because it didn't seem to place any conditions on the normalization of of status for some 11 million illegal immigrants. Indeed, despite Rubio's popularity on the right, it strikes me that Paul's plan will be more popular among conservative largely because it purports to put first priority on border security rather than dealing with the illegal immigration issue up from. While it may be politically palatable for conservatives, though, Paul's plan seems to me to be problematic.
By requiring that something as amorphous as "border security" would have to be certified before any of the other parts of the plan could go into effect, Paul  is essentially proposing a plan that would never really work. For one thing, there really doesn't seem to be any clear idea of what "border security" actually is. Does it mean real reductions in illegal crossings? Well, if that's the case, then how exactly are we going to be able to determine that this is the case? Those people in Congress opposed to legalization of illegal immigrants will clearly use these Congressional votes to block implementation of those provisions of the law dealing with normalization. Given the current makeup of Congress, it's fairly easy to see how even a small group of Republican hardliners could hold immigration reform hostage by claiming that the border still isn't "secure." That isn't reform, it's a guarantee for legislative gridlock. As far as the fortunes of the Republican Party go, such an outcome would only serve to further alienate Latinos from the Republican Party.
It's good to see other Republicans proposing immigration reform, and Paul's ideas are certainly welcome. However, as compared to the Rubio/Senate plan, Paul's plan is fatally flawed and, if it ever did become law (which is unlikely), it would only serve to make a bad situation worse.