Bipartisan Senate Group Reaches Immigration Deal
A good start toward solving a long standing problem.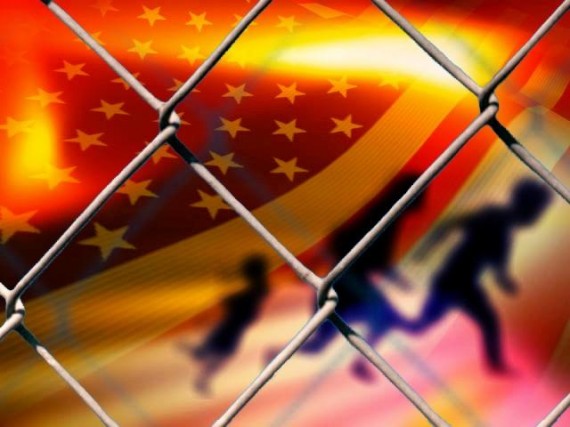 Politico reported late last night at a the bipartisan group of Senators who have been working behind the scenes to put together a comprehensive immigration package have reached a deal which will be announced at a press conference later today:
A powerful group of senators from both parties has reached a deal on the outlines of a comprehensive immigration overhaul, a development that will drive an emotional debate on a hot-button issue unseen in Washington for more than half a decade.

The group is expected to unveil the basics of its proposal at a Monday news conference on Capitol Hill, essentially laying down a marker on the issue one day before President Barack Obama heads to Las Vegas to unveil more details about his own immigration proposal.

According to a five-page document provided to POLITICO, the sweeping proposal — agreed to in principle by eight senators — would seek to overhaul the legal immigration system as well as create a pathway to citizenship for the nation's roughly 11 million illegal immigrants. But establishing that pathway would depend on whether the U.S. first implements stricter border enforcement measures and new rules ensuring immigrants have left the country in compliance with their visas. Young people brought to the country as children illegally and seasonal agriculture industry workers would be given a faster path to citizenship.

(…)

The bipartisan coalition includes influential Democrats such as Majority Whip Dick Durbin of Illinois and Sen. Chuck Schumer of New York, No. 3 in the leadership. It also has the backing of Sen. Bob Menendez, the Cuban-American Democrat from New Jersey poised to be chairman of the Foreign Relations Committee. And it has the support of Colorado Sen. Michael Bennet, the new chairman of the Democratic Senatorial Campaign Committee.

Republican heavy-hitters also have signed onto the deal's framework, including two veterans of the bruising 2007 effort: Sens. John McCain of Arizona and Lindsey Graham of South Carolina. But it also won the support of Florida Sen. Marco Rubio, a rising GOP star and possible future presidential candidate. And the freshman Arizona Republican, Jeff Flake, who endorsed similar comprehensive plans during his House tenure, has also backed the proposal.
ABC News has the details:
Introduction:

We recognize that our immigration system is broken. And while border security has improved significantly over the last two Administrations, we still don't have a functioning immigration system. This has created a situation where up to 11 million undocumented immigrants are living in the shadows. Our legislation acknowledges these realities by finally committing the resources needed to secure the border, modernize and streamline our current legal immigration system, while creating a tough but fair legalization program for individuals who are currently here. We will ensure that this is a successful permanent reform to our immigration system that will not need to be revisited.

Four Basic Legislative Pillars:

1. Create a tough but fair path to citizenship for unauthorized immigrants currently living in the United States that is contingent upon securing our borders and tracking whether legal immigrants have left the country when required;

2. Reform our legal immigration system to better recognize the importance of characteristics that will help build the American economy and strengthen American families;

3. Create an effective employment verification system that will prevent identity theft and end the hiring of future unauthorized workers; and,

4. Establish an improved process for admitting future workers to serve our nation's workforce needs, while simultaneously protecting all workers.
Quite obviously, the first point that is going to cause the most consternation on the right, and will likely be a major point of contention for the legislation that results from this plan as it makes its way through the House of Representatives. Many on the right will view it as "amnesty," which is the buzzword that brought down the effort to fix our immigration laws during the Bush Administration and which has become a rallying cry for conservatives. Since then, the GOP's position on immigration has begun and ended with "border enforcement" and support for such things as the draconian immigration laws passed in states like Arizona, Georgia, and Alabama. Politically, this has led to the party become more and more isolated among Latino voters, of course, but it's also meant that nothing at all has gotten done on immigration ever since the failed effort in 2007.
It's only been very recently, that there have been signs of movement from the right on this issue. Partly, of course, this has been motivated by the party's horrible performance among Latinos in the 2012 election and the prospect that the GOP's long term competitiveness will be imperiled if they don't improve their position among the nation's fastest growing ethnic group. Additionally, though, the rise of Florida Senator Marco Rubio as a political star in the party and, most importantly, among conservatives. Ask anyone on the right today who they'd like to see run for President in 2016, and Rubio's name will always be somewhere on the list, usually at the very top. Like his political mentor Jeb Bush, though, Rubio has been arguing for some time now that the GOP needs to moderate its tone, and changes its policies, when it comes to immigration. Specifically, this includes recognizing the fact that the majority of the roughly 11 million here illegally are going to be legalized in some way or another. The idea of tying that legalization to some guarantees on border security is an obvious sop to the right, but it's an open question as to whether or not it will be enough. Needless to say, the fate of immigration reform rests in the House of Representatives and it will be some time before we have a clear picture of what its fate is going to be.
On the whole, though, this strikes me as a pretty good plan. The devil, as always, is in the details and we'll have to wait until actual legislation to get a lot of that. But, for the first time in almost a decade we seem to be taking steps towards fixing a broken immigration system. And that's a good thing.