Mexicans Leaving USA, Sneaking Back Into Mexico
The American economy is so bad that people are reverse migrating to the Third World.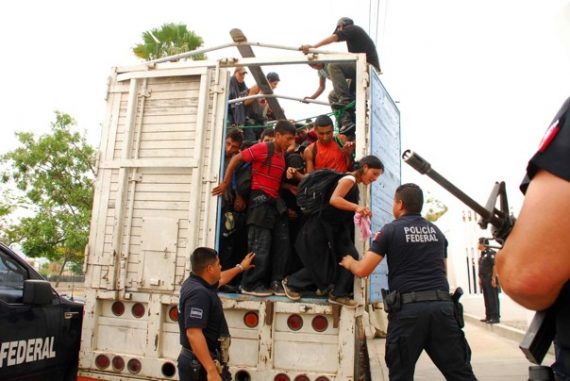 The American economy is so bad that people are reverse migrating to the Third World.
Pew ("Net Migration from Mexico Falls to Zero—and Perhaps Less"):
The largest wave of immigration in history from a single country to the United States has come to a standstill. After four decades that brought 12 million current immigrants—more than half of whom came illegally—the net migration flow from Mexico to the United States has stopped—and may have reversed, according to a new analysis by the Pew Hispanic Center of multiple government data sets from both countries.

The standstill appears to be the result of many factors, including the weakened U.S. job and housing construction markets, heightened border enforcement, a rise in deportations, the growing dangers associated with illegal border crossings, the long-term decline in Mexico's birth rates and changing economic conditions in Mexico.

[…]

Among the report's key findings:

Among the report's key findings:

In the five-year period from 2005 to 2010, about 1.4 million Mexicans immigrated to the United States and about 1.4 million Mexican immigrants and their U.S.-born children moved from the United States to Mexico.
In the five-year period a decade earlier (1995 to 2000), about 3 million Mexicans had immigrated to the U.S. and fewer than 700,000 Mexicans and their U.S. born-children had moved from the U.S. to Mexico.
This sharp downward trend in net migration has led to the first significant decrease in at least two decades in the number of unauthorized Mexican immigrants living in the U.S.—to 6.1 million in 2011, down from a peak of nearly 7 million in 2007. Over the same period the number of authorized Mexican immigrants rose modestly, from 5.6 million in 2007 to 5.8 million in 2011.
Mexicans now comprise about 58% of the unauthorized immigrants living in the United States. They also account for 30% of all U.S. immigrants. The next largest country of origin for U.S. immigrants, China, accounts for just 5% of the nation's stock of nearly 40 million immigrants.
Apprehensions of Mexicans trying to cross the border illegally have plummeted by more than 70% in recent years, from more than 1 million in 2005 to 286,000 in 2011—a likely indication that fewer unauthorized immigrants are trying to cross. This decline has occurred at a time when funding in the U.S. for border enforcement—including more agents and more fencing—has risen sharply.
As apprehensions at the border have declined, deportations of unauthorized Mexican immigrants—some of them picked up at work or after being arrested for other criminal violations—have risen to record levels. In 2010, nearly 400,000 unauthorized immigrants—73% of them Mexicans—were deported by U.S. authorities.
Although most unauthorized Mexican immigrants sent home by U.S. authorities say they plan to try to return, a growing share say they will not try to come back to the U.S. According to a survey by Mexican authorities of repatriated immigrants, 20% of labor migrants in 2010 said they would not return, compared with just 7% in 2005.
Looking back over the entire span of U.S. history, no country has ever sent as many immigrants to this country as Mexico has in the past four decades. However, when measured not in absolute numbers but as a share of the immigrant population at the time, immigration waves from Germany and Ireland in the late 19th century equaled or exceeded the modern wave from Mexico.
WaPo ("For first time since Depression, more Mexicans leave U.S. than enter") adds this analysis:
It looks to be the first reversal in the trend since the Depression, and experts say that a declining Mexican birthrate and other factors may make it permanent.

"I think the massive boom in Mexican immigration is over and I don't think it will ever return to the numbers we saw in the 1990s and 2000s," said Douglas Massey, a professor of sociology and public affairs at Princeton University and co-director of the Mexican Migration Project, which has been gathering data on the subject for 30 years.

[…]

The trend could have major political consequences, underscoring the delicate dance by the Republican and Democratic parties as they struggle with immigration policies and court the increasingly important Latino vote.

Illegal immigration has emerged as one of the most emotional political issues in the country — one that dominated much of the Republican presidential contest and has proven complicated for President Obama.

Mitt Romney has courted conservatives with aggressive anti-illegal immigration rhetoric. But the GOP presidential hopeful has said in recent days that he wants to build ties with Hispanics, many of whom have chafed at his statements, and the new immigration trends could offer him a chance to soften his stance.

Obama has been criticized by immigrant advocates for stepped-up deportation policies that analysts have said were partly responsible for the decreasing flow of Mexicans into the United States. The trend could offer the president a political silver lining: the chance to take credit for a policy success that, his aides have said in the past, should persuade Republicans to embrace a broad immigration overhaul plan.
In addition to economic factors and the US crackdown on immigration, something else is going on: birth control has made it south of the border.
In 1960, a typical Mexican woman was expected to have more than seven children, but by 2009 that number had dropped to just over two — a decline that presages a sharp reduction in the number of young workers seeking to come to the United States.
One hopes that the lower birthrate continues; it's a sign of a modernizing economy and ultimately a more prosperous life for the 113-odd million people with whom we share a border. At the same time, of course, it would be awfully nice if the US economy rebounded to it former robust form and became attractive to unskilled immigrants looking to improve their lot in life.
In the meantime, maybe we can come up with a rational immigration policy. I wouldn't advise holding your breath, however.