More Mexicans Are Leaving The U.S. To Return Home Than Arriving In The U.S.
Mexicans are more likely to be returning home than migrating to the United States, a new report finds.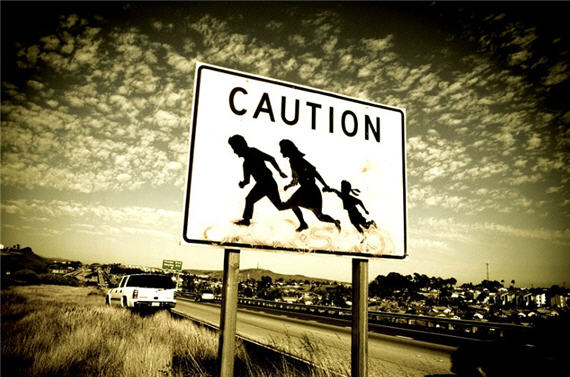 Don't tell Donald Trump, but a new Pew Research study finds that more Mexicans are leaving the United States to return home than are arriving here either legally or illegally:
In a reversal of a long-standing historical trend, more Mexican immigrants have returned to their home country than have come to the United States in the past five years. That's according to the latest Pew Research Center report out Thursday analyzing data from 2009 to 2014.

According to data presented by Pew from the Mexican National Survey of Demographic Dynamics and the U.S. Census, 1 million Mexican families left the U.S. during that time frame, beginning around the end of the Great Recession, while just 870,000 have left Mexico to come to the United States, a net loss of more than 130,000. From 2005 to 2010, the net loss was 20,000. By comparison, nearly 2.3 million more Mexicans came to the U.S. than left from 1995 to 2000.

About 6-in-10 (61 percent) of those who reported living in the U.S. but then returning to Mexico said that they had done so to reunite their families, while 14 percent said they were deported.

The Mexican-born population in the U.S. peaked in 2007 at 12.8 million, falling to 11.7 million last year, which the study credits to a decrease of approximately 1.3 million people in the country illegally.

A third of the adults in Mexico surveyed (33 percent) said those who emigrate to the U.S. have about the same quality of life as those in their own country. Still, about half (48 percent) of Mexicans residing in Mexico said they believed life to be better in the U.S.
This new Pew study doesn't really come as a surprise, but is rather a continuation of a trend that seems to have begun in the aftermath of the Great Recession and, especially, the crash of the American housing market that led to a significant slowdown in new home and commercial construction, an industry that had attracted many laborers from Mexico and elsewhere for many years. Back in July 2011, for example, it was reported that illegal immigration from Mexico was at its lowest level since the early 1950s, largely in response to both the change in the economy here in the United States and the fact that the Mexican economy had improved significantly over the previous decades. Less than a year later in April 2012, an earlier Pew Study found that Mexicans who had been in the United States illegally were crossing the border again, but this time to head back home to Mexico due to the changing nature of the economic opportunity in the United States and an apparent desire to be closer to family and familiar communities. Earlier this year, it was reported that the United States was welcoming more immigrants from China and India than from Mexico, not withstanding the vast differences in distance and means of arrival between the three nations.
This doesn't mean that all immigration from the south is trickling to a halt, of course. As we saw during last year's migrant crisis, the economic and political conditions in many Central American nations are such that many people are willing to take the long, dangerous trek north through Mexican deserts and inhospitable climate and geographic conditions for a chance at being granted asylum in the United States. While there doesn't seem to be any official confirmation of this, the fact that this migration isn't getting nearly the coverage that it was getting last year suggests, though that the efforts to discourage people from leaving Central America in the first place, as well as increased efforts by the Mexican government to control its own southern border if only out of the humanitarian concern for people attempting to make the long trek from southern Mexico to the border with the United States.
As for the news regarding migration from Mexico, it would appeat aar that the fact that the economy in that nation is in far better shape than it used to be in the past and Mexicans themselves are becoming relatively more prosperous. One consequence of that can be seen the Mexican birth rate, In 1980, the fertility rate in Mexico was 7.3, meaning that the average Mexican woman in that year could expect to have seven children in her lifetime. By 2009, that rate had shrunk to 2.2, which is close to what demographers consider the "replacement level" sufficient to keep population relatively stable and a birth rate that is more typical of more prosperous nations. (Source) There are several reasons for this decline, of course, including wider availability of birth control, education, and other factors, but the impact of this decline on the Mexican economy itself should not be discounted. With fewer people being born, there is less pressure on the labor market and less incentive for young men especially to look north for economic opportunity. This is good news both for the Mexican economy and for the United States since it suggests that Mexico has, slowly but surely become a much more stable nation than it used to be. Add it all together and it's easy to see why fewer people feel the need to sneak into the United States and live in the shadows for a change to get a job.
What all of this suggests, of course, is that the illegal immigration "problem" is widely overblown and that the rhetoric from Trump and others is, at this point, nothing but opportunistic nonsense built on fear, half-truths, ignorance, and xenophobia.