More Immigrants To The U.S. Come From China And India Than Mexico
The sources of new immigrants to the United States are changing, but it's unclear if that will have any impact on the political debate over immigration reform.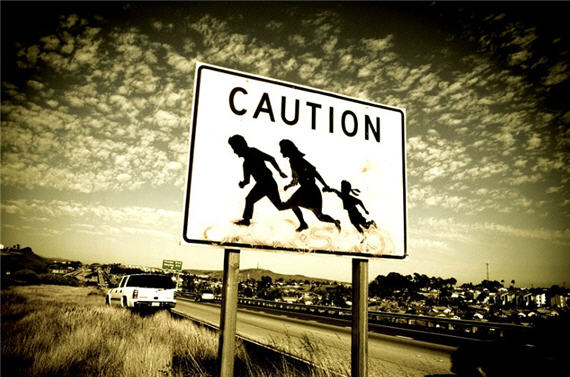 According to a new study, India and China have surpassed Mexico as the primary sources of immigration to the United States:
Move over, Mexico. When it comes to sending immigrants to the U.S., China and India have taken over, research being presented Friday at the Population Association of America conference shows.

China was the country of origin for 147,000 recent U.S. immigrants in 2013, while Mexico sent just 125,000, according to a Census Bureau study by researcher Eric Jensen and others that analyzed annual immigration data for 2000 to 2013 from the American Community Survey. (An "immigrant" here is any foreign-born person in the U.S. who lived abroad a year prior, regardless of legal status, though undocumented immigrants may be undercounted in the survey.) India, with 129,000 immigrants, also beat Mexico, though the two countries' results weren't statistically different from each other.

A year earlier, in 2012, Mexico and China had been basically tied for top-sending country—with Mexico at 125,000 and China at 124,000.

It's not just China and India. Several of the top immigrant-sending countries in 2013 were from Asia, including South Korea, the Philippines and Japan.

For a decade, immigration to the U.S. from China and India, which boast the world's biggest populations, has been rising. Meanwhile, immigration from Mexico has been declining due to improvements in the Mexican economy and lower Mexican birth rates. More recently, the Great Recession also reduced illegal immigration from Mexico.

A shift in America's immigrant community will take far longer. In 2012, five times as many immigrants in the U.S. were from Mexico than China.

But the shifting nature of the immigrant flows seen in the Census study give us a peek at what's likely to happen to the overall racial and ethnic makeup of the U.S. population.

The millennial generation—roughly speaking, people born between 1982 and 2000, but definitions vary and there's no real endpoint—is already the most diverse generation in U.S. history. As Brookings Institution demographer William Frey details in his recent book, "Diversity Explosion," the social, economic and cultural implications are just starting to come into view. In time—2044, to be exact, according to Census projections—the entire U.S. population will have no racial majority, and, instead, a melting pot of minorities will shape U.S. society and politics.

Hispanics are still America's biggest racial or ethnic minority group. But roughly two-thirds of them are now native-born, not recent immigrants. Among the U.S. Asian population, two-thirds (65%) are foreign-born.
On some level, of course, this isn't entirely surprising since we'e already seen signs that immigration from Mexico especially, and from other parts of Latin America was slowing down from the levels we had seen in recent decades. In 2011, for example, it was reported that immigration from Mexico was at its lowest level in 60 years, and subsequent reports indicated that there may have actually been reverse immigration in the later part of the last decade. To a large degree, of course, the drop-off in immigration from that part of the world was due to the Great Recession and, especially, the impact that it had on the construction industry. For a the better part of a decade prior to 2008, the boom in both residential and commercial construction in the United States provided lucrative opportunities for relatively unskilled workers in fields such as carpentry and other construction-related fields. In many parts of the country at the time, a trip through a housing or commercial development under construction would reveal large numbers of Hispanic laborers many of whom, no doubt, were in the country illegally and attracted by the steady work and good wages that these fields provided. Once the economy crashed, the economy was one of the hardest hit sectors and many of these laborers were among the hardest hit. Some of them found other work, some of them returned to their home countries, but in any case the message was sent that the opportunities in the United States were not quite as good as they had been. In addition to the changes in the U.S. economy, changes in Mexico have also contributed to changes in immigration. The Mexican economy has improved, for example, and the birth rate among Mexican families has fallen dramatically from what it used to be, meaning that there is less pressure for young adults to seek opportunity elsewhere.
The biggest difference between immigration from China and India and immigration from Mexico, of course, is that it is far less easy for Chinese or Indian citizens to enter the country illegally, thus meaning that a larger portion of those immigrant populations are likely to be legal immigrants. No doubt, at least some of the immigration from these nations, and elsewhere, consists of people who arrive here on visas and then overstay the visa, but that is a different kind of "illegal" immigration than the border crossing that has become such a hot-button issue among conservatives. Additionally, it's likely that many of the immigrants from China and India that are being talked about here are far more skilled than immigrants from Mexico and the rest of Latin America. Whether that will change Republican opinions on immigration or not remains to be seen. Of course, Chinese or Indiana citizens wishing to come to the United States must deal with the byzantine and overly restrictive legal immigration system that we have in the United States. To the extent that these are people we want to encourage to come to the United States because of their skills, we are making it hard for them to do so. The immigration bill that died in the Senate at the end of last year would have liberalized the legal immigration to some degree, but of course there seem to be little hope that the GOP will even bother to pursue that issue before the 2016 elections. So, those Chinese and Indians who are getting here should probably be thankful they've been able to make it through the system.