Immigration Deportations Under Obama On Pace To Far Exceed Those Under Bush Administration
Based on the numbers, Barack Obama is an immigration hawk.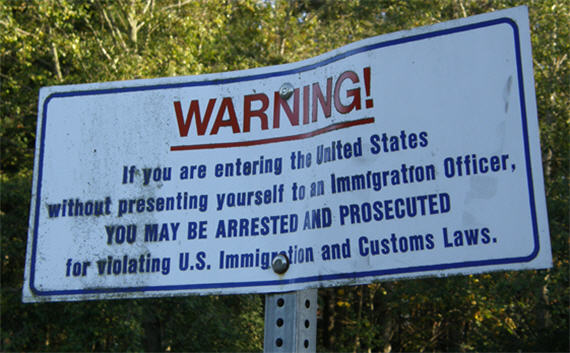 Listening to the Republican candidates for President, you'd think that Barack Obama was a big softy when it came to illegal immigratn and that we had basically given up deporting anyone. A look at the numbers over the past 32 months, though, reveals a far different, potentially disturbing, picture:
President Barack Obama says he backs immigration reform, announcing last month an initiative to ease deportation policies, but he has sent home over 1 million illegal immigrants in 2-1/2 years — on pace to deport more in one term than George W. Bush did in two.

The Obama administration had deported about 1.06 million as of September 12, against 1.57 million in Bush's two full presidential terms.
This news comes at the same time that Republican candidates like Mitt Romney are saying stuff like this:
Republican presidential contender Mitt Romney, reaching out to a critical voting bloc in a pivotal Electoral College state, today told a group of Hispanics in Florida that President Obama hasn't even attempted to resolve the nation's immigration issues.

"Three years ago, Candidate Obama promised to address the problems of illegal immigration in America. He failed. The truth is, he didn't even try," Romney said in remarks prepared for delivery to the Republican National Hispanic Assembly in Tampa, Fl
At that time that Romney made those remarks at the start of the month, deportations under Obama had just passed the 1 million mark. At the current pace, Obama would pass Bush's record over two terms by the end of his first term. If that pace kept up in a second Obama term, deportations would total over 4 million. If that's not trying, then I'd hate to see what trying actually looks like.
Adam Serwer laments the milestone:
Despite the administration's stated focus on unauthorized immigrants with criminal records, more than half of those deported had no criminal records, 54 percent to 46 percent. But that number doesn't convey what percentage of removals categorized as criminal include serious or violent offenses as opposed to minor ones.

Theoretically Obama's strict enforcement policies were supposed to lay the groundwork for comprehensive immigration reform. But being a bigger enforcement hawk than Bush not only didn't bring any Republicans to the table; it also hasn't torn them from the alternate universe in which Obama is mailing green cards to every unauthorized immigrant in the country. Give that more than half of Latino voters know someone who is undocumented, there could be subsantial consequences for the president when he seeks to win the Latino vote again in 2012. There's always the possibility, though, that the GOP will rescue the president's standing among Latino voters when they seek to harness the anti-immigrant fervor of their base.
It's hard to know how Hispanic voters are reacting to this, or how it might affect 2012. The anti-immigrant fervor in the GOP has caused the party to lose substantial support among Hispanics in states like California, but it doesn't seem to have hurt the party much in Florida where the Hispanic population is heavily Cuban and Senator Marco Rubio, who has eschewed his party's hardline stances on immigration, is a rising political star. For the most part, it seems like Hispanics who voted for Obama in 2008 are unlikely to jump ship over immigration if only because the GOP is worse on the issue from their point of view.
The more important fact here, though, is that conservatives who continue to weave the tale that Barack Obama is weak on immigration enforcement simply aren't being honest. In fact, right now he's making George W. Bush look an Open Borders supporter.  In the meantime, any hope of immigration reform is dead on Capitol Hill thanks to the refusal of a substantial bloc of the GOP to even consider the possibility of repeating the amnesty that Ronald Reagan granted in 1986 as part of a comprehensive deal. If Romney wants to find someone to blame for the reason why we still haven't solved our immigration problems, he needs to spend some time talking to his fellow Republicans rather than making up stories that simply aren't true.
H/T: Andrew Sullivan