Scott Walker And Chris Christie Pander To Donald Trump's Anti-Immigrant Base
Scott Walker and Chris Christie apparently think that the key to turning around their dying campaigns is to pander to the people supporting Donald Trump's anti-immigration platform.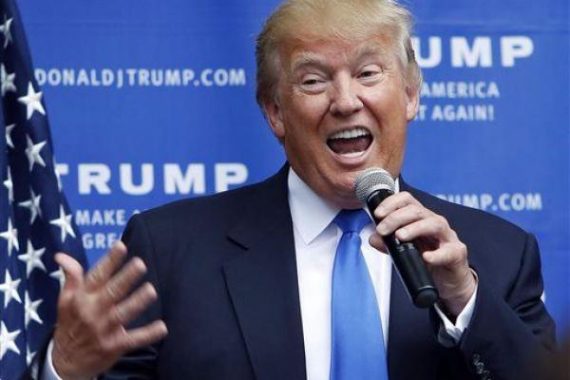 As Steven Taylor noted earlier today, Wisconsin Governor Scott Walker took the immigration debate inside the Republican Party to the next level with his statement that was open to the idea of a border wall at the U.S. border with Mexico:
It's not just the southern border:Wisconsin Gov. Scott Walker says it's "legitimate" to discuss building a wall separating the United States from Canada, as well.

The Republican presidential contender said the idea of a northern border has come up while he has campaigned in New Hampshire.

In an interview for NBC's "Meet the Press" available online, Walker said his tough talk to securing the borders and enforcing U.S. laws extends to the 5,525-mile Canadian border as well.

It's a shift from most campaign-trail rhetoric, which has focused on the United States' border with Mexico, where millions undocumented immigrants have entered the country.

"Some people have asked us about that in New Hampshire," Walker said. "They raised some very legitimate concerns, including some law enforcement folks that brought that up to me at one of our town hall meetings about a week and a half ago. So that is a legitimate issue for us to look at."
Not surprisingly, Canadians aren't taking talk like this very lightly:
That kind of chatter — as idle as it might be — can make Canadians jittery given that more than one-third of Canada's Gross Domestic Product involves trade with the U.S., and that the tightened border after the 9-11 attacks caused a ripple-effect that still hasn't completely subsided.

Canada's defence minister weighed in when asked about Walker's remarks Sunday, although he said he hadn't yet heard them. In response, Jason Kenney said Canada would protect what he called the largest bilateral trading relationship in economic history.

"Of course we would vigorously oppose any thickening of the border," he told an Ottawa news conference.
Walker's proposal isn't a serious one, of course. Even if he were somehow elected President, which seems increasingly unlikely, the odds that such a proposal would get past Congress and the decades old international agreements that govern the relationship between the United States and Canada are extremely small. Additionally, even if one were to concede Walker's contention that the Canadian border is some of kind of security threat, his propoal is quite obviously not a practical solution to that problem. For one thing, the border in question runs well over 5,000 miles and includes not only the border between the Continental United States and Canada, but also the border between Canada and Alaska. A good portion of this border region consists of highly inhospitable areas in which it would be entirely impossible to construct any part of the barrier. The border also cuts through Lake Superior, Lake Michigan, Lake Erie, and Lake Ontario, and I'm not aware of any viable way to construct a water barrier.
Rather than being a serious proposal, what we're obviously seeing here is Walker pandering to the same audience that has been receptive to Donald Trump's anti-immigrant/border fence rhetoric and his call for the elimination of birthright citizenship notwithstanding the fact that most of his claims about immigration are based on lies. Walker, in fact, has been something of a flip-flopper when it comes these issues as his desire to curry favor with that wing of the GOP becomes more apparent. Just last week, for example, Walker took four different positions on the issue of birthright citizenship over the course of seven days. Earlier in the year, he was caught changing his position on immigration reform and how to handle the millions of undocumented immigrants in the country, and even making statements critical of legal immigration. The fact that all of this is happening as Walker's poll numbers decline makes the pandering all the more obvious.
Governor Walker isn't the only one pandering to the anti-immigrant crowd that Trump has attracted, Chris Christie is now suggesting that the Federal Government track immigrants the way FedEx tracks packages:
Gov. Chris Christie of New Jersey said on Saturday that if he were elected president he would combat illegal immigration by creating a system to track foreign visitors the way FedExtracks packages.

Mr. Christie, who is far back in the pack of candidates for the Republican presidential nomination, said at a campaign event in New Hampshire that he would ask the chief executive of FedEx, Frederick W. Smith, to devise the tracking system.

Immigration has become a top issue in the Republican campaign, with the front-runner, Donald J. Trump, having vowed to deport the estimated 11 million illegal immigrants in the country and to build a wall along the United States' southern border.

"At any moment, FedEx can tell you where that package is. It's on the truck. It's at the station. It's on the airplane," Mr. Christie told the crowd in Laconia, N.H. "Yet we let people come to this country with visas, and the minute they come in, we lose track of them."

He added: "We need to have a system that tracks you from the moment you come in."

He said 40 percent of illegal immigrants are allowed into the United States legally with a visa and then stay longer than their visa allows.

"However long your visa is, then we go get you," Mr. Christie said. "We tap you on the shoulder and say, 'Excuse me. Thanks for coming. Time to go.' "

(…)

Mr. Christie did not say specifically how a system would track people the same way packages are tracked by FedEx, which scans a bar code on the package at each step of its delivery.

A FedEx spokeswoman declined to comment on Mr. Christie's remarks.
Christie is correct in pointing out that people overstaying visas is a significant part of the illegal immigration problem. Indeed, the fact that 40% or more of the people who are in the country illegally are people who overstayed their visa makes arguments about "border security" and building a border wall seem largely ridiculous. Even if the border could made completely secure, which is unlikely, there would still be a significant issue with illegal immigration due to overstayed visas. Of course, the fact that many of the people here on overstayed visas come from Asia and Europe rather than Latin America likely means that many of the people in Trump's coalition don't consider them to be as big of a "problem."
Even giving Christie merit for pointing out the issue of visa overstays, though, his largely off the cuff suggestion, for which he provided few actual details, is still problematic. Right off the top, Christie's idea brings to mind images of the government requiring people to carry a bar code or RFID chip that would allow them to be easily located. That's hardly the kind of thing that one would want the government of free society to be able to do. We give criminals and people out on bail ankle bracelets so we can be sure that they won't leave the jurisdiction or go places they aren't permitted to. The idea of requiring everyone who receives a Visa to get some sort of similar tracking technology is positively Orwellian, and if it were used on them it wouldn't be long before the government found reasons to require others to use this technology.
Like Walker, Christie's idea here is less an serious proposal and more an effort to pander to the anti-immigrant sentiment that Trump has tapped into and which he whips up every chance he gets. If nothing else, this should tells us that the Trump phenomenon isn't as much of an anomaly of Republican politics as the more establishment wing of the party would like to believe. When other candidates start making suggesting like this and endorsing Trump's idea of ending birthright citizenship, it's a sign that Trumpism is winning the debate in side the Republican Party, even if Trump himself doesn't end up winning the nomination.