Donald Trump's Immigration Plan As Bad As You'd Expect
Donald Trump's immigration plan is would create a police state, violate people's rights, and hurt America's economy. And his supporters will most likely love it.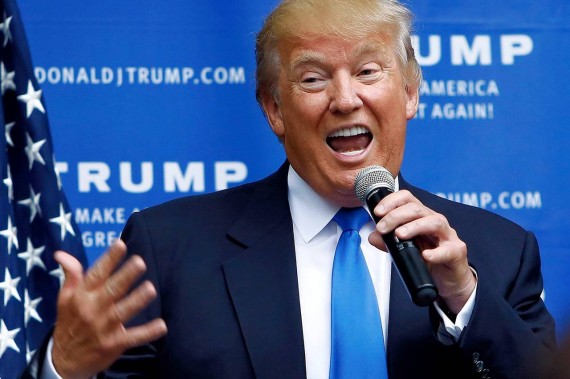 After nearly two months of a campaign that was mostly platitudes and outrageous statements that only seemed to help him rise in the polls, Donald Trump seems to finally be releasing some specific policy proposals, starting yesterday with an immigration plan that, once examined, is seriously problematic and likely never to be implemented:
After staking his early campaign on caustic and contentious remarks about undocumented immigrants, Donald J. Trump on Sunday outlined his plan to fix the country's immigration system and deal with people who are in the country illegally.

The position paper, published on Mr. Trump's website, centered on three principles. The first stated that "a nation without borders is not a nation" — a theme Mr. Trump has made a constant in his stump speeches — and called for a wall to be built along the southern border.

He also repeated his promise to make Mexico pay for the wall and laid out how he would do it: largely through increasing fees on border movement between the United States and Mexico.

"We will not be taken advantage of anymore," the plan states.

Mr. Trump's proposal also calls for strengthening the "enforcement arm" of the Immigration and Customs Enforcement office, to be paid for by "eliminating tax credit payments to illegal immigrants."

Mr. Trump's campaign released the plan moments after the candidate appeared in a wide-ranging interview on NBC's "Meet the Press," during which he spoke broadly about his plans to deport undocumented immigrants.

"We have to keep the families together, but they have to go," Mr. Trump said.

When asked how he might accomplish this, especially given the cost, Mr. Trump responded with a question of his own.

"Do you think there's tremendous cost for the illegals that are in here right now?" Mr. Trump asked. "Do you think there's tremendous crime being committed by illegals?"

He promised to "expedite it so people can come back in" after the deportation. "The good people can come back," he said.

The crimes committed by undocumented immigrants have been a focus of Mr. Trump's early campaign. He has accused Mexico of sending criminals and rapists to the United States, and has often infuriated Latinos with his remarks.

In his formal policy, as he has many times before, Mr. Trump maintains that "Mexico's leaders have been taking advantage of the United States by using illegal immigration to export the crime and poverty in their own country."

Other parts of the plan are similar to the proposals of his rivals in the Republican race. He proposed enforcing the nationwide e-verify system, ending birthright citizenship for the children of illegal immigrants and increasing the prevailing wage for the temporary H-1B visas.
Trump's plan, which is apparently based at least in part on input from Republican Senator Jeff Sessions, who has been a leader of the anti-immigration caucus on Capitol Hill, includes many of the same ideas we see from others on the right, with very little detail of how many of the goals he sets would actually be accomplished. The border wall is there, of course, although its unclear from the plan exactly how it differs from the border guards that are all ready in place along most of the border between Mexico and the United States except for those areas where geography makes construction impractical or costly. Once again, Trump contends that he would get Mexico to pay for the wall by increasing certain fees, or possibly by cutting of foreign aid to Mexico itself. This proposal, of course, ignores the fact that most of the immigration from the south no longer comes from Mexico but from Central America, that increasing fees charged to Mexican travel and trade would likely violate the North American Free Trade Agreement, and that cutting off aid to Mexico would likely exacerbate the security and poverty issues that make it more likely that people will try to emigrate to begin with. Additionally, the plan ignores the fact that retaliatory action against Mexico is likely to have a significant impact on the trade relationship between the U.S. and Mexico, which currently amounts to some $262 billion per year. Trump also proposes tripling the number of officers employed by Immigration and Customs Enforcement, but it's unclear exactly what he would have these people do, especially since Border Patrol and ICE employment has already tripled over the past decade.
In addition to the provisions regarding the border, Trump's plan also calls for restrictions and changes in visas granted to foreigners who come to the United States to work and train, with the apparent goal of opening these positions up to people in the United States. The problem with this idea is that there isn't any real evidence that talented people are being locked out of opportunities because of people who come here on H1-B or J-1 visas, so it's unclear exactly what restricting those programs will actually accomplish. Instead of helping the economy, these provisions are likely to hurt because they will deprive American companies of the ability to recruit talented foreigners in fields such as high technology, where the H1-B visa program has been a boon in helping employers find the people with the skills that they need. Since most of these programs already require employers to provide evidence that their efforts to obtain sufficient qualified employees from the domestic job market is not sufficient to meet their needs, it seems clear that restricting these visas is only going to harm the economy and deprive the United States of the benefit of highly educated foreign workers, many of whom end starting their own businesses in their country after they've been able to obtain a different immigration status.
The final segment of Trump's plan is both the most egregious and the most unrealistic. Trump proposes that every single person who in in the country illegally should be deported. As more than one commentator has suggested, even trying to implement that kind of plan would require the creation of a police state capable of finding all of these people, taking them into custody, and returning them to their country of origin. This is an idea that many anti-immigrant activists have talked about before, though, but it has generally never been taken seriously because of the measures that would require to bring it into effect and because it would be, without a qualification, a humanitarian nightmare. Trump goes beyond this, though, because in response to questions about how he would handle families, he says that the entire family should be deported even if the children involved are American citizens. The number of people that would be impacted by Trump's proposal is quite high. According to one survey, as of 2010 there were 4.5 million U.S. citizen children who had at least one parent who was an undocumented immigrant. Another survey showed that 6.9% of all American schoolchildren between Kindergarten and 12th grade had a parent in that situation, while 5.5% of all American schoolchildren were U.S. citizens with at least one parents who was undocumented. All of these children, and their families, would be impacted by Trump's proposal. More importantly, given that these children are American citizens, it's hard to see where he would get the legal authority to deport them, or to deny them the right to petition for immigration relief for their parent(s). The only way this proposal could work, then, would be to strip American citizens of their rights and force them to leave the country merely because of the immigration status of their parents.
This is hardly surprising, though, because Trump's plan also includes a proposal to end birthright citizenship, which would require amendment the Constitution. This has been something of thing on the anti-immigrant right for some time now, of course. At one point, even Lindsey Graham floated the idea, and anti-immigrant groups made the issue a priority after the GOP gained control of the House in 2010,  with Rand Paul and David Vitter putting forward a resolution in the Senate at one point. For the most part, those efforts fell flat, but the idea continues to linger, most recently this spring when one House Subcommittee held hearings on the issue and then again earlier this summer when Texas was sued for allegedly refusing to issue birth certificates to children of undocumented immigrants born in the United States. The odds that the Constitution are ever going to be amendment in the way Trump proposes are quite low, of course, but that doesn't make his idea any less dangerous. As I've noted before, birthright citizenship is a uniquely American institution that guarantees that everyone who is born here is equal before the law. Changing the law to make citizenship dependent upon the citizenship or immigration status of one's parents would create a permanent underclass of people who could never become citizens, and that's something that would just seem to guarantee future social problems. The fact that it is the centerpiece of Trump's immigration proposal is a fairly good indication of just how bad the plan as a whole actually is.
Nancy LeTourneau at Washington Monthly says that Trump's plan is likely to force many Republicans, and most assuredly the candidates for President, to be more clear about where they stand on the issues surrounding immigration reform. With rare exceptions such as Jeb Bush and Marco Rubio, most of these candidates have avoided the issue, and have specifically avoided talking about what they would do with the people presently in the nation illegally. The reasons for this are understandable, of course. Inside the Republican Party, anything that comes close to sounding like support for "amnesty" risks arousing the ire of a base that is very anti-immigrant. Outside the GOP, though, polls clearly show that a majority of Americans, and even most Republicans, support the idea of a pathway to citizenship for illegal immigrants. As Republican strategist Liz Mair notes in a recent New York Post column, supporting "amnesty" may well be the key to wining in 2016 for Republicans, if they're willing to go that route. With Trump's proposal out there, the other candidates aren't going to be able to sit on the fence anymore, and you can already see the lines being drawn. Ann Coulter, unsurprisingly, came out enthusiastically in favor of it, as did Breitbart, which as become little more than a Trump propaganda arm over the past two months. Noah Rothman at Commentary, meanwhile, calls Trump's plan a "tipping point" for the GOP and calls on conservatives to push back against the nativism inherent in Trump's rhetoric. Shaun Kenny, a former Executive Director of the Republican Party of Virginia who blogs at Bearing Drift makes a similar argument:
A mildly intellectually honest look forward demonstrates that Trump's way forward isn't a way forward at all — it's a strategic retreat with no path to victory.  Even if Trump's wildest dreams were to be implemented, what is the result?  The implosion of a major trade partner, a rather expensive yet useless wall, an epidemic of violence as drug cartels redouble their efforts, the suspension of work visas that tell the best and brightest to go elsewhere, the mass surrender of civil liberties to a national database, the forfeiture of liberties long held by English common law, and worse of all?  The treatment by our American government of every minority as a potential criminal.

Trump merely offered a solution without vital context.  Those are typically the most short-sighted and dangerous of solutions, especially when they come on a wave of populist sentiment.
Despite this push back, there are likely to be a lot of Republicans who support this plan. As I've said before, Donald Trump is succeeding because he says things that many Republicans agree with and that is especially true in the area of immigration. At some point, though, those Republicans will have to ask themselves if they really do support a guy who provides unworkable plans that will end up causing more harm than good.