Most Americans Support A Pathway To Citizenship For Illegal Immigrants
Another poll shows that most Americans, and even most Republicans, support a pathway to citizenship for illegal immigrants.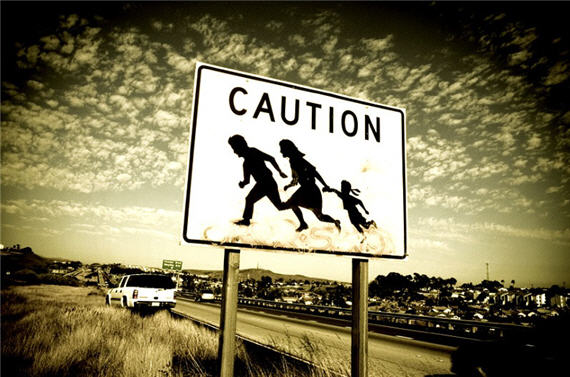 A new Gallup poll shows that a majority of Americans, including Republicans, support a path to citizenship for people who are in the country illegally:
PRINCETON, N.J. — Two in three U.S. adults favor a plan to allow immigrants who are living illegally in the U.S. to remain in the country and become citizens if they meet certain requirements over time. Far fewer support allowing those immigrants to remain in the U.S. to work for a limited period of time (14%), or to deport all of these immigrants back to their home countries (19%). U.S. adults' views have been largely stable over the past decade.

The latest update comes from Gallup's 2015 Minority Rights and Relations poll, conducted June 15-July 10. The poll included larger samples of blacks and Hispanics. Immigration is of special significance to Hispanics, about half of whom are immigrants themselves, according to the poll.

Hispanics (77%) are more likely than non-Hispanic whites (62%) or non-Hispanic blacks (70%) to favor a path to citizenship for immigrants who are in the U.S. illegally. One in five whites, compared with 14% of blacks and 8% of Hispanics, prefer deporting undocumented immigrants back to their home countries.

Hispanics are slightly less likely now than in 2006 (86%) to favor a path to citizenship for immigrants. The 2006 survey was the last time Gallup asked the question in a poll that included an expanded sample of Hispanics. Whites' and blacks' views are largely unchanged since then.

U.S. adults' views on the best approach to take with illegal immigrants living in the U.S. differ based on their party identification. At 80%, Democrats overwhelmingly favor allowing illegal immigrants to stay in the U.S. and to have an opportunity to become citizens. Republicans are far less likely to support a path to citizenship, at 50%, but that is still the most common view among this group. Thirty-one percent of Republicans want to see all illegal immigrants deported, while 18% favor allowing them to stay for a limited time to work.

Neither party's views have changed dramatically over the past decade, but Democrats are now a bit more likely to endorse citizenship while Republicans are less likely to do so. The 31% of Republicans who favor deporting all illegal immigrants is up from 20% in 2006, while the percentage of Republicans favoring a path to citizenship is down from 58% to 50%. In 2006, President George W. Bush favored legislation that included a path to citizenship for illegal immigrants.
Among people who self-identify as Independents, 63% favor a path to citizenship, up slightly from the 60% they were at in the 2006 survey, while 17% favor allowing people here legally to remain in the U.S. to work for a "limited time," and 19% favor deportation. This result is also consistent with other polling that we have seen on this issue —- such as those I wrote about here, here, here, here, here, and here — that also shows that a majority of Americans, and even a majority of Republicans, generally support the idea of a path to citizenship for those here illegally and oppose the idea of the kind of forced deportation that many of the most extreme anti-immigration voices on the right seem to favor. The fact that the numbers are not significantly different from where were in 2006, indicates that nothing that has happened in the last nine years has really impacted public opinion on immigration very much. The only thing that seems to have changed is that certain voices have gotten more strident.
The question that comes to mind, of course, is why it is that it is basically impossible for any type of immigration reform to make it through Congress. The bipartisan bill that the Senate passed in 2013 ended up dying because the Republican-controlled House ignored the Senate bill and completely failed to follow through on any kind of immigration reform bill of their own, notwithstanding pressure to do so from business groups like the Chamber of Commerce and from Evangelical Christian groups that generally favor immigration reform. In response to Congressional inaction, President Obama has responded with a serious of Executive Actions, including 2012's Deferred Action For Childhood Arrivals and the broader relief that he proposed in November which now remains on hold pending a number of lawsuits by the states and by other entities. The President's actions only seem to have hardened resistance among Republicans, and recently Senate Majority Leader Mitch McConnell said there would be no immigration reform as long President Obama is in office.
While all of this may seem paradoxical given the fact that polling consistently shows that most Americans would favor an immigration reform package like the 2013 Senate bill that includes a pathway to citizenship, the reality seems to be that internal Republican politics make any action on this issue largely impossible. The portion of self-identified Republicans who actually oppose immigration reform, as indicated by polls like this one, is not very large but it quite clearly makes up a large percentage of the activist base of the party. Right now, that base is seeing its highest profile in the candidacy of Donald Trump, which has been largely built upon exaggerated anti-immigrant rhetoric and promise of "border security" that can never realistically be fulfilled in a free society. Republican politicians who even think about straying from the hard-right orthodoxy on immigration find themselves the subject of attacks and primary challenges from this hard-right base, so it ends up being easier doing nothing than doing the right thing. As long as that's the case, nothing is going to be done about the problem of 11 million undocumented people in this country or the broken legal immigration system. Indeed, since we're already in the throes of a Presidential campaign, you can pretty much assure that the only thing we'll be hearing about immigration from now until November 2016 is rhetoric. Meanwhile, the problems will continue and a problem that could easily be solved will continue to fester.