Most Americans, Including Republicans, Support A Path To Citizenship For Illegal Immigrants
Yet another poll shows that most Americans support a path to citizenship, and that a majority of Republican agree with them.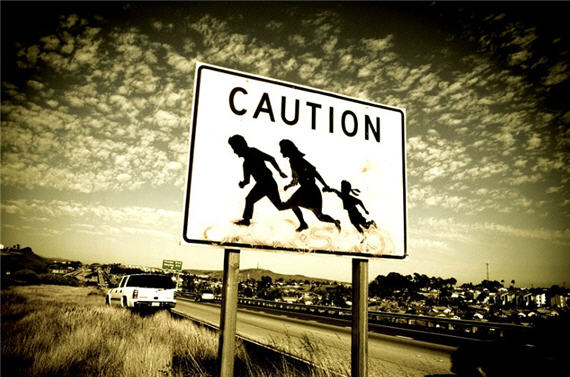 A new poll from the Pew Center shows that a majority of Americans favor allowing people who are in the United States illegally to stay here legally:
As immigration emerges as a major issue ahead of the 2016 presidential race, a new poll found broad public support for legalizing people who are in the U.S. unlawfully. But other attitudes about immigration are mixed, according to the survey by the independent Pew Research Center.

More than seven out of 10, or 72%, of those polled believe illegal immigrants in the U.S. should be allowed to remain here, if they meet certain conditions. That result is consistent with Pew polls in the past two years that also found strong support for legalization across political party lines.

About 11 million immigrants, overwhelmingly from Latin America, are living in the U.S. illegally.

"You see a continuous majority of the public in recent years saying undocumented immigrants should be able to stay, if certain conditions are met," said Carroll Doherty,Pew's director of political research.

He noted that the current level constitutes "a pretty high point."

Support for legalization had dipped slightly last year, to 68%, as thousands of children illegally crossed the southwest border into the U.S., many of them fleeing gang violence in Central America.

A path to citizenship has been central to the debate on an overhaul of immigration laws, an effort that has stalled in Congress. Lawmakers have disagreed about whether immigrants here illegally should be allowed to apply for green cards, which eventually could be converted into citizenship, or whether they should become part of a new class of legal residents not entitled to citizenship.

Among those polled by Pew, more than four out of 10 said the immigrants should be allowed to apply for citizenship and about a quarter said they should be eligible only for permanent residency. Another 27% said there should be no legalization.

About half of those surveyed believe immigrants strengthen the country, while 41% said they are a burden.

Respondents with only some college education or with a high school education or less were significantly more likely to regard immigrants as being a burden than college graduates. Nearly two-thirds of college graduates said immigrants are a boon to the country.

Younger people tend to regard immigrants more positively. Adults aged 18 to 49 overwhelmingly said they benefit the country. Among those aged 50 to 64, more than half said immigrants are a burden.

In terms of legal immigration, 39% said they support keeping it at the current level. Among those who said the level should change, 31% favor a decrease, 24% favor an increase.
Not surprisingly, there is some significant variation based on party breakdown, but even a majority of Republicans still generally support a path to citizenship:
A majority of Republicans (56%) support a path to legal status for undocumented immigrants in the U.S. At the same time, far more Republicans say immigrants are a burden on the country (63%) than say they strengthen the country (27%).

Among Democrats and independents – majorities of whom also support a path to legal status for people in the U.S. illegally – most say immigrants strengthen the country (62% of Democrats, 57% of independents).

Overall, most Americans reject the idea that giving those who came to the U.S. illegally a path to legal status is in essence "rewarding" them for bad behavior. Nearly six-in-ten (58%) say they do not think of a path to legal status in these terms, while 36% say it is "like rewarding them for doing something wrong."

However, while most Republicans support allowing undocumented immigrants to stay in the U.S. legally if they meet certain requirements, a majority (58%) views a path to legal status as a reward for doing something wrong. By contrast, just 23% of Democrats and 33% of independents say that giving undocumented immigrants a way to remain in the U.S. legally is akin to rewarding them for doing something wrong.

(…)

Among Republicans, 42% think legal immigration into the U.S. should be decreased, compared with 34% who think it should be kept at its present level and just 21% say it should be increased. Fewer Democrats (27%) and independents (28%) think legal immigration should be decreased, with pluralities of both groups saying it should be kept at present levels.

(…)

Republicans (58%) are far more likely than Democrats (23%) or independents (33%) to say that allowing undocumented immigrants to remain in the U.S. is a reward for wrongdoing. Notably, the share of Republicans who think of a path to legal status as a reward for doing something wrong has increased nine points (from 49%) since May 2013. Over the same period, the percentage of Democrats who express this view has declined six points (from 29% to 23%). Independents' views are largely unchanged.
Republicans are also far more skeptical of legal immigration and far less likely to believe that immigration strengthens the country:
Twice as many Republicans think legal immigration should be decreased as increased (42% vs. 21%) while about one-third (34%) want to keep it about the same. Among Democrats, a similar share wants a decrease in legal immigration (27%) as an increase (24%), while a 43% plurality says it should stay the same. Independents' views are similar to those of Democrats.

(…)

There are wide partisan differences in views of immigrants' overall impact on the country today. Majorities of Democrats (62%) and independents (57%) say that immigrants strengthen the country because of their hard work and talents. By contrast, just 27% of Republicans see immigrants, on balance, as making positive contributions to the country; far more (63%) say that immigrants are a burden because they take jobs, housing and health care.

Republican views on this question have turned more negative over the last year. The share of Republicans who say immigrants strengthen the country has declined from 42% in March 2014.
Broadly, this poll is consistent with surveys that we've seen in the past that show that a majority of Americans, and even a majority of Republicans, support a path to citizenship and generally have a positive view of immigration. More recent polling has shown that most Americans support the temporary deportation relief that the President unveiled last November, although they are less supportive of the manner in which he implemented the policy. The obvious conclusion this leads to, of course, is that  many Republican politicians, including many candidates for President, are out of step with the nation as a whole, and even most self-identified Republicans, to the extent they have taken positions on immigration that are far more restrictive than what the public as a whole supports. Many segments of the Republican Party, including people such as Jeb Bush and Marco Rubio and groups such as the Chamber of Commerce and evangelical and religious groups, have warned their fellow Republicans about the political risks the party is taking by continuing to follow an obstructionist strategy toward reform of the nation's immigration laws and by allowing rhetoric that can only be called anti-immigrant to have such a prominent role in the party. Usually, these warnings are based on the fact that the Latino voters are becoming a larger segment of the country and tending to identify more with the Democratic Party, but this poll shows that it's an issue that goes far beyond just Latino voters. As with many other issues, the GOP's position is far out of step with younger voters as well. This is a demographic that will only become more important as time goes on, and on issue after issue the Republican Party is taking positions that seem to be designed to alienate itself from that voting bloc. Over the long term, that is not a smart political strategy.
At the same that this poll reinforces all of the warnings to the GOP that we've been hearing for several years, though, it also seems to make it clear why it won't be easy for Republicans to change positions on immigration in the short term. Notwithstanding the fact that a majority of Republicans support immigration reform and have positive views of immigration and immigrants generally, there is still a sizable minority in the party that holds the opposite view. This minority tends to be more active in the party, and more likely to participate in primary elections, so that candidates must still find a way to pander to them if they're going to move forward. This is especially true in the south, in smaller states like Iowa, and in Congressional elections. As long as that's the case, the calls for the GOP to move forward on immigration reform are likely to fall on deaf ears.