Yes, DACA Beneficiaries And Other Illegal Immigrants Should Be Able To Become Citizens
One of the main objections that many on the right seem to have to proposals to legalize DACA beneficiaries and other illegal immigrants is the idea that they could eventually become citizens. There's no good reason they shouldn't be able to do so.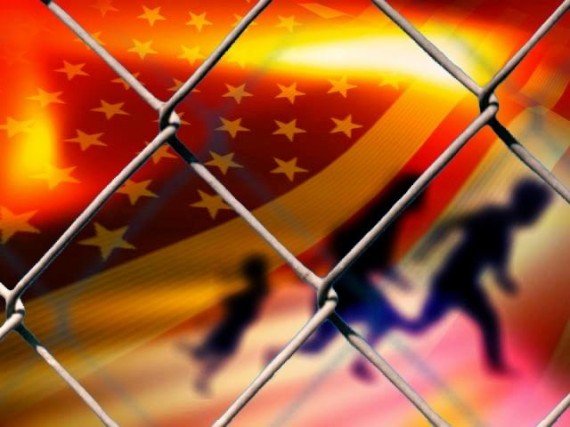 One of the issues that appears to be complicating negotiations on Capitol Hill over a resolution to the status of the beneficiaries of the Deferred Action  For Childhood Arrivals (DACA) program as well as others who were brought to the United States as children is the question of whether they should eventually be eligible for what's called "a path to citizenship." The plan that the Trump Administration put forward last month, for example, would both expand the number of people eligible for DACA-like protection to the point where it would cover some 1.8 million people. On the other side of the ledger, of course, the Administration plan as announced in January would also include provisions such as funding for Trump's border wall, the elimination of the visa lottery, and changes to legal immigration aimed at restricting so-called "chain migration," which is a reference to the fact that current immigration law allows people here legally to sponsor family members for immigration. Now, The Los Angeles Times reports that the Administration may be willing to accept something different:
As the Senate prepares to begin a free-wheeling debate over immigration next week, White House officials have begun floating a possible compromise idea — a pledge to maintain legal immigration at current levels, about 1.1 million people a year, for more than a decade.
President Trump has proposed a series of measures, including restrictions on family unification, which he calls "chain migration," and an end to the visa lottery, that critics say ultimately could cut legal immigration to America by 40% or more.

But a White House official said Saturday that the Trump administration is working with allies in the Senate on a proposal that would create a path to citizenship for an estimated 1.8 million people who were brought to the country illegally as children, and that would clear the backlog of nearly 4 million sponsored relatives who currently are waiting for green cards.
The combined effort, officials said, would effectively make up for the cuts in other immigration categories for about 13 years, the official said. After that, if Congress takes no additional action to add or expand visa categories, the total number of people allowed to resettle in the U.S. each year likely would decline by hundreds of thousands.

The outline began emerging early this week when John Kelly, the White House chief of staff, and Kirstjen Nielsen, the secretary of Homeland Security, met with a half a dozen or so Latino Republicans at the White House and said the administration was prepared to ensure that overall immigration levels would remain steady.
The shift shows the White House is feeling out the contours of a possible compromise as lawmakers prepare for marathon immigration debates on the Senate floor next week over how to protect from deportation — and possibly provide legal status for — the estimated 1.8 million people brought to the country illegally as children.
As I've noted before, while a plan like this might make it through the Senate, especially the part that provides legal status for DACA beneficiaries and others in the same situation as them who may not have been eligible to apply for DACA status for one reason or another would probably pass the Senate, the House of Representatives is another matter entirely. Large blocs of Republicans in the House are far more conservative than Senate Republicans generally are, and one of their major objections to both the original Trump plan and to suggestions that have come out of the Senate is the idea that DACA beneficiaries, or indeed anyone who is currently in the country illegally, becoming eligible for citizenship at any point in the future. Jazz Shaw at Hot Air summarizes the arguments of those House Republicans, and many conservatives, regarding the idea of a path to citizenship in his post today about these reports of a possible compromise being negotiated between the White House and Senate Republicans and Democrats:
Some trading was always going to be required to achieve conservative goals on this issue, but there's also such a thing as priming the pump too hard. The Democrats claim they want to save the Dreamers from deportation. That can be achieved with Permanent Resident Alien status, not a pathway to citizenship and voting. And that four million number in terms of sponsored relatives is way too high. Restricting it to spouses, underage children and possibly parents could trim it down to a more manageable number.

In any event, those are all details which could be worked out in negotiations this week.The possibility of a deal is hanging in front of us, provided it includes the wall and the other priorities mentioned above. But if the President gets a bit too generous in his eagerness to get something signed, the GOP needs to either quietly curb his enthusiasm a bit or walk away.
Jazz has expressed objections to the idea of a path to citizenship for DACA beneficiaries for DACA beneficiaries in the past — see here and here, for example — and the argument he makes here has also been made by many conservative pundits and Republicans on Capitol Hill. Essentially, the argument appears to be that people who are in the country illegally, including DACA beneficiaries and others similarly situated, should not be able to receive the benefit of eventually become citizens precisely because they are in the country illegally. In many cases, when pressed to provide an argument why this should be the case, the argument usually ends up being nothing more than that, as if the position were so axiomatically true that it doesn't really need to be supported any further. In other cases, the argument is far more blunt, namely that this group of people should not be eligible to become citizens because they would be eligible to vote and would most likely end up voting for Democratic candidates. While I'm not suggesting that this is the real justification that everyone who takes this position makes for their position, I've seen and heard it made often enough by people on the right that it is certainly one of the predominant reasons why the idea of a path to citizenship for illegal immigrants generally or DACA beneficiaries specifically should be rejected out of hand. This, of course, is little more than a blatantly partisan argument based more on concern for the political fortunes of the Republican Party than on any real public policy argument. While there's nothing per se wrong with making this kind of argument, it does tend to lead to the conclusion that there is no real logical, policy-based reason why there should be any bar to eventual citizenship for DACA beneficiaries or any other illegal immigrants provided they meet the criteria set forth in the law and successfully meet the criteria for citizenship itself.
As it stands, of course, the conservative position regarding citizenship for illegal immigrants is one that is not held by most Americans. According to many polls taken over the last five years or longer, the majority of Americans and even the majority of self-identified Republicans support a path to citizenship for both DACA beneficiaries specifically and illegal immigrants generally. I've made note of the results of many of these polls in posts that can be found here, here, here, here, here, here, here, here, here, here, here, here, here, and here. This issue, of course, is just one of the examples of the extent to which the hardline position that conservatives continue to take on immigration issues is out of step with the rest of the country, and it's one of the many reasons why Republicans continue to lose ground with Latino voters, especially younger Latino voters who will become more and more of an important segment of a voting bloc that is only going to grow over the coming years. Taken in that light, I suppose that it's understandable why many on the right would take the position that people who are in the United States illegally should never be allowed to become citizens. Given current voting patterns, such a prospect would be bad news for the GOP in many states, or even worse news considering that many states such as Arizona, Virginia, Georgia, and Florida are seemingly destined to become less hospitable to Republicans in the future unless the GOP becomes more palatable to Latino voters.
In reality, of course, isn't any valid policy-based or moral argument against the idea that DACA beneficiaries, or indeed anyone who is in the country illegally, should eventually be allowed to become citizens provided that they meet the criteria. As noted above, the general idea for solving the immediate DACA problem appears to be one that would allow the beneficiaries of the program, and possibly many others, apply to become Permanent Resident Aliens, something typically called "getting a Green Card" due to the fact that the identity card that someone in this status receives is colored green. As it stands, there are very few differences between being a citizen and being a Permanent Resident. Permanent Residents are eligible for nearly all of the same benefits and legal protections that citizens are, except that only citizens are permitted to vote in elections. People in both statuses are both protected by the Constitution and the Bill of Rights, for example, although it's worth noting that the vast majority of the rights granted under the Constitution are available to everyone in the country including people who are here illegally. Another difference is that Permanent Residence are required to renew their status roughly every ten years and could be subject to deportation if they commit certain crimes, though that is typically limited to felonies.
More importantly, every person who is granted Permanent Resident Alien Status eventually becomes eligible to apply for citizenship. In most cases, it requires that they have that status for at least five years and that they have resided in the United States without interruption for at least that long. At that point they can apply for citizenship if they choose to, a process that requires completion of an application process, a biometric scan, an interview, and a test that demonstrates that they have knowledge of the history and laws of the United  States. Assuming they can complete this process successfully, applicants are sworn in either by an employee of the U.S. Citizenship and Immigration Services or by another authorized official at one of the many mass citizenship ceremonies that are held around the country, including one that takes place at Thomas Jefferson's Monticello home every July 4th and typically presided over by a Federal Judge. 
If illegal immigrants generally or DACA beneficiaries specifically are indeed granted Permanent Resident status, and there's no good reason they shouldn't be as part of a broader immigration reform package, I see no reason why they too should not be allowed to eventually apply for citizenship as well. This seems to be especially true for DACA beneficiaries and others who were brought to this country illegally ass children. These people have essentially lived their entire lives in the United States and have no real connection to their "home" countries. In most cases, they are almost fully assimilated into American culture and are often more fluent in English than they are in their "native" language. Were they forced to return to their "home" country they would be akin to a fish out of water and would have to figure out how to live in a nation they have little connection to while simultaneously leaving behind family and friends they have made here in the United States. More importantly, during their time here in the United States most of these people have contributed to the economy and led productive and law-abiding lives. If they were permitted to stay and eventually become citizens, they would be able to contribute even more.
Perhaps the solution to the current political dilemma would be that people in here illegally, where DACA-like people or not, who are granted Permanent Resident Status would have to wait a bit longer before they are eligible to apply for citizenship. Some have suggested a period ranging from 10-12 years. I see no good reason to permanently bar them from eligibility. Indeed, to do that would be to create a not insubstantial group of what would essentially amount to second-class citizens, something that hardly seems fair or just under the circumstances.