Polls Find Majority Support For Path To Citizenship For Illegal Immigrants
A positive political climate for immigration reform.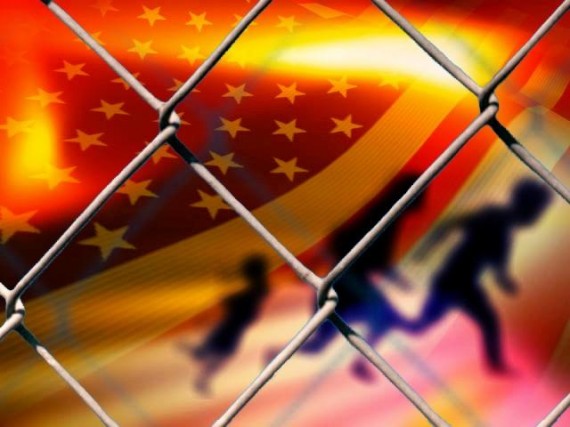 The battles over immigration reform on Capitol Hill are just beginning, but if early polls are any indication there is broad support for reforming our immigration system and bringing the roughly eleven million people here illegally out of the shadows.
First up, there's a Gallup poll that shows broad support for many of the proposals being discussed by the President and others:
PRINCETON, NJ — At least two-thirds of Americans favor each of five specific measures designed to address immigration issues — ranging from 68% who would vote for increased government spending on security measures and enforcement at U.S. borders, to 85% who would vote for a requirement that employers verify the immigration status of all new hires. More than seven in 10 would vote for a pathway to citizenship for undocumented immigrants now living in this country.

Slightly more than seven in 10 favor a law that would track the departures of foreigners who have come into the country and one that would increase the number of visas for immigrants with science and technology skills.

The debate over passage of new immigration reform legislation is heating up ahead of President Barack Obama's State of the Union address next week, in which he is expected to push for a number of changes in the ways the U.S. deals with immigration. Obama is meeting with leaders in the White House on Tuesday to discuss legislation. Republican House Majority Leader Eric Cantor is presenting his ideas on immigration on Tuesday in a speech to the American Enterprise Institute, and both Senate and House leaders are working on immigration reform measures. Democrats and Republicans appear to be in general agreement on doing something about immigration, but — as is usually the case in Washington — the two sides differ on some of the specifics.
Here's how the numbers break down: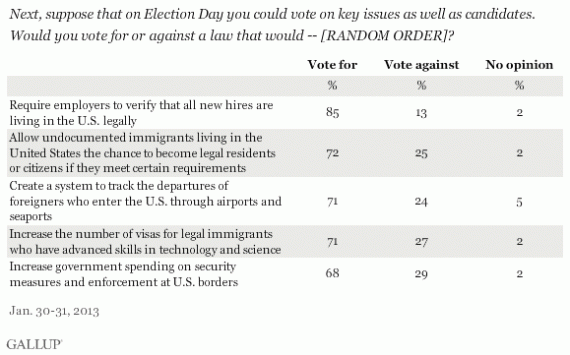 Interestingly, even a majority of Republicans support a "path to citizenship" for illegal immigrants, and there's is broad bipartisan support for the other proposals polled: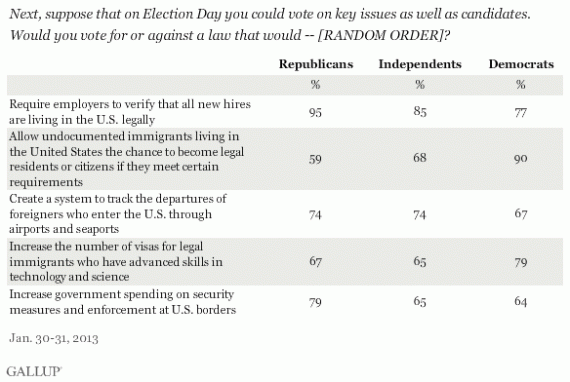 Additionally, a new ABC News/Washington Post poll finds strong support for President Obama on immigration issues and, once again, majority support for a path to citizenship:
Americans have given President Obama a major ratings boost on immigration as he andCongress debate the biggest immigration reforms in decades, according to a new Washington Post-ABC News poll.

By 49 to 43 percent, slightly more Americans now approve than disapprove of Obama on immigration. In July, Obama was deep underwater, with just 38 percent offering positive ratings and 52 percent negative.

Even after the shift, though, Obama's immigration marks continue to trail his overall approval rating, which stood at 55 percent in a January Post-ABC poll.
What is significant, though, is that this is a definite change from the last three years, during which a majority has disapprove of the way the President has handled the issue of immigration: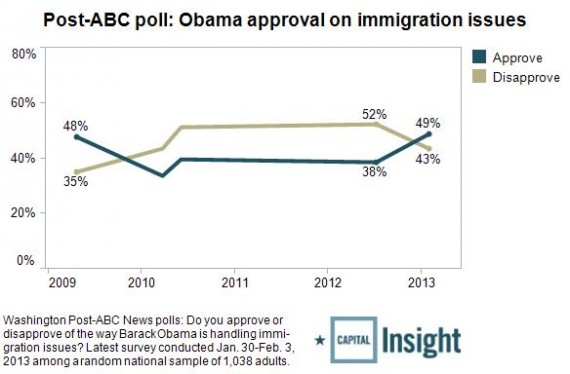 To a large degree, of course, the change in Obama's approval levels on this issue are likely tied to the general direction of his overall job approval numbers. For the better part of the period from 2010 until just before the election, those numbers fluctuated within a very small range that usually tended toward disapproval most of the time with the exception of limited periods like the immediate aftermath of the bin Laden raid. Now that the President's approval numbers in general have improved, it's not entirely surprising that his numbers in specific policy areas have also improved.
At the same time, though, it's noteworthy that the public is expressing broad support for most of the major elements of the various immigration reform plans being talked about on Capitol Hill right now. It suggests that the Democrats, as well as Republicans such as Marco Rubio who are pushing for immigration reform, have the advantage going into what is likely to be a contentious debate, and that Republicans who might be on the fence about this issue wouldn't be taking as big a political risk as they think if they vote in favor of reform.