Making A Play For Latino Voters, Clinton Backs Path To Citizenship For Illegal Immigrants
In a move that is clearly designed to have an impact in the General Election, Hillary Clinton came out in support of broad immigration reform in Nevada yesterday.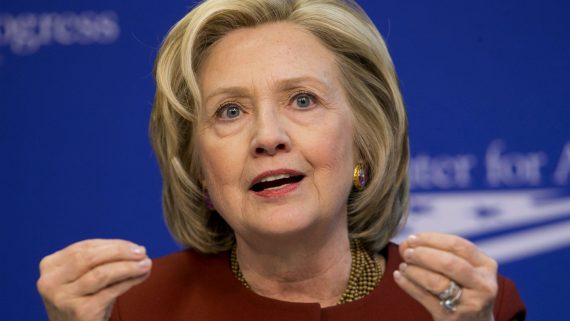 In the three weeks or so since Hillary Clinton entered the Presidential race, she has avoided making many detailed pronouncements on public policy beyond the general statements that one usually gets from politicians in the early stages of a campaign. When pressed for specifics by reporters, Clinton campaign officials have deferred by saying that they plan on making detailed statements about policy in the near future, and that the candidate is spending these early stages of her campaign listening to voters rather than making broad promises. That position changed somewhat, and significantly, yesterday when Mrs. Clinton went further even than President Obama on the issue of immigration when meeting with a Latino group in the early primary, and important General Election, state of Nevada:
LAS VEGAS—Hillary Clinton, bidding to maintain Democratic dominance among Hispanic voters, said Tuesday she would work to expand President Barack Obama's executive actions protecting people in the U.S. illegally from deportation, and push for legislation including a path to citizenship.

She said GOP proposals for legal status, which some Republicans have embraced, fall short of what's needed. "We can't wait any longer for a path to full and equal citizenship," she said. She said not a single Republican candidate has consistently supported that policy. "When they talk about 'legal status,' that is code for second-class status."

Republicans Jeb Bush, a former Florida governor, and Sen. Marco Rubio of Florida both once supported a path to citizenship but have modified their positions. Other Republicans oppose any legalization, saying it would reward lawbreaking.

Mrs. Clinton said she would extend the Obama executive action, strongly opposed by Republicans as an abuse of presidential power and parts of which are being challenged in court. The Obama policy gives parents of U.S. citizens as well as young people brought to the U.S. illegally as children the chance for work permits. He said he adopted it in the face of congressional inaction on the issue.

Mrs. Clinton said she would consider expanding that program, known as deferred action, to allow parents of these young people to apply for deportation deferrals. Mr. Bush has said he would roll back the deferred action program, and Mr. Rubio has said he would keep only part of it.

Together, her comments amounted to a full-throated embrace of much of the agenda being pushed by the immigration-rights movement. She made her comments in a presidential swing state, where 18% of eligible voters are Hispanic, at a high school with a student body that is about 70% Hispanic.

The event reflected the growing importance of Hispanic voters, who have helped deliver the White House to Democrats two elections in a row. In 2012, Mr. Obama lost badly among white voters but won re-election because of his strong support from Hispanics and other minorities.

Democrats are particularly fearful that Mr. Bush, who speaks fluent Spanish and talks about immigration with warmth, could attract substantial support from Hispanic voters. Mrs. Clinton's comments were aimed in part at casting him as on the wrong side of the issue.

Mrs. Clinton has been on record in favor of a path to citizenship for people in the U.S. illegally since at least 2004, but she occasionally has rankled immigration activists.

In 2007, when running for president for the first time, she waffled about whether to support driver's licenses for undocumented residents. Last summer, she upset some by saying unaccompanied children crossing the border illegally should be sent back to their home countries. Mrs. Clinton also declined last year to urge Mr. Obama to use his executive authority to protect people from deportation.

More recently, Mrs. Clinton supported driver's licenses for illegal immigrants and she made it clear that she supported Mr. Obama's executive actions after he took them last November.
Obviously, Clinton is not making policy statements such as this to shore up support in the Nevada Caucuses (or primary, depending on what party officials decide) next February. As with every other contest in the race for the Democratic nomination, she will win that vote quite handily unless something truly earth shattering happens in Democratic politics over the course of the next nine months. Instead, as noted, this is clearly something that is being put forward with the General Election in mind, and specifically an aim to appeal to and energize Latino voters, who have tended to vote Democratic in the last several Presidential elections but who have also tended to be less likely to vote than other demographic groups. This is a voting bloc that could be crucial in several swing states next year, including not just Nevada, but also Florida and Virginia, both of which Republicans must win if they are going to have any shot at 270 Electoral Votes. It's also clear that at least part of the motivation for the forum Clinton held yesterday, and her statements, was to mend what has at times been a testy relationship with Latino immigration activists. As noted, back during the 2008 campaign, she drew fire from some Latino groups for her waffling on the issue of driver's licenses for illegal immigrants. More recently, she has been criticized for her failure to comment directly on President Obama's executive action on immigration, which came during a time when Clinton was clearly still preparing to run and avoiding policy statements of any kind. At some point, Clinton was going to have to address all these issues and, now that she has she has differentiated herself significantly from whomever it is that the Republicans end up nominating.
Realistically, of course, it's unclear just how much of this Clinton would be able to deliver on if she were elected President. Assuming that Republicans retain control of the House in 2016, as pretty much everyone seems to expect, it would be difficult at best to get the kind of immigration reform bill through Congress that she suggesting here. Prospects in the Senate don't seem much better regardless of which party has control after the 2016 elections either, since a Republican minority would be able to make use of the legislative filibuster and other means to block a bill if they were united in the effort. Failing something making it through Congress, it would be difficult for Clinton to enact her promises in this area into law, and it honestly seems unlikely that she would make immigration reform the top priority of her first year or so in office when there are other, more pressing, issues, such as the economy, to deal with. This would leave Clinton with essentially the same limited options that President Obama has utilized over the past several years when he enacted the Deferred Action For Childhood Arrivals program in 2012 and then followed it up with the broader actions announced last November. Clinton has said that she would continue and expand those programs, but whether or not she'll be able to do so is still an open question. The President's November actions are currently the subject of a multi-state lawsuit pending in Texas, and they have not fared so well so far. In February, a Federal District Court Judge ordered a temporary halt to the program and, two weeks ago, lawyers for the Obama Administration received what has been called a "chilly" reception from a panel of the Fifth Circuit Court of Appeals in their appeal of that ruling. Ultimately, of course, this issue will be decided by the Supreme Court, but if the Justices end up ruling against the Obama Administration then it would severely restrict Clinton's ability to bypass Congress on this issue if she becomes President.
Those, however, are concerns for two years from now. As a short-term political matter, this is a smart move on the part of the Clinton campaign that could end up paying off big dividends in the General Election.