Obama Announces Immigration Plan, But Constitutional Confrontation Lies Ahead
On substance, the President's immigration actions aren't very objectionable. How he is implementing them, though, is problematic and seems needlessly confrontational.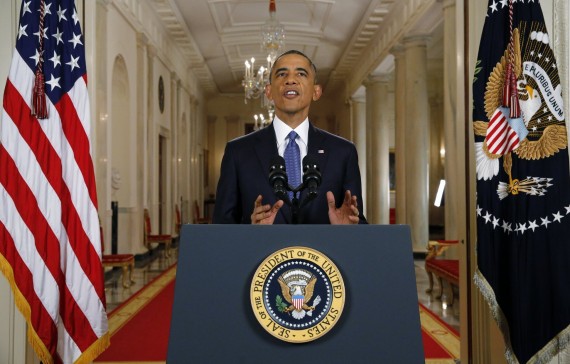 After threatening to take unilateral action on immigration back in July if Congress did not act on reform, delaying the action until after the election in response to pleas from vulnerable Democrats, and then renewing the threat after his party suffered a massive defeat in what seemed to many, myself included, as a huge political risk, last night President Obama announced the details of a plan that would involve administrative relief for certain categories of undocumented immigrants that would ultimately, temporarily at least, mean that some 5 million people will be given a form of legal status:
WASHINGTON — President Obama chose confrontation over conciliation on Thursday as he asserted the powers of the Oval Office to reshape the nation's immigration system and all but dared members of next year's Republican-controlled Congress to reverse his actions on behalf of millions of immigrants.

In a 15-minute address from the East Room of the White House that sought to appeal to a nation's compassion, Mr. Obama told Americans that deporting millions is "not who we are" and cited Scripture, saying, "We shall not oppress a stranger for we know the heart of a stranger — we were strangers once, too."

The prime-time speech reflected Mr. Obama's years of frustration with congressional gridlock and his desire to frame the last years of his presidency with far-reaching executive actions. His directive will shield up to five million people from deportation and allow many to work legally, although it offers no path to citizenship.

"The actions I'm taking are not only lawful, they're the kinds of actions taken by every single Republican president and every Democratic president for the past half-century," Mr. Obama said. "To those members of Congress who question my authority to make our immigration system work better, or question the wisdom of me acting where Congress has failed, I have one answer: Pass a bill."

In a series of rhetorical questions, he cast the immigration debate in emotional terms. "Are we a nation that tolerates the hypocrisy of a system where workers who pick our fruit and make our beds never have a chance to get right with the law?" he asked. Later he added, "Whether our forebears were strangers who crossed the Atlantic, or the Pacific, or the Rio Grande, we are here only because this country welcomed them in."

Mr. Obama intends to underscore the schism between the parties on the issue of immigration during a campaign-like rally on Friday at a high school in Las Vegas, where Hispanics are a powerful and growing voting bloc.

The trip is part of a White House strategy to try to convince Americans in the next months that Mr. Obama's actions are legal and right. Immigration advocates plan to use that time to push for greater protections while Republicans are devising ways to defy the president and exercise their new authority.

(…)

Mr. Obama's actions will sharpen the focus of government enforcement on criminals and foreigners who pose security threats. High-tech workers will have an easier time coming to the United States, and security on the border will be increased.

The centerpiece of the president's announcement is a new program for unauthorized immigrants who are the parents of United States citizens. About four million people will be eligible for a new legal status that would defer their deportations and allow them to work legally. They must pass background checks and pay taxes, but they will receive Social Security cards, officials said.

To those people, Mr. Obama said, "You can come out of the shadows."

An additional one million people will have some protection from deportation through other parts of the president's plan.

Mr. Obama's actions will end a program called Secure Communities, which advocates had long criticized as a dragnet that swept up many unauthorized immigrants arrested on minor offenses like traffic violations. Local police will no longer be asked routinely to detain immigrants without papers.
Not surprisingly, the reaction from the leaders and members of the incoming Republican majorities in the House and Senate, as well as some Democrats, have been overwhelmingly negative, and there is at least the threat of some form of confrontation of the White House along with an effort to attempt to undo what the President announced last night:
"By ignoring the will of the American people, President Obama has cemented his legacy of lawlessness and squandered what little credibility he had left," House Speaker John A. Boehner said in a statement after the speech.

Even as Republican lawyers analyzed what the White House said was the legal basis of Mr. Obama's actions, it remained unclear how they might undo them. The agency that will carry out most of the president's executive actions, Citizenship and Immigration Services, is funded with application fees, and does not rely on a budget vote in Congress to keep operating.

But accusations of a presidential abuse of power appear to have gained traction in recent days, as a Wall Street Journal/NBC News poll found just 38 percent support for Mr. Obama's executive actions even as there was broad support for a path to citizenship for unauthorized immigrants. In the poll, 48 percent said they opposed Mr. Obama's actions. Even a few Democrats have expressed concern about the propriety of the president's actions.

"The president shouldn't make such significant policy changes on his own," Senator Joe Donnelly, Democrat of Indiana, said in a statement before the president's speech. Senator Joe Manchin III, Democrat of West Virginia, told White House aides in a meeting on Thursday that he disagreed with Mr. Obama's action.

"To put it through now is the wrong thing to do," Mr. Manchin said after the meeting. "I told them I wasn't comfortable."

But Mr. Obama insisted that his actions were consistent with powers that have been exercised by presidents in both parties for decades.
The substance of what the President announced last night largely matches what had been leaked out over the past week.
First, there will be an expansion of the Deferred Action For Childhood Arrivals program that was first announced in 2012 and covered many, but not all, of those who fell into the category of people who were brought to the United States illegally as children, have been raised in the United States and attended American secondary schools and universities, and found themselves in illegal status and threatened with deportation to countries that they have no real memory of or experience with. This group largely comprises what has been called the so-called "Dreamers," the people who would have been covered by the DREAM Act, which was blocked in the Senate by a Republican filibuster during the lame duck session after the 2010 election The original program, though, had limitations on it that meant, among other things, that people over a certain age were not eligible for the program. Under the expansion announced last night, virtually everyone who qualifies as a "Dreamer" will be able to take advantage of the relief granted under the 2012 program, which includes temporary legal status and, by virtue of that legal status, a work permit that permits them to work legally in the United States. The number of people actually covered by this expansion is estimated to be an additional 300,000 people. A second category that will be granted temporary relief, along with everything that flows from that, are parents of children who were born in the United States, who themselves are already United States citizens. These people must be able to show that they have been in the U.S. for at least five years and that the child was born before last night's announcement. This group is estimated to consist of as many as four million people. In both cases, those applying for temporary status must be able to establish that they do not have a criminal record and pay certain fees associated with the application process that, like all fees charged in immigration cases are intended to cover the cost of the operation of the office that processes immigration applications. Finally, in both cases as in the case of DACA, the status granted by this announcement is temporary and could be repealed by Congressional action, or by the next President who takes office in 2017. In that final regard, it's worth noting that Hillary Clinton endorsed the President's actions in a statement released last night.
The second part of the President's plan involves stepping up deportations of certain classes of people in the country illegally, specifically people with criminal records, gang members, people involved in drug trafficking, and those suspected of having ties with terrorist organizations. To a large degree, these are the categories of illegal immigrants that the Obama Administration has concentrated on it is deportation efforts over the past give years, to the point where it has largely been on a pace to outstrip the Bush Administration when it comes to total deportations by the end of President Obama's eight years in office if this pace continues. What we will apparently see less of when it comes to deportations, however, are actions which end up breaking up families without regard to whether or not the people involved in the proceedings fall into the "criminal alien" category or pose a danger to the United States or American citizens.
As a matter of substance, I find little to object to in what the President announced last night, and it's hard for me to see how anyone could. The idea of deporting people who have grown up in the United States to countries that they know little or nothing about because their parents happened to bring them here illegally as children doesn't make sense on any level. As long as the people we're talking about are not criminals, but instead people who have lived their lives as essentially American — going to American schools, making and playing with American friends, and hoping to one day take their place in American society — there doesn't seem to me to be any reason to punish them for something that they aren't responsible for. That's the main reason why I supported the general idea of the DREAM Act, along with laws such as those in Texas that grant in-state tuition status at colleges and universities. Similarly, granting some kind of temporary status to the parents of children who are American citizens seems fine to me as well. It would be wrong to deport these children given that they have the legal right to live here, of course, and it seems somewhat perverse and heartless to force their parents to choose between living here illegally to be with their children or leaving those children behind with people who can raise them in their absence. A policy like this, of course, is likely to raise yet again the whole debate about so-called "anchor babies," but that's an issue that conservatives have been obsessed with for years now in any case. Finally, concentrating limited deportation resources on criminals and people who have been here only a short period of time seems to me to be entirely rational.
Leaving aside, the substance of the policy, though, I remain troubled by how the President is going about doing this. The question of the legality of the President's actions is a complicated one that deserves more detailed attention in its own post. Honestly, though, I will say that my preliminary thoughts on that issue are that the President's actions likely to be largely within the discretionary authority granted by the various laws that Congress has passed going back to the 1986 reform act passed during the Reagan Administration. Even if the actions are within the letter of the law, though, I remain troubled by the idea of a President who acts unilaterally in this manner, essentially thumbing his nose at Congress, under circumstances that seemed to make it clear that he didn't really care if Congress acted on immigration reform or not. Republicans in the House deserve much criticism for not taking action on immigration reform during the seventeen months that have passed since the Senate bill passed. By the same measure, though, Democrats deserve criticism for doing nothing at all on immigration during the two years that they controlled both the House and the Senate, and the President deserves criticism for failing to recognize the new political reality that was created by the results of the midterm election on November 4th. Had the President laid down a challenge to this new Congress to work on immigration reform when it took office in January, and then they failed to act, he'd be on much firmer ground than he is today. Instead, he set a politically unrealistic goal of action by the end of the year and, in the end, didn't even give Congress until then to act by taking action before Thanksgiving that seems guaranteed to lead only to Constitutional confrontation between the Executive and Legislative Branches, gridlock, and make it even less likely that the new Congress will act on immigration reform than it might have been beforehand.
At least initially, mostly what we'll hear from Congress in the immediate aftermath of this announcement, of course, will be rhetoric meant for the consumption of the Republican base. To some degree, this will be because both sides will be waiting to see how the President's plan plays with a public that, before it was announced was at least mildly opposed to the idea of unilateral executive action while being generally supportive of immigration reform. When the 114th Congress takes office in January, though, and possibly beforehand, we'll see attempts to stop the President's action or make him pay for it in some other regard. As I noted yesterday, there seems to be little that Congress can actually to do stop what the President has done here. At the very least, though, it's clear that this is going to ensure that the relationship between the President and the new Congress will start of being even more confrontational and contentious than it was going to be anyway. There's no guarantee that things would have been different if Obama had waited, of course, but it would have been worth a try in my opinion, but now we'll never know what that world might have been like.