GOP Options In Response To Obama's Executive Action Are Limited, Perhaps Non-Existent
In the end, there appears to be very little, if anything, the GOP can do to stop or roll back the executive actions the President will announce Thursday evening.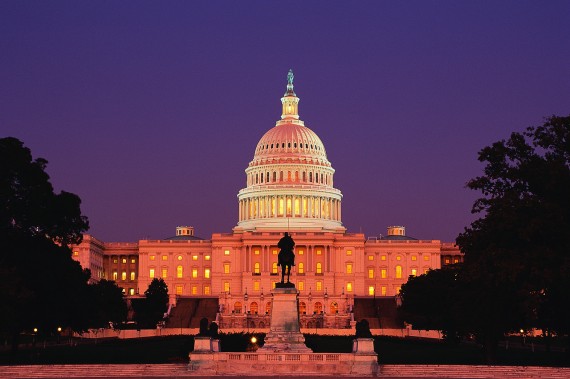 Later today, President Obama will announce the actions he intends to take via "executive action," which is likely to mean to refer to a variety of actions from a formal Executive Order to more mundane methods of executive branch enforcement power such as regulations issued by the Department of Homeland Security and other agencies, regarding the nation's immigration's laws. Based on reporting this week it appears likely that the actions involved will include providing temporary relief from deportation for children who were brought to teh United States illegally who were not covered by 2012's Deferred Action for Childhood Arrivals program, some of the parents of those covered by DACA, and the parents of children who were born in the United States and are thereby American citizens by birth. As already noted, the possibility of such an announcement has already aroused much ire on Capitol Hill among Republicans, and polling seems to indicate that the American public is, at the very least, highly skeptical of the propriety of such unilateral action by the President. As a result, Republicans have reacted by threatening everything from government shutdowns, to lawsuits by either the House of Representatives or individual states, to Ted Cruz's pronouncement that Republicans should refuse to confirm any Obama nominee as long as the President's policy is in effect.
In reality, though, Republicans appear to have a very limited, and perhaps even largely ineffectual set of options in fighting back against the President here:
Republicans' options to rebut President Obama's expected executive order on immigration are narrowing, as leaders remain under pressure by some in their caucus to limit his ability to give work permits to undocumented immigrants.

Speaker John Boehner and his team said they are considering all avenues to limit the scope of Obama's order, which he is expected to announce Thursday night at the White House. Those include an amendment to a funding bill blocking the government from spending money or resources to enact the order, a bill next year that would retroactively block the funding or targeting the order in a lawsuit being initiated against Obama.

Yet party leaders said Thursday that none of the options are ideal.

Appropriations Committee Chairman Harold Rogers, who has been trying to construct an omnibus appropriations bill that would continue funding the government into next year, said that a spending amendment could not target the funds needed to carry out the executive order.

"To alter or change the fee matter, it would take a change of law," he said.

U.S. Citizenship and Immigration Services, the agency within the Homeland Security Department most likely responsible for enacting Obama's order, is largely funded through application and petition fees. Congress doesn't appropriate any funds to the agency, according to Jennifer Hing, Rogers's spokeswoman.

"It would be impossible to defund anything on an appropriations bill if we, in the first place, provide no funds for that agency," Hing said.

What this means is that defunding Obama's executive action isn't as easy as adding such language to a short-term or long-term spending package. The underlying statute could be changed, but that would necessitate an authorization bill, and this has been communicated to leadership, Hing said.

(…)

If Republicans decline to use the appropriations process to block Obama, they could wait until next year and attach a provision to a non-appropriations bill that would limit funds to enact the order.

But that option, referred to as rescission, is not ideal either, Ross said. Even next year when Republicans control the Senate, they will not have a filibuster proof 60-vote majority to pass a bill targeting the executive action. Furthermore, the president would almost certainly not sign any bill rolling back his order.
As for a lawsuit, that idea suffers from many of the problems I've discussed before:
it would be "very difficult" for the House—or another challenger—to successfully press a case against Obama's immigration actions on deportation enforcement, said John Malcolm, director of The Heritage Foundation's Center for Legal and Judicial Studies.

The main problem is the legal question of standing, or who has been injured by Obama' s policy change and can bring a lawsuit. That issue has already stopped a legal challenge brought by border agents to Obama's similar 2012 immigration action, and it looms over any other suit lodged by a member of Congress.

"Coming up with a plaintiff who would be able to show an injury is not an easy thing to do in this context," Malcolm said. "I think there will be people who want to challenge it. I don't know who would challenge it, and what their chances of success will be."

(…)

Even if the House could establish its right to bring Obama to court over his policies, the courts have long given great deference to the executive branch on immigration. That includes the president's decisions about how to allocate resources among competing priorities.

Obama casts his authority to end deportations for millions of illegal immigrants as "prosecutorial discretion " on enforcement of the immigration laws, and not a change in the law itself. That falls in line with those previous court rulings. Republicans say he has stretched that discretion so far as to step into congressional powers to make laws.

Justice Department lawyers have seized upon language in a Supreme Court ruling from just two years ago that some legal experts say endorses Obama's actions when it comes to what the high court called immigration "policy choices that bear on this nation's international relations."

In Texas, a federal district court judge tossed out a lawsuit challenging Obama's immigration action in 2012, finding that federal immigration officers and the state of Mississippi do not have standing to challenge the policy. The case is now pending at the U.S. Court of Appeals for the 5th Circuit, and could eventually be appealed to the Supreme Court.

The officers want to stop a June 2012 administration action that halted deportations of so-called "Dreamers," illegal immigrants who were brought to the United States as young children.

Another challenger with standing seems unlikely. "The problem is the president is not taking anything away from these people, he is giving stuff to them," Malcolm said. "You need to find somebody who has the ability to come forward and say, 'I have suffered an injury because of this.'"
Whether its effectual or not, it seems clear that Congressional Republicans are likely going to be forced by their own base to do something to respond to the President's action here. There will be strongly worded speeches made, of course, and the conservative blogosphere, news media, and talk radio will likely be pushing the idea that the party has to stand up to the President's "illegal" actions for the sake of the Constitution. When all is said and done, though, Republicans are going to find themselves at the same crossroads they are at right now. Fighting the President with the power of the purse may not even be possible since the programs that would be most effected by the action he will take are, as a matter of law, self-funding and stopping the offices responsible for processing the applications in question from accepting any finds related to the relief the President grants would require legislation that probably would not achieve the 60 vote threshold needed in the Senate and, even if it did, would be vetoed by the President under circumstances where Congress would be unable to override the veto. Similarly, a lawsuit either by the House of Representatives or by any of the individual states would run into the same Article III standing and Political Question issues that I've discussed before in connection with the proposed House lawsuit over the extension of certain deadlines in the Affordable Care Act. At the very least, a lawsuit is something that would drag on for years and likely not be resolved by the time President Obama leaves office.
Another factor that Republicans will need to consider, of course, is how the public ends up reacting to the President's policy initiative. Two recent polls, from USA Today and NBC News/The Wall Street Journal do show a plurality opposed to the idea of unilateral executive action, but they also show public support for broader immigration reform and for the idea of the President and Congress working together to fix an obviously broken immigration system. Furthermore, a plurality is not a majority and the fact that the number of people who oppose the idea of executive action in principle is below 50% right now is likely encouraging to the political advisers inside the White House. Additionally, it's possible that if the public finds itself supportive of the substance of the President's policies, that they will let the fact that it was done unilaterally slide by as a non-factor, in which case the burden will shift to Republicans who arguably could end up trying to undo a policy that the American public largely supports, while at the same time failing to to act on immigration reform itself as the American public clearly favors. As I've mentioned, this may be the political calculus the White House is operating under, and I can't say that they're wrong in making the guess that they'll win this war for public opinion in the end, even though it's pretty clear that they are most assuredly taking some big political risks in proceeding down the executive action path.
As for Republicans, they are going to be faced at some point with the choice of continuing with options that are unlikely to do anything to stop the President from going forward with the policy he announces tonight, or even taking the more radical and insane path down the road to impeachment, and addressing the immigration issue head on by seriously considering a comprehensive immigration reform bill. Given their history on this issue, it seems unlikely they are going to take up that option without some sign that they will actually suffer politically for not acting. Thanks to the election results this month, it will be hard to persuade them that they will suffer politically if they pursue a confrontational rather than a cooperative course on this issue, or any other issue for that matter. So, rather than a Republican immigration bill I would expect we'll see ineffectual efforts to dismantle the action the President announces tonight, along with rhetoric about the Imperial Presidency that would be refreshing but for the fact that such arguments were exceedingly lacking when President Obama's predecessor was in office and increasing the power of the Presidency through executive action, signing statements, and unilateral action in the name of the "War On Terror." In other words, more of the same as we head toward 2016, which may or may not be the  point at which Republicans finally learn that ignoring the Latino vote in this manner is something they simply cannot afford to do anymore.