Vast Majority Of Americans Support Allowing Dreamers To Stay In The U.S.
Another poll shows the vast majority of Americans want Congress to act to help the people covered by DACA.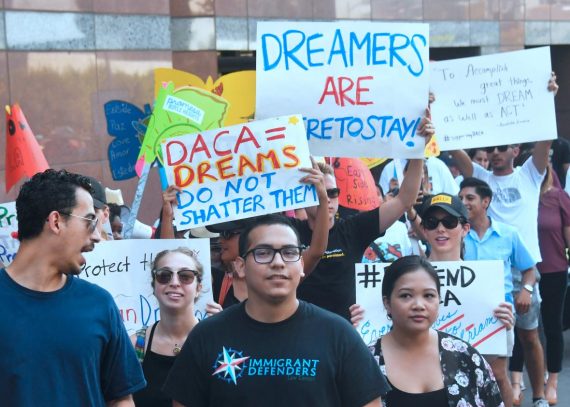 A new poll shows that the vast majority of Americans support allowing so-called Dreamers, undocumented immigrants who were brought to the United States by their parents when they were children, to stay in the country legally:
Nearly nine in 10 Americans support a program that allows undocumented childhood immigrants to remain in the United States, a Washington Post/ABC News poll found.

Eighty-six percent of respondents said they supported some kind of program for "undocumented immigrants to stay in the United States if they arrived here as a child, completed high school or military service and have not been convicted of a serious crime."

Consensus on how to handle the legal status of these immigrants spanned the ideological spectrum. Ninety-six percent of self-identified liberals, 87 percent of moderates, and 77 percent of conservatives supported a program for them to remain in the country.

The poll results come just a few weeks after President Donald Trump announced he would be phasing out the Deferred Action for Childhood Arrivals program, or DACA, initiated under President Barack Obama in 2012. Trump has set a six-month deadline for Congress to come up with a solution for those who qualified for DACA and has expressed a willingness to negotiate with congressional Democrats on a deal that includes increased border security.

(…)

Sixty-five percent of the poll's respondents said they would support a measure that paired increased funding for border security with a proposal to let the immigrants, also known as Dreamers, to stay in the United States.

And most, 55 percent, said they were opposed to reducing the number of legal immigrants allowed into the country by half. Respondents were split on that issue based on party and ideology, with Republicans and conservatives favoring a reduction by half and Democrats, independents, liberals and moderates opposing it.
This poll is largely consistent with other polling conducted earlier this month  as well as polling that was released shortly after the Administration announced it's new policy which found a large majority of Americans supported the idea of letting the Dreamers stay and, eventually, allowing them to become American citizens, and is also consistent with polling on this issue prior to the announcement of the President's decision. As with the previous polling, support for protecting the Dreamers is largely consistent across all demographic groups, with even self-identified Republicans, conservatives, and Trump supporters supporting the proposition that the Dreamers should be allowed to stay in the country. The only differences appear to come when people are asked what should happen to these people after they are legalized, with smaller majorities among the last three groups supporting the proposition that the Dreamers should eventually be allowed to become citizens. In any case, though, all of this polling demonstrates that the American people are not only supportive of the idea of helping the Dreamers but strongly support the idea.
With numbers like this, one would think that it should be fairly easy for Congress to act quickly on a measure that would essentially codify the DACA program into Federal law, and possibly expand it to include people not originally covered by President Obama's initial Executive Order. For the most part, Congressional leadership in both parties seems intent on acting on this matter prior to the end of the six-month period during which the program remains in effect before formally ending in early March 2018. So far, though, it doesn't appear that there's been much agreement on how exactly to pursue this matter. In part, that appears to be because Congress has spent the better part of this month distracted by other issues such as the budget and debt ceiling and the Senate's once again aborted attempt to 'repeal and replace' the Affordable Care Act. Now, attention is moving on to tax reform, with the President introducing his own plan at a speech in Indiana today that is likely to set off an intense debate both inside and outside Congress. This will be a major effort that will take up much of Congress's attention over the coming months, but it shouldn't distract from the fact that the time for Congress to act on this issue is on a countdown and that the sooner the Dreamers are relieved of any uncertainty they may have about their future in this country the better off both they and the rest of the country will be.
So get off your butts and get to work, Congress. These polls demonstrate that there's no political downside to this issue.