Trump's Decision On DACA Expected Tuesday
President Trump is threatening to end a program that has benefited at least 750,000 innocent people.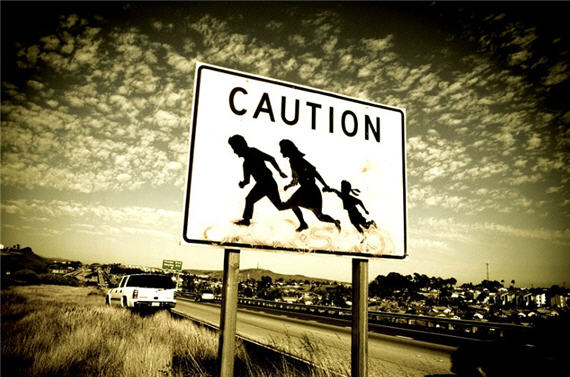 After months of silence on the issue, the Trump Administration appears ready to announce its decision on the Deferred Action For Childhood Arrivals (DACA) program that was implemented by the Obama Administration roughly three years ago, a program that allowed thousands of people brought to the United States as children to remain in the country notwithstanding the fact that they were undocumented:
WASHINGTON — President Trump on Friday said he would announce a decision by Tuesday on whether he will end the Obama-era program that shields young undocumented immigrants from deportation, declaring, "We love the Dreamers" even as his White House grappled with how to wind down their legal status.

Mr. Trump has agonized publicly over the fate of immigrants who were brought to the United States without authorization as children, and who are now protected from deportation and allowed to work under the five-year-old program created by his predecessor.

In recent days, White House officials have recommended that the president end the Deferred Action for Childhood Arrivals program, known as DACA, which currently shields about 800,000 undocumented immigrants who would be subject to potential deportation to countries that many of them have not seen since birth.

Several administration officials said that Mr. Trump is likely to phase out the program, but his advisers have engaged in a vigorous behind-the-scenes debate over precisely how to do so. The officials, who spoke on condition of anonymity because no decision was final, also cautioned that the president was conflicted about the issue and could suddenly change his mind.

As a candidate, Mr. Trump pledged to immediately terminate the program. But he has stalled for months, expressing anguish about a sympathetic group of undocumented immigrants he has called "incredible kids." His hard-line advisers, however, have counseled that the program was illegal and must not be maintained.

Asked on Friday whether DACA recipients, often called Dreamers, should be worried, Mr. Trump did not respond directly, but he did express his sympathy.

"We love the Dreamers — we love everybody," the president said in the Oval Office, surrounded by faith leaders after signing a proclamation of a day of prayer for those affected by Hurricane Harvey. "We think the Dreamers are terrific."

Later, he told reporters he had "great feeling for DACA," while declining to answer repeated questions about whether he believes the program is legal.

But in recent days, Jeff Sessions, the attorney general, and Donald F. McGahn II, the White House counsel, have privately made it clear to Mr. Trump that they could not defend the program in court, and a group of state attorneys general led by Ken Paxton in Texas have threatened to mount a legal challenge if the president did not act to end it by Tuesday.

Complicating the calculus for Mr. Trump has been the storm pummeling Texas, the state with the second-highest concentration of DACA recipients, after California. John F. Kelly, Mr. Trump's chief of staff, has argued privately that the president can take his time on the decision, given that Mr. Paxton is unlikely to follow through on his threat in the short term, with parts of his state under water, two officials said.

And it is not lost on the president that ending the program now — with many Dreamers directly impacted by Harvey — would appear particularly hardhearted.

Asked Friday whether the Dreamers impacted by the storm in Texas and Louisiana were weighing on the president as he contemplated the fate of the program, Sarah Huckabee Sanders, the White House press secretary, said: "The decision itself is weighing on him, certainly."

That much was evident on Friday, as Mr. Trump sent mixed messages about when the final call would come.

In a midday appearance in the Oval Office, Mr. Trump first told reporters the decision was at hand, scheduled for later Friday or over the weekend. About an hour later, during another set of off-the-cuff Oval Office remarks, he said the final word would come over the weekend, or Monday at the latest. Only two hours after that, Ms. Sanders pushed the timeline still further, saying the announcement would come on Tuesday.
As the decision day nears, Trump finds himself being pulled in two different directions. On one side there are Texas and a group of other Republican-controlled states, who are threatening to sue the Administration if Trump doesn't announce a repeal of the Obama Administration program by Tuesday as well as legal adviser such as Attorney General Jeff Sessions and White House Counsel Don McGahn, who are telling him that they cannot defend the program in Court. On the other, there is intense political pressure to keep the program in place or to at least make some provision for those people who have been covered by the program since its inception and acted in reliance upon it. This has included comments from Republicans on Capitol Hill urging the President to keep the program in place, including Speaker of the House Paul Ryan and Senate President Pro Tempore Orrin Hatch, as well a host of other Republicans such as Florida Governor Rick Scott and North Carolina Senator Thom Tillis. Outside of politics, support for keeping the program is coming from the business community and religious groups. Additionally, Speaker Ryan has voiced support for Congressional legislation that would essentially codify the DACA program by extending the protections given to this group of people, which the Pew Research Center has estimated to be more than 750,000 undocumented immigrants who were brought to the country before they turned 16 years old. One possibility appears to be that this legislation would be attached to upcoming votes on the budget and the debt ceiling in an effort to ensure that it passes easily enough, but with so much on its plate in September and a limited amount of time to get it done it's unclear what if anything Congress can realistically do on this subject.
While he was running for President, of course, Trump said repeatedly that he would "immediately terminate" DACA, which like other Republicans former President Obama had enacted illegally. After the election, though, it appeared that Trump was considering changing his mind. In an interview in January with ABC's David Muir, for example, Trump said that the people who received deferred status under the program "shouldn't be very worried," and adding:  "I do have a big heart. We're going to take care of everybody… But I will tell you, we're looking at this, the whole immigration situation, we're looking at it with great heart." Additionally, Trump made other seeming promises to these so-called "Dreamers," that he would not necessarily pull the rug out from underneath them. Taking all that into account, it
Taking all that into account, it's unclear what will be announced on Tuesday and the White Hosue seems to be managing to keep the final decision, assuming that it's been made, a secret until the time to release it comes. As things stand, though, Trump basically has three options. First, he could choose to keep the program in place and risk a lawsuit from Texas and the other states speaking out against the program. This would essentially throw the matter to the legal system, but it would put the obligation on the Trump Administration to defend the program in Court notwithstanding the position that Sessions and others advising Trump may be taking on the issue. Second, Trump could seek to end the program altogether and thus subject three-quarters of a million people at risk of being deported notwithstanding the fact that they did not make a conscious choice to break any laws on their own. Finally, Trump could take the lead from Paul Ryan and kick the matter over to Congress for action while temporarily keeping the program in place until they do act.
As a matter of policy, of course, the obvious answer is that DACA should be kept in place. In addition to the fact that the people who have benefitted from the program did not consciously break any laws since they were brought here by their parents, there are also several other factors that lean heavily toward keeping it in place. For example, these are people who have essentially grown up in the United States and don't really have any connection to their country of origin. They went to American schools, speak English, and have largely adopted American culture as their own. Sending them back to a country they have no real connection to would be cruel and inhumane, and would deprive the United States of the contributions that they can make to the economy and the country. Additionally, repealing the program would impose real costs on the economy that can't be ignored. One study estimates that repealing DACA would result in billions of dollars of compliance costs being imposed on American businesses, money that could be better spent in an expansion that would actually benefit the economy. Furthermore, targeting this group for deportation would mean losing out their actual and potential contributions to the economy and culture that they grew up in.
At this point, it's hard to tell what Trump is going to do here, but given who we're talking about the assumption that he'll do something dumb and inhumane is, unfortunately, probably the most accurate.
Update: Politico is reporting Sunday night that Trump will announce that he is ending DACA, but delaying implementation of the delay for six months.
President Donald Trump has decided to end the Obama-era program that grants work permits to undocumented immigrants who arrived in the country as children, according to two sources familiar with his thinking. Senior White House aides huddled Sunday afternoon to discuss the rollout of a decision likely to ignite a political firestorm — and fulfill one of the president's core campaign promises.

Trump has wrestled for months with whether to do away with the Deferred Action for Childhood Arrivals, known as DACA. He has faced strong warnings from members of his own party not to scrap the program and struggled with his own misgivings about targeting minors for deportation.

Conversations with Attorney General Jeff Sessions, who argued that Congress — rather than the executive branch — is responsible for writing immigration law, helped persuade the president to terminate the program, the two sources said, though White House aides caution that — as with everything in the Trump White House — nothing is set in stone until an official announcement has been made.

In a nod to reservations held by many lawmakers, the White House plans to delay the enforcement of the president's decision for six months, giving Congress a window to act, according to one White House official. But a senior White House aide said that chief of staff John Kelly, who has been running the West Wing policy process on the issue, "thinks Congress should've gotten its act together a lot longer ago."

Trump is expected to announce his decision on Tuesday, and the White House informed House Speaker Paul Ryan of the president's decision on Sunday morning, according to a source close to the administration. Ryan had said during a radio interview on Friday that he didn't think the president should terminate DACA, and that Congress should act on the issue.
In theory, this means Congress could act to codify the program, but the odds of this Congress doing anything of the sort are pretty much somewhere between slim and none.