Majority Of Americans Support Extending DACA, Allowing Dreamers To Become Citizens
Two polls find that most Americans support letting DACA beneficiaries to stay in the United States. Will that help move Congress to act?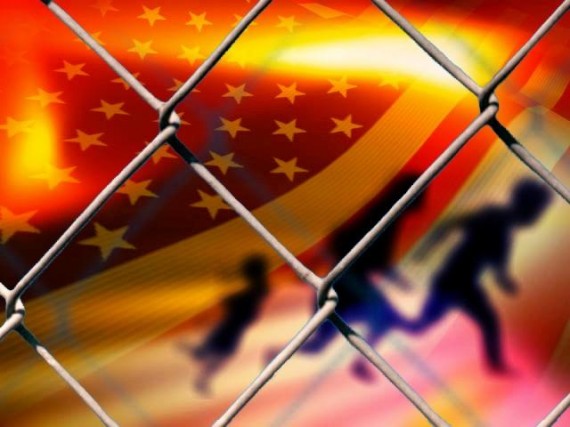 A poll conducted prior to yesterday's announcement that the Deferred Action for Childhood Arrivals (DACA) program would be ending in six months unless Congress takes action to save it finds that a majority of Americans oppose ending the program:
Voters overwhelmingly support allowing undocumented immigrants brought to the U.S. as children to stay in the country, according to a new POLITICO/Morning Consult poll, placing President Donald Trump's decision to wind down the controversial Deferred Action for Childhood Arrivals program at odds with public opinion.

A majority of voters, 58 percent, think these undocumented immigrants, also known as Dreamers, should be allowed to stay and become citizens if they meet certain requirements — a sentiment that goes well beyond the existing DACA program. Another 18 percent think they should be allowed to stay and become legal residents, but not citizens. Only 15 percent think they should be removed or deported from the country.

Support for allowing these immigrants to remain in the U.S. spans across party lines: 84 percent of Democrats, 74 percent of independents and 69 percent of Republicans think they should stay.

"Given the deeply polarizing nature of immigration issues, the broad support for allowing Dreamers to stay in the United States is notable," said Morning Consult co-founder and Chief Research Officer Kyle Dropp. "Just 24 percent of Republicans, 12 percent of independents and 8 percent of Democrats say that Dreamers should be deported."

The same holds true for Trump's electoral base. Two-thirds of self-identified Trump voters think the Dreamers should stay; only 26 percent think they should be deported.

Among voters who say they strongly approve of Trump's job performance as president, 60 percent think these immigrants should be allowed to stay, compared with only 33 percent who think they should be deported.
As noted, this poll was conducted prior to yesterday's announcement so it will be interesting to see what impact that will have on future polling on this issue. If it's anything like what we've seen in the past, though, it's likely that they will show overwhelming opposition to what the Trump Administration has done, and supports the idea of Congress stepping in to save the program before it expires in six months. In that regard, the most notable parts of the poll are those that show Republicans generally and Trump supporters in particular support the idea that the Dreamers should be allowed to stay in the country, while less than 30% of both groups support the idea of deporting these individuals. Looking deeper into the poll results, we find that 69% of self-identified Tea Party supporters are in favor of the idea of allowing Dreamers to stay in the country, with a plurality supporting the idea that they should eventually be allowed to become citizens and the remainder saying that they should at least be permitted to become permanent legal residents (i.e., "Green Card" holders). The same is true of self-identified conservatives and residents of the south, widely perceived as the most conservative part of the state. In fact, according to this poll, there isn't a single demographic group that doesn't essentially support extending DACA. The only division appears to be on the issue of whether or not they should eventually be permitted to become citizens, and even there the results for every group finds that a plurality that is close to a majority supports the citizenship option.
Another poll released by YouGov finds essentially the same results, although it has somewhat different results when it comes to self-identified Trump supporters:
President Trump's decision on Tuesday to rescind the Deferred Action for Childhood Arrivals kept a promise he made during the campaign – a promise that matters to those who voted for him last November. The DACA program – which protects undocumented individuals brought to the United States as children and grants temporary legal status to those "dreamers" – is supported by most Americans, according to the latest Economist/YouGov poll. But Trump voters overwhelmingly oppose it, while Republicans are closely divided.

The poll was completed this weekend, before the announcement that the program would end. But implementation will be delayed, offering Congress a chance to pass legislation to permit the 800,000 young adults who would be affected to remain in the country. DACA was created through a 2012 executive order by former President Obama, and never was authorized by Congress.

As of last weekend, the public overall would have kept the program – less than a third favored ending it. A majority of Trump voters and just about half of Republicans said they would end it.
Here are the numbers: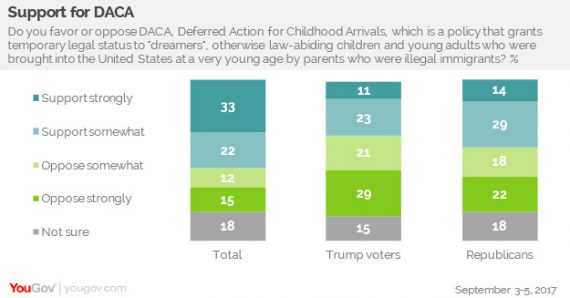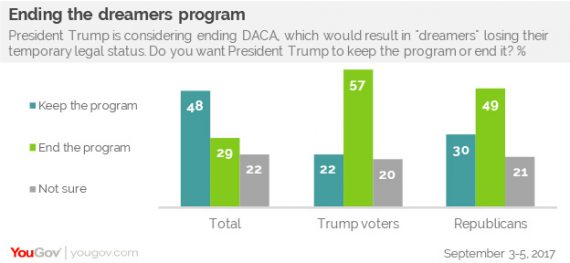 With numbers like this, and more likely to come, one has to wonder what impact this will have on efforts in Congress to save the DACA program before it expires in six months. As I noted in my post over the weekend, top Republicans such as Paul Ryan and Orrin Hatch, as well as a host of other Republicans such as Florida Governor Rick Scott and North Carolina Senator Thom Tillis were urging the President not to end the program and voicing support for the idea of Congress acting to extend it if the Administration took such action. Outside of Congress, both the business community and religious groups voiced support for extending the program and several of the members of those communities spoke out against the Administration's decision yesterday. Additionally, within hours after the Attorney General's announcement, a group of Senators led by Republican Lindsey Graham and Dick Durbin, the No. 2 Democrat in the Senate, proposed a bill that is essentially a resurrection of the DREAM Act that would make DACA permanent and there's been some suggestion about a deal that would allow some initial funding for Trump's border wall in exchange for passage of legislation that would make DACA permanent. Whether the Graham-Durbin legislation or something like it could pass both Houses of Congress, though, is a different question. Even with all of the outrage that has come in the wake of the announcement yesterday, it's likely that passage of any such bill would require Republican leaders in both the House and Senate to live with the idea that they'd have to rely on Democrats to push the bill over the top and buck the headwinds coming from their own caucuses and from outside groups that would oppose the bill despite overwhelming public support. With everything else that's on the Congressional calendar this month, for example, it seems doubtful that they'd be able to get this accomplished this month. Perhaps, though, polling numbers like this will convince them that they have enough political room to maneuver and do the right thing for once.