Poll: 51% Of Republicans, 64% Of Independents Support A Path To Citizenship For Illegal Immigrants
According to the exit polls from Tuesday's election, there is widespread support for reform of the nation's Immigration System, including a path to citizenship for illegals, even among people who voted for Mitt Romney:
By 65 to 28 percent, voters said most illegal immigrants working in the United States should be offered a chance to apply for legal status, rather than being deported.

While the exit poll question doesn't tap the subtleties of the arguments for and against reform, the top line numbers — along with the 71 percent Obama got from Hispanic voters — appear to have reshuffled GOP positioning on the matter. Wide majorities of Democrats and independents want legal status, as do 51 percent of Republican voters, according to the exit poll.
This chart tells the story: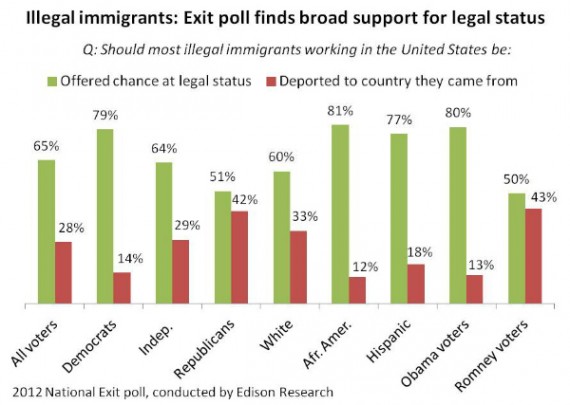 I'd be interested in seeing more rigorous polling on this issue because Exit Polls aren't always the best guide on questions like this, but if this is true it would suggest that there would be far less political downside for Republicans in endorsing Immigration Reform than conventional wisdom, and the warnings of pundits on the hard right, would suggest. Perhaps this, combined with the absolute demographic disaster that the election represented, will be enough to goad Republicans into acting on this issue.