Republican Reaction To Obama's Executive Action Makes Immigration Reform Much Less Likely
Judging by recent polling, the President's executive action has hardened GOP opposition to immigration reform, making progress on the issue going forward much less likely.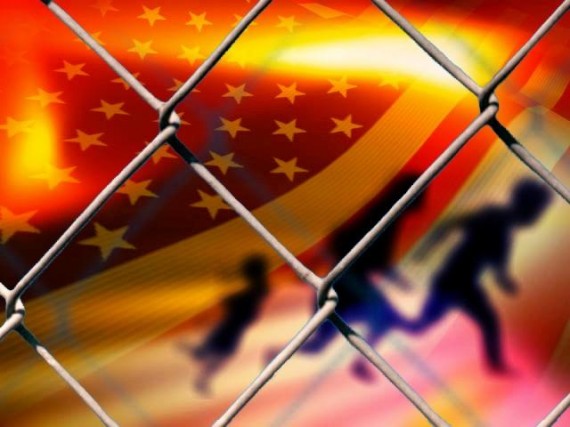 In the run up to his announcement of the deportation relief that constitutes his "executive action" on immigration, President Obama claimed that he was acting because he wanted to spur Congress, principally the Republicans in the House of Representatives to act on immigration reform. If only the House would put a bill forward he claimed, or act on the bill that th Senate had passed in July 2013, this matter could be dealt with in an expeditious fashion and the many issues impacting our broken immigration system brought at least one step closer to being fixed. As I noted at the time, the President's logic was never very strong. It was apparent from the start that there was strong opposition in the House Republican Caucus to the Senate reform package, for example, and even lobbying efforts by the Chamber of Commerce and Republican-leaning evangelicals to make it happen. In no small part, much of the reluctance was due to the fact that many Republicans were concerned about primary challenges in response to such a vote, but as Speaker Boehner noted at one point there was also the simple fact that many House Republicans did not trust the President when it came to implementing whatever they would end up passing. Finally, once the GOP won control of the Senate in teh 114th Congress, the idea that the Senate bill was anything other than a dead letter was, to put it nicely, politically naive. Notwithstanding all of that, the President made this threat, and less than a week later unveiled his policy. Not surprisingly, the polling in the wake of the President's decision makes it clear that the President's action has likely made comprehensive immigration reform less likely:
Obama's decision to defer deportations for more than 5 million illegal immigrants has divided the American people in half — and even improved the president's numbers on the immigration issue — according to new polling from Quinnipiac University and CNN. What it also appears to have done, though, is exacerbated the real problem with getting comprehensive reform done: a very motivated opposition.

This has long been the main obstacle to comprehensive reform — i.e. some form of legalization of illegal immigrants, plus border security — and since the executive action, the opposition is on the rise again.

The Q poll shows support for allowing illegal immigrants to apply for citizenship falling to its lowest point since the survey started asking the question two years ago. Fewer than half — 48 percent — now support a path to citizenship, down from 57 percent one year ago.

The poll also shows that 35 percent say these immigrants should be required to leave (the word "deportation" is not mentioned). That's a new high, and it's up nine points from the last poll.

And here's the real kicker: The shift is almost completely among Republicans. Although they supported citizenship over deportation 43 to 38 percent in November 2013, today they support deportation/involuntary departure over citizenship, 54 to 27 percent.

(…)

The CNN/Opinion Research poll tells a similar tale. Although 42 percent favored the policies that Obama announced and 46 percent opposed them, it was clear where the motivation remains: with the opposition.

CNN also showed people opposed Obama acting to implement those policies on his own, 56 to 41 percent. And when it asked people how they felt about Obama's policy changes on an emotional level, 43 percent were either "angry" or "displeased," while just 31 percent said they were "enthusiastic" or "pleased" — a 12-point gap. What's more, the "angry" (16 percent) outnumbered the "enthusiastic" (8 percent) by two to one.
This chart, created by The Washington Post's The Fix blog using the Quinnipiac numbers, lays bare just how much, at least initially, the President's action has served to harden Republican opposition to comprehensive immigration reform: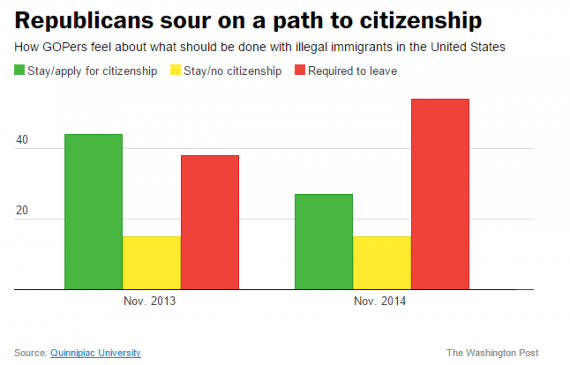 The best indication of the extent to which the President's announcement was going to impact the right came just days after his speech, when The New York Times noted the extent to which Tea Party organizations had moved quickly to adopt opposition to the issue as a central part of an agenda that now seems far afield of the "Taxed Enough Already?" slogan that had given it its impetus some four year ago:
WASHINGTON — In all its fury and unanimity, the response from the right to President Obama's decision to change immigration policy without the consent of Congress was the manifestation of a major transformation within the Tea Party.

What started five years ago as a groundswell of conservatives committed to curtailing the reach of the federal government, cutting the deficit and countering the Wall Street wing of the Republican Party has become a movement largely against immigration overhaul. The politicians, intellectual leaders and activists who consider themselves part of the Tea Party have redirected their energy from advocating fiscal austerity and small government to stopping any changes that would legitimize people who are here illegally, through granting them either citizenship or legal status.

"Amnesty for Millions, Tyranny for All," declared the Tea Party Tribune website, summing up the indignation among conservatives over Mr. Obama's executive action to shield up to five million people from deportation.

A group of sheriffs is organizing a demonstration next month at the Capitol. Activists are sending fat envelopes stuffed with articles on illegal immigration to members of Congress.

And in their most audacious plans, Tea Party groups are preparing to recruit challengers to run against high-profile Republicans they accuse of betraying them — as they did when they toppled Eric Cantor, the former House majority leader.

At the top of their list of potential targets are politicians like Senator John McCain of Arizona, a proponent of an immigration overhaul. Their fantasy candidate: Sarah Palin, Mr. McCain's former running mate, who now spends much of the year at her home in Scottsdale, Ariz. Two prominent conservative activists, who spoke anonymously to reveal private discussions, said leading Tea Party figures planned to reach out to Ms. Palin to see if she was interested in running against Mr. McCain.

The way they are organizing around the issue of immigration bears striking parallels to how the federal bailouts of financial institutions and the Affordable Care Act galvanized many of the same people in 2009 and 2010. The issues have shifted, but the common enemy has not: Mr. Obama.

"This is going to become the Obamacare for the 2016 cycle," said David N. Bossie, president of Citizens United, a conservative advocacy group. "You're going to see a constant drumbeat, a constant march.

"It will be no one thing," he added. "When you call down the thunder, sometimes it's not pretty."

Conservatives say emotions over immigration run so high that the issue could be even more politically potent than the Affordable Care Act. Like many of the economic concerns that animated Tea Party supporters, immigration issues play to people's anxieties about their financial well-being and the future. Many conservatives who have long mistrusted Mr. Obama because they think his policies will fundamentally alter America believe that his new immigration order will do just that, with millions of potential new foreign-born citizens even though the president's action does not call for a path to citizenship.
The Tea Party movement isn't exactly a newcomer to the immigration issue, of course. When the Senate was debating the matter back in the summer of 2013, it had already become apparent that the movement had transformed from something that was loosely united around fiscal issues such as opposition to high deficits and government debt to one primarily concerned with blocking virtually any form of immigration reform. The opposition to reform ran so deep, in fact, that Marco Rubio, who had previously been one of the movement's biggest stars saw his star fade significantly because of his support for the Senate immigration plan and the efforts he made to work across the aisle with Democrats to come up with a bipartisan bill. Additionally, although the Senate was able to pass a bipartisan bill notwithstanding Tea Party opposition trying to lobby the GOP Senate Caucus, it quickly became apparent that opposition to reform led by the Tea Party would make the odds of getting not only the Senate bill, but any kind of reform bill at all, through the House essentially impossible. The fact that much of the opposition one heard from Tea Party on this issue was so antithetical to the free market, small government views that the movement purports to advocate is something that didn't seem to bother any of the opponents of reform from that wing of the party, seems to make it clear that, notwithstanding claims to the contrary what is really at play here is anti-immigrant bias, whether those immigrants are in the United States legally or illegally.
Whatever the motivations of the Tea Party and other Republican opponents of immigration reform, though, the President's actions seem to have hardened their opposition to reform significantly, and this makes the prospects for reform in the coming years even less likely than it might have been notwithstanding the fact that Republican leaders are purportedly putting together a reform package for consideration in the 114th Congress.  In all likelihood, such a bill will go nowhere unless it ends up being a largely meaningless piece of legislation that addresses so-called "border security" and does little to address issues such as the problems with the legal immigration system, the need for a real guest worker program, and the real problem of the 11 million or more people who are here illegally and not realistically going anywhere. Even so, the polling now indicates that even a bill that toothlesss would be unlikely to go anywhere with the new Republican Congress thanks to the fact that, for better or worse, the President's action has caused the GOP as a whole to become far more strident in its opposition to immigration reform. If the President intended for his initial threat to the GOP and then his subsequent decision to go ahead with executive action to be something that would spur Republicans to act, it would appear that his plan will completely backfire.
None of this is really all that surprising. When I wrote about the President's threats in the wake of the 2014 election that going forward with executive action, I noted that it was rather obvious that going forward with executive action on immigration at this time would do nothing to further the cause of immigration reform, and indeed would likely poison the well just as Speaker Boehner had warned that it would:
[P]olitics requires one to be realistic about what can be achieved and its been obvious for some time that immigration reform died in the 113th Congress some time ago and that it certainly isn't going to get passed into law during the coming lame duck session. Anyone who expects otherwise simply isn't paying attention to political reality. Because of that, President Obama's deadline for action by the end of the year is completely unrealistic, and in the end the kind of politically tone deaf move that would end up causing more damage, both to the cause of immigration reform itself and the relationship between the Executive and Legislative Branches going forward between now and the end of the President's term, than it is worth. The President has already waited four months since making his threat of executive action, and nearly eighteen months since the Senate passed its version of immigration reform. He can afford to wait a little bit longer, allow the new Congress to gavel into session, and give them some reasonable amount of time to come up with at least a proposal for reform if not a completed bill. Acting sooner than that is just likely to guarantee that no such bill will be forthcoming and that that the issue of immigration reform will continue to languish without anyone acting on it.
As I've noted before, perhaps this is exactly what the President wants. After all, if Congress were able to come together and pass comprehensive immigration reform that dealt with all or most of the issues I've noted above, then Democrats would lose a significant issue distinguishing them from Republicans among Latino voters, and arguably a strong argument for motivating those voters to come out to the polls. Keep that issue alive, though, and it will be there for Democrats to exploit all over again when they can argue that the GOP hasn't done anything to advance immigration reform. The fact that one of the main reasons for that is because of what the President did in November? Yea, that won't be so important, especially since that move is immensely popular among Latino voters for very understandable reasons. Quite honestly, I'm reluctant to ascribe this kind of Machiavellian mastery to President Obama largely because he has not demonstrated the kind of political skills necessary to pull something like that off over the nearly six years now that he has been in office. To the extent Barack Obama has had political victories, it's usually been ones that he has stumbled into rather than pulled off in the way a Frank Underwood or Jed Bartlett might (and, yes, I am aware that those are fictional characters.) Perhaps that's what might happen here, and if that's the case then at the very least one can say that Barack Obama will go down in history as one of the damn luckiest Presidents in history, because to the extent he's succeeded in a political battle it hasn't because of any particular skills he has in that area.