On Immigration, David Brat And The Tea Party Stray From Their Own Principles
There is no such thing as a consistent free market, limited government case in favor of restricting immigration, whether legal or illegal.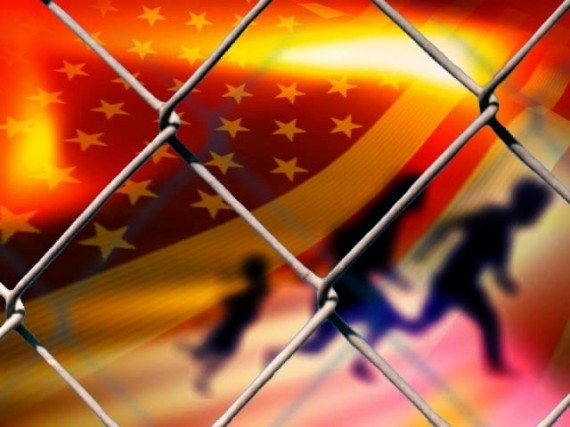 Whether it's correct or not, David Brat's victory last week over Eric Cantor in the Republican Primary in Virginia's 7th Congressional District has been widely interpreted as a victory for opponents of immigration reform specifically, and immigration more generally. What's interesting about that, of course, is the fact that Brat, like the Tea Party that was apparently the base of his support, claims to believe strongly in free markets and limited government at the same time that he opposes immigration reform and, at various points during the campaign and beforehand, has spoken out against immigration in general as something that hurts Americans looking for jobs. These are, of course, positions that are widely held among Tea Party members, as evidenced by the fact that they have been the groups speaking out most vocally against any kind of immigration reform and, in many cases suggesting that immigration itself is harmful to the country.
As the Cato Institute's Alex Nowrasteh notes, however, there are obvious contradictions between Brat's, and the Tea Party's, position on economic issues and the size and scope of government, and their position on immigration:
Brat considers himself a free-market conservative, claiming on MSNBC following his unexpected win that he's against "any distortion to free markets." Brat also campaigned against immigration reform, saying that "It's the most symbolic issue that captures the difference between myself and Eric Cantor in this race." But it's impossible to square Brat's laudable support for free markets and his opposition to immigration reform.

Immigration is an economic issue. Fundamentally, it is about the movement of workers, entrepreneurs and consumers to locations where they can maximize the value of their labor, businesses and purchasing power.

But America's current immigration system is highly protectionist and restrictive. In contrast to the first 131 years of American history, there is currently no green card for lower-skilled workers. Some highly skilled workers, families and refugees can get green cards, but there is no category for lower-skilled workers unless they are closely related to an American. That severe prohibition on the movement of lower-skilled workers is a deep and destructive intervention into the market economy.

Similarly, the paltry number of highly regulated temporary guest-worker visas allowed for migrants cannot compensate for the lack of green cards. For example, four federal agencies regulate the H-2A visa for temporary farmworkers. Firms have to sponsor migrants, limiting the ability of the migrant to move to better opportunities and the ability of American firms to hire away the best workers from their sclerotic competitors. Minimum wages for guest workers and other rules limit worker and employer flexibility.

These are some of the issues that might have gotten fleshed out in the immigration reform bill that Congress was expected to vote on after the midterm elections. But with Brat's campaign victory over Cantor, which focused on blasting the prominent Virginia Republican for working with the Obama administration on immigration reform, many are predicting it won't happen.

Only a lightly regulated economy can determine efficient wages and the optimal allocation of workers to variously demanded tasks, but the government intercedes at every step of the immigration process. Expensive labor certification requirements that seek to protect American workers from migrant competition make a mockery of free markets.

And yet Republicans are somehow able to claim the mantle of free-market advocacy while making draconian immigration restrictions a touchstone of their political platform. Brat fancies himself a free-market economist, but he can't seem to comprehend this glaring contradiction.
Nowrasteh is completely right on the economics of immigration. In the end, there would not be immigration, legal or illegal, in the numbers that we see if there were not sufficient demand for labor here in the United States. The best evidence we can see for this happened just a few years ago when the housing market before then. For years before then, mostly young men from Mexico and Central America were drawn to the United States by a booming construction market that provided easy to find jobs in carpentry and other fields that required at beast a minimal level of skill to start out, and more importantly didn't require obtaining any kind of government license. Anyone who lived in areas like Northern Virginia, Florida, Las Vegas, or elsewhere during the housing boom can attest to the fact that the facts majority of the laborers on these construction projects were Hispanic, and it doesn't take much guessing to figure out that many if not most of them were here illegally. Interestingly, though, when the housing market collapsed many of those who were here illegally ended up returning home, largely because the labor market had dried up. That's how supply and demand works, and the simple truth is that immigration exists in no small part because there is a demand for the labor that immigrants, legal and illegal, are willing to do and a lack of Americans who are willing to do it, as the experiences of Georgia and Alabama when they cracked down on immigration several years ago can demonstrate.
In addition to the economic arguments in favor of immigration, there are also arguments based on individual liberty and limited government that one would think that a consistent conservative such as Brat and the Tea Party claim to be would be sympathetic to. In its most radical form, of course, the libertarian argument on immigration would be that there shouldn't be any restrictions at all. However, that's a utopian argument that's unlikely to have much public appeal. A more reasonable argument would be that people who want to come to the United States shouldn't be unreasonably barred from doing so, and since there are no good arguments against more immigration, there's no real justification for restricting immigration. If people want to come here, who are we to tell them they can't?
Additionally, immigration seems to be one of the few areas where conservatives argue in favor of bigger and more intrusive government. Rather than dealing rationally with the roughly 11 million people who are here illegally, they argue that we need to more vigorously enforce existing laws, something that would necessarily involve giving increased powers to law enforcement and breaking up families based solely on whether or not someone has the proper paperwork. They also argue in favor of militarizing the border, although that interestingly typically only seems to apply to the southern border, and giving greater power to Border Patrol Agents to engage in activity beyond the border that quite honestly borders on harassment most of the time.  Finally, these same small government conservatives that want businesses to have the freedom to operate without government regulation want to regulate who they can hire and require nearly all businesses in the United States to clear employees with the state before hiring them. That's not a small government philosophy at all.
Many opponents of immigration reform have moved away from the argument that immigrants take American jobs, an argument which as I noted above simply doesn't square with logic or the evidence, and now assert that immigration must be restricted because of the increased costs of immigrants using the welfare state. As it turns out, though, there is simply no evidence that immigrants are more likely to use public service than citizens, and plenty of evidence from both Europe and the United States to show that poor immigrants are less likely to use public benefits than citizens. Moreover, it's important to note that undocumented immigrants are legally barred from receiving nearly all forms of public assistance. The only notable exceptions would be their ability to receive emergency medical care, but unless one wants to make the argument that a sick person should be allowed to die because they don't have the right paperwork that doesn't seem like a very big deal to me. If such people are receiving benefits, it would be because they are committing some kind of illegal act such as submitting false documents, which is a crime in itself. I'm not denying that such things happen, but there's simply no evidence that they happen on the scale that immigration opponents argue that they do.  In other words, the existence of a welfare state is not, by itself, an argument against immigration.
Brat and the Tea Partiers who have rallied to his cause can claim that they are acting on principle when it comes to immigration, but when you actually look at those principles and compare them to their positions the contradiction becomes so apparent that one can only conclude that there are other motivations for their anti-immigration rhetoric.