Live By The Markets, Die By The Markets
Donald Trump spent much of the past year touting the rising stock market, now he's getting a lesson in reality.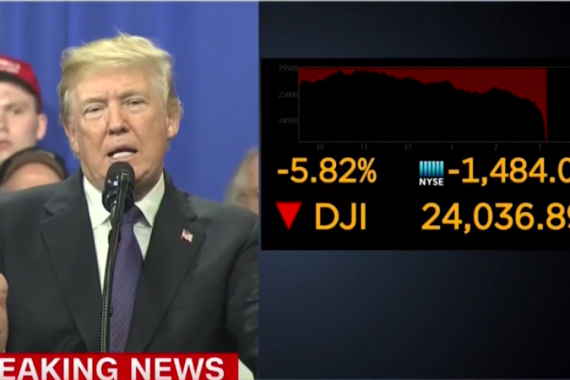 For the better part of the fifteen months since the 2016 election, President Trump has been trumpeting the the noticeable rise in the stock market that has occurred since November 8th, 2016, and asserted that it was a sign that investors and corporations agree that his Presidency would be, and has been, good for the economy. To be sure, there has been much to trumpet about market performance over this relatively short period of time. From November 2016 to January 21st, 2018 when it hit its most recent all-time high, the Dow Jones Industrial Average rose just over 7700 points, which amounts to roughly 41%, and the broader S&P 500 Index rose 708 points or roughly 33%. These are impressive numbers and it's no surprise that a President would want to take credit for them.
Over the past several days, though, Wall Street and other financial markets have been headed in precisely the opposite direction. On Friday, markets fell substantially with the DJIA dropping over 600 points (2.5%) and the broader market indexes. Yesterday, the dip went even further south:
Since the global financial crisis a decade ago, a few simple guidelines have helped investors make sense of the markets.

Global growth and inflation will be perpetually weak. Central banks will help by keeping interest rates low. And stocks will almost invariably rise.

The rule book is now changing, a shift that is sending tremors through the financial markets. The Standard & Poor's 500-stock index fell by more than 4 percent on Monday, deepening its losses from the previous week and erasing its gains for the year. The Dow Jones industrial average sank by 4.6 percent. Bond yields, the basis for key borrowing costs such as mortgage rates, have risen fast in recent weeks.

In trading in Asia on Tuesday morning, markets signaled another tough day. Major stock markets in the region plunged after the drop in the United States on Monday, suggesting the pain could continue. In Japan, stocks were down more than 5 percent in morning trading, while shares in Hong Kong were down more than 4 percent.

Those sharp moves come as investors digest the growth prospects for the world — and rebalance their views on the relative merits of stashing their cash in risky assets like stocks, safer spots such as government bonds and the myriad investment opportunities offered by a global economy moving in sync.

The world's largest economies are all expanding, as the most important central bank, the United States Federal Reserve, is draining billions of dollars from the financial system and raising interest rates. And investors are concerned that tenuous signs of inflation could mean central banks around the world will start to remove their support even faster

It's an interesting complexity for investors to assess. What's good for the economy isn't always good for the markets. The strong job report last week fueled hopes that wage growth would follow. But higher wages could lead to higher inflation, creating new challenges for the central bank to manage.
In reality, of course, Trump's effort to claim credit for the rise in the stock markets has little merit.
For one thing, American equity markets have been rising since the end of the Great Recession, long before Donald Trump came along on the political scene. During the eight years that Barack Obama was President, market indexes rose by roughly 175%, including a 33% rise during his first year in his first year in office that actually exceeds the amount by which markets rose during Trump's first year. The reasons for this, of course, have to do with the fact that the economy has been growing positively on a more or less consistent basis since the Great Recession ended and continues to do so, albeit at a somewhat slower pace than we've seen during previous economic recoveries. Additionally, bond yields and interest rates generally have been at historically low levels for years now, meaning that investors turned to stocks to get something better than the paltry rate of return they would get from other investments, Finally, the fact that the economy has been growing means that corporate profits have been heading higher and that typically gets passed on to investors in the form of dividends and other benefits such as corporate buybacks that allow investors to cash in on rising stock values. Finally, of course, there is the often mysterious element known as "market psychology," which is another was saying that the market itself is often a reflection of investor sentiment. If investors think the economic picture in general, and the outlook for the market in particular, is heading upward, then stocks will go higher. If they come to believe that the economic picture is becoming cloudy or that we're headed for a time when stocks may not be as sure an investment as they have been in recent years, then markets tend to go down. Somewhere in all those factors, it's admittedly true that the Federal Government's economic policies play a role, but they are only one part of the numerous factors that contribute to what causes market movement in both the short and the long term.
Because of that, Presidents who seek to tie their political fortunes to the ups and downs of Wall Street often end up making a mistake, a lesson that Trump is learning in real time:
WASHINGTON — As President Trump boasted about the economy during a speech on Monday, he left out one of his favorite lines. Nowhere did he mention the skyrocketing stock market.

Viewers at home understood why. In the corner of their television screens, a graphic showed the Dow Jones industrial average seemingly in free fall — down 500 points, down 600, down 800, down 1,000.

By the time a bullish Mr. Trump was done speaking in Blue Ash, Ohio, the bearish market had plunged by nearly 1,600 points before recovering somewhat to close 1,175 points down.

No president in modern times has connected his political fortunes to the stock market as much as Mr. Trump, who relentlessly cited its meteoric rise as a sign of his success at restoring confidence in the American economy. But the drastic sell-off on Friday and Monday demonstrated why most presidents scrupulously avoid talking about short-term gyrations in share prices: If you live by the Dow, you may die by the Dow.

Barely a week went by last year when Mr. Trump did not crow about the rising market, making it a major talking point for his case to the country that he had made a difference. He took credit for the market at least 25 times in January alone. Even when the Dow fell 363 points on the day of his State of the Union address last week, Mr. Trump simply ignored the drop and talked about how the market had "smashed one record after another" since his election.

Despite the stumble of the past two trading sessions — totaling 1,841 points, or 7 percent — the Dow remains far higher under Mr. Trump, and there is no sign that the broader economy has lost momentum. But critics who have chafed at what they considered the president's shortsighted boasting for the past year saw Monday's meltdown as overdue comeuppance and eagerly piled on.

"Good time to recall that in the previous administration, we NEVER boasted about the stock market — even though the Dow more than doubled on Obama's watch — because we knew two things: 1) the stock market is not the economy; and 2) if you claim the rise, you own the fall," Jay Carney, a White House press secretary for President Barack Obama, wrote on Twitter.

It would be an exaggeration to say that Mr. Obama never trumpeted the market's performance — "the stock market is booming," he said in 2014, a few days after boasting, "I don't have to tell you about the stock market and where that's gone." But it was rare enough that it stood out. Likewise, Presidents Bill Clinton and George W. Bush made a point of generally avoiding public commentary on short-term market movements.

After Monday's tumble, Mr. Trump's aides were left in the awkward position of ignoring it or explaining that it was not especially meaningful. Treasury Secretary Steven Mnuchin, who accompanied Mr. Trump to Ohio, declined to comment on the market when he encountered reporters on Air Force One during the trip back to Washington and again on the tarmac after it landed. The television on the plane was tuned to Fox Business Network as it dissected the day's dark developments.

"Look, markets do fluctuate in the short term. We all know that," Raj Shah, a White House spokesman, told reporters en route to Ohio when the market was heading down. "And they do that for number of reasons. But the fundamentals of this economy are very strong and they're headed in the right direction — for the middle class, in particular."

After the president returned to the White House, his press secretary, Sarah Huckabee Sanders, issued a written statement.

"The president's focus is on our long-term economic fundamentals, which remain exceptionally strong, with strengthening U.S. economic growth, historically low unemployment and increasing wages for American workers," she said. "The president's tax cuts and regulatory reforms will further enhance the U.S. economy and continue to increase prosperity for the American people."
Ben White makes similar observations about the risks that Trump has taken in tying his political fortunes to the markets, as do The Washington Post's Damian Paletta and Erica Werner:
President Trump and congressional Republicans have spent much of the past year trying to connect a giddy stock market rally with their economic agenda, but stocks' precipitous plunge in the past five days has delivered a sobering reality: What goes up can come back down — quickly and with little warning.

With Monday's steep fall, Trump has presided over the biggest stock market drop in U.S. history, when measured by points in the Dow Jones industrial average. The free fall began in earnest Jan. 30 and snowballed Friday and Monday, for a combined loss of almost 2,100 points, or 8 percent of the Dow's value.

It is also unclear if the past week will amount to a small correction or the beginning of a painful slide that many investors said was overdue.

Trump's economic team is largely untested in periods of economic uncertainty. Many investors and lawmakers are watching the actions of Trump's newly sworn-in pick for Federal Reserve chairman, Jerome H. Powell, to see how quickly he is willing to raise interest rates in the face of rising inflation.

Treasury Secretary Steven Mnuchin briefed Trump on the market's fall Monday during a trip to Ohio, where the president made no mention of the financial troubles in public remarks. Mnuchin is a close Trump adviser, but his views on how the government should respond to market volatility are not well-known since he had little experience in Washington before joining the administration.

tock market spikes and blips are not uncommon, though the swing in the past week was highly unusual because of its sustained fall.

And Republicans' repeated swooning about the stock market's performance in the past year opened them to criticism that they should take some responsibility for the past week's poor performance. Some of the investor anxiety is directly related to heightened fears about the growing budget deficit, which is widening under the new GOP-backed tax law.

"Any time you claim credit for an increasing stock market, you risk having to take the blame for one that decreases," said Sen. Ron Johnson (R-Wis.). "Markets move in strange ways."

The fall began on the same day as Trump's State of the Union speech, in which he boasted that "the stock market has smashed one record after another, gaining $8 trillion in value."

The stock market closed Monday at its lowest levels since early December, though it is still up substantially since Trump's inauguration.

Many analysts had warned that the stock market was overheated and due for a correction. But White House officials continued to boast about its performance, particularly as Trump's approval ratings lagged for much of 2017. The stock market was one measuring stick that they sought to connect closely with his time in office, believing that Americans would eventually come around if they felt the economy was getting better.

"The reason our stock market is so successful is because of me," Trump told reporters on Air Force One in November.

There have been signs in recent weeks that Trump's approval rating has improved, particularly as he and other Republicans have worked to portray decisions by a number of companies to offer bonuses and raise wages as a direct result of the tax cuts. Sustained stock market losses, however, could undermine the president's effort to take credit for a growing economy ahead of the midterm elections in November.

A Washington Post-ABC News poll in January found 58 percent of respondents rating the economy positively, up seven points in the past year and the highest level in 17 years. But fewer than 4 in 10 said Trump's administration deserves significant credit for the economy's condition, compared with half who said the Obama administration does.

"The perception of a growing and healthy economy is key to Trump's success as president," said Neil Newhouse, a Republican pollster. "The unnoticed number that people haven't paid attention to is the improving mood of the country, the right-direction number. When that goes up, presidential approval goes up, and the condition of the economy is tied very strongly to that right-direction number."

There have been numerous signs that the economy was continuing to improve, but again and again, Trump kept coming back to the stock market as his primary barometer for success. That focus could complicate the White House's efforts to distance the president from the reversal.

"The tricky part of claiming credit for the stock market is the stock market can go up and the stock market can go down," said Andy Laperriere, a partner at Cornerstone Macro, a Wall Street advisory firm.
As I noted above, the reasons that stocks have increased so substantially over the past eight years can be attributed to a number of factors, many of which individual Presidents have little actual control over. To be sure, there are specific actions that a President can take or mistakes they can make, that can have a real impact on the stock markets specifically and the economy more generally. On the whole, though, who the President is has little to do with what's going on in the stock markets and it's as inappropriate to blame a sitting President for what could end up being a temporary dip in the market as it is for a President to claim excessive credit for a rise in stock prices as Donald Trump has consistently done over the past fifteen months since the election. Perhaps the best example of that came yesterday afternoon when the stock market was plunging while the President was touting the economy in a speech in Ohio:
For a connoisseur of cable news like Donald Trump, it was not a pretty picture.

As the President touted his economic agenda in Ohio on Monday, his face stared out of millions of television screens next to blaring red graphics and yellow numbers whirling like the reels on a slot machine, telling the story of a full-bore stock market plunge.

For any president, the split screen moment showing an apparent disconnect between his message of a roaring economy and hemorrhaging equities would be a little embarrassing.

But for Trump, who has constantly boasted about almost daily record highs on Wall Street since his election and told Americans that he alone is responsible for their healthy 401(k) balances, the mismatch was even more pronounced.

Even the President's favorite news source, Fox News, was the bearer of bad tidings for Trump, with a banner reading "DOW, S&P turn negative for the year."

One White House aide told CNN's Jeff Zeleny that it was jarring to see Fox ditch the President's speech when the market free-fall hit 1,000 points.
As Trump slammed Democrats in Blue Ash, Ohio, and celebrated robust job creation along with rising wages, the Dow Jones Industrial Average tanked 1,600 points at one point, before recovering on a volatile day to a record loss of a 1,175 point tumble, or 4.6%.

One irony of Monday afternoon was the fact that the President was trapped in his own story as the market slumped, oblivious to what was happening and powerless to shape the moment with his shrewd reality show star's eye, as he often does.

As the market tanked, Trump was hitting Democrats for not applauding during his State of the Union speech last week, even suggesting it was "treasonous."

"They were like death and un-American. Un-American. Somebody said, 'Treasonous.' I mean, Yeah, I guess, why not," the President said.

The speech, the first hints of his midterm election message and coming during the stock market slump, was a reminder of the way that the economy, so central to the Republican fate after the huge tax cut bill, is a fickle base on which to build a re-election message, especially at a moment that could turn out to be the end of the economic recovery cycle after the Great Recession.

Trump's past boasts about a Trump bump in stocks may come back to haunt him.

In December, at a firehouse in Florida, Trump took personal credit for the bull run, as if he had repeatedly steered the Dow through a year of smashed record highs.

"We broke it 84 times this year. The stock market hit a new high 84 times since we won the election on November 8 of last year, so that's something we can all be proud of," Trump said, before boasting at the impact on 401(k)s.

"That makes you all look very smart and your families say, 'Boy, are you a great investor,' right, when you have your numbers go up and your stocks go up and everything else," he said.

At the World Economic Forum in Davos last month, Trump gloated about booming stock markets and argued that if Hillary Clinton had won the election, then the market would have lost half of its value.

"I believe the stock market from that level, the initial level, would have been down close to 50 percent," he said.
For Trump critics, of course, there's no small degree of schadenfreude in the current market downswing. After spending more than a year touting a stock market increase that had little to do with him or his policies, Trump is now learning what's like when the market, as it is often apt to do, turns southward after rising for a long-term period where it has been skyrocketing that, as I said, began long before Donald Trump entered the political scene. Just as it went up for reasons that had little to do with him or his policies, this downturn is at least in part attributable to factors that have nothing to do with him or his policies. That being said, Trump is being taught a lesson here about economic reality, and about Wall Street, which is an area that he has no real experience in, and he's learning that you can't B.S. your way through the Presidency. Well, you can try to do so I suppose, but eventually will come around to teach you a lesson. Whether Trump will learn it, and I suspect he won't, remains to be seen.
Photo via Shareblue